Gastrointestinal Low Fat Liquid Dog
ROYAL CANIN VETERINARY DIET Canine GASTROINTESTINAL LOW FAT LIQUID is a complete and balanced diet for adult dogs formulated to provide nutritional support while under veterinary care. This diet is highly digestible and restricted in fat for dogs in need of a low fat diet. Feed under veterinary supervision.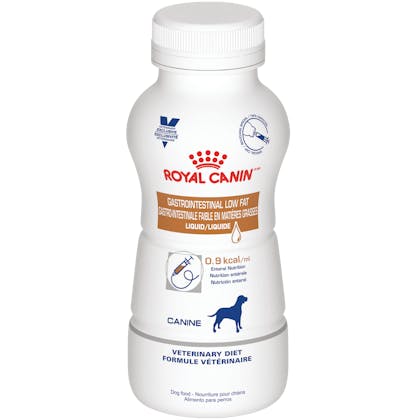 0.9 KCAL/ML – ENTERAL NUTRITION

0.9 Kcal/mL – Enteral Nutrition

PACKAGING INNOVATION – SPECIAL CAP – EASY TO FILL

PACKAGING INNOVATION &ndash SPECIAL CAP &ndash EASY TO FILL

Complete nutrition

Complete and balanced liquid diet to support nutritional restoration and convalescence of dogs requiring assisted enteral nutrition.

Antioxidant complex

The synergistic antioxidant complex (including high levels of Vit E, Vit C, taurine & lutein) helps neutralise free radicals.

Easy tube feeding

Liquid formula with adapted viscosity for an easy use whatever the tube size.
| Actual dog weight (kg) | Liquid (ml/day) | Actual dog weight (kg) | Liquid (ml/day) |
| --- | --- | --- | --- |
| 2 | 115 | 18 | 590 |
| 3 | 155 | 20 | 640 |
| 4 | 190 | 25 | 755 |
| 5 | 225 | 30 | 865 |
| 6 | 260 | 35 | 975 |
| 7 | 290 | 40 | 1075 |
| 8 | 320 | 45 | 1175 |
| 9 | 350 | 50 | 1270 |
| 10 | 380 | 55 | 1365 |
| 12 | 435 | 60 | 1460 |
| 14 | 490 | 70 | 1635 |
| 16 | 540 | 80 | 1810 |