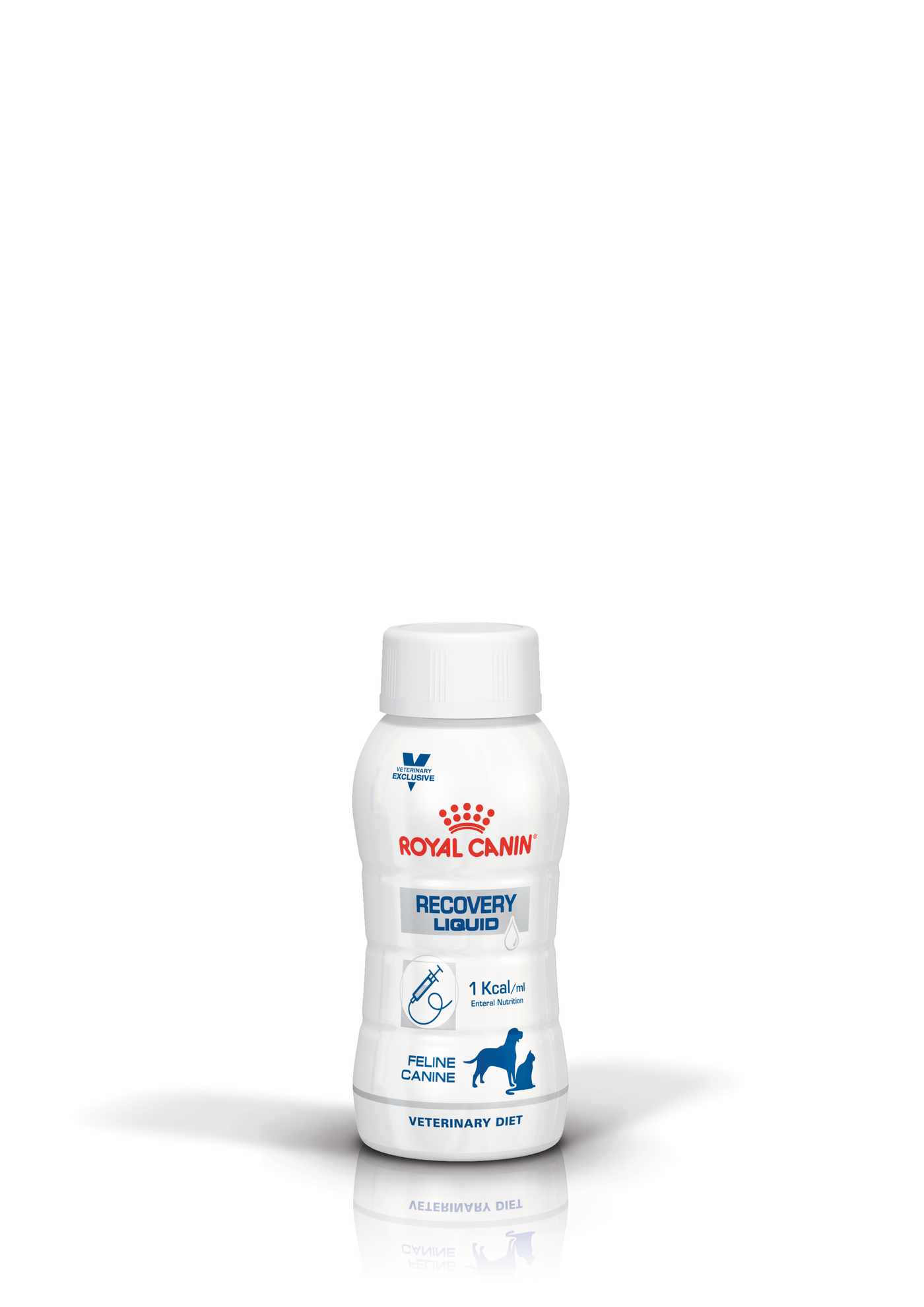 Recovery Liquid (Dog & Cat)
Liquid Food For Dog
Complete dietetic feed for adult dogs and cats
AVAILABILITY
This product is a veterinary exclusive formula. Ask your veterinarian to see if it's the right product for your pet.
High protein
High protein level to help maintain muscle mass during hospitalization and convalescence
Complete nutrition
Complete and balanced liquid diet to support nutritional restoration and convalescence of dogs and cats requiring assisted enteral nutrition
Adapted energy (1 kcal/ml)
High energy density that provides daily energy requirements in a reduced feeding volume.
Antioxidant complex
The synergistic antioxidant complex (including high levels of Vit E, Vit C, taurine & lutein) helps neutralise free radicals
Easy tube feeding
Liquid formula with adapted viscosity for an easy use whatever the tube size
Composition: milk and milk derivatives, cereals, oils and fats, vegetable protein extracts, minerals, derivatives of vegetable origin. Highly digestible ingredients: low-lactose milk, caseinate, soya protein concentrate, maltodextrin.
Additives (per l): Nutritional additives: Vitamin A: 3660 IU, Vitamin D3: 280 IU, E1 (Iron): 28.5 mg, E2 (Iodine): 0.7 mg, E4 (Copper): 2.7 mg, E5 (Manganese): 2.4 mg, E6 (Zinc): 42 mg, E8 (Selenium): 0.14 mg.
Analytical constituents (per 100 ml): Protein: 8.2 g - Fat content: 5.2 g - Crude ash: 1 g - Crude fibres: 0 g - Moisture: 85 g - Omega 6 fatty acids: 1.14 g - Omega 3 fatty acids: 0.29 g - L-arginine: 0.5 g - Metabolisable energy: 105 kcal.
| Actual dog weight (kg) | Liquid (ml/day) | Actual dog weight (kg) | Liquid (ml/day) |
| --- | --- | --- | --- |
| 2 | 115 | 18 | 590 |
| 3 | 155 | 20 | 635 |
| 4 | 190 | 25 | 755 |
| 5 | 225 | 30 | 865 |
| 6 | 260 | 35 | 970 |
| 7 | 290 | 40 | 1070 |
| 8 | 320 | 45 | 1170 |
| 9 | 350 | 50 | 1265 |
| 10 | 380 | 55 | 1360 |
| 12 | 435 | 60 | 1450 |
| 14 | 485 | 70 | 1630 |
| 16 | 540 | 80 | 1800 |
PRODUCT DETAILS
Promoting pet health and wellbeing
Creating value for our entire ecosystem
Committed to become certified carbon neutral by 2025