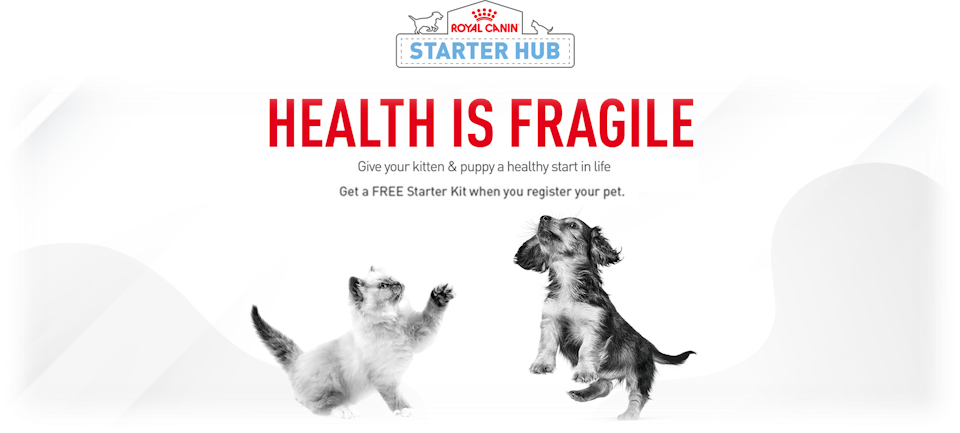 ARE YOU A NEW PET OWNER? 
CLAIM YOUR FREE STARTER KIT AND P200 OFF ROYAL CANIN COUPON! 
Exclusive to new puppy and kitten owners only.
For verification, proof of puppy or kitten age will be required!
REGISTER NOW!
What is the Starter Hub?
The Starter Hub helps new Pet Owners learn about the targeted-nutrition approach for new puppies and kittens, and guides them throughout their puppyhood or kittenhood journey. By registering your Pet on the Starter Hub, you get an exclusive Starter Kit full of freebies!
Get to know your kitten.
A guide to kittenhood
During the first months of life your kitten will go through an amazing transformation. Get the nutritional and health advice you'll need to help your cat thrive at every stage of life. Explore articles, information and guides below.
Learn more
Get to know your puppy.
A guide to puppyhood
Puppyhood is a hugely rewarding time for pet owners, but it's also a time of huge challenges and steep learning curves. Our information and advice has been collected from Royal Canin vets, nutritionalists and partners worldwide, and should help you and your puppy have a healthy start to life together.



Learn more
Claim your P200 Voucher by signing up to the Starter Hub
Make a purchase with your P200 off coupon!