Indoor Sterilized Morsels in Gravy
Pełnoporcjowa karma dla kotów dorosłych, przebywających wyłącznie w domu (kawałki w sosie).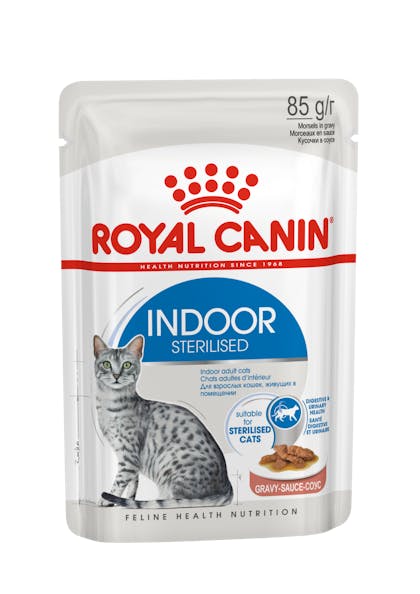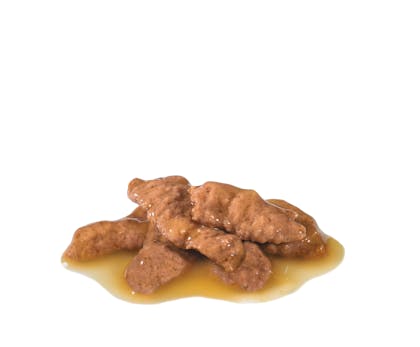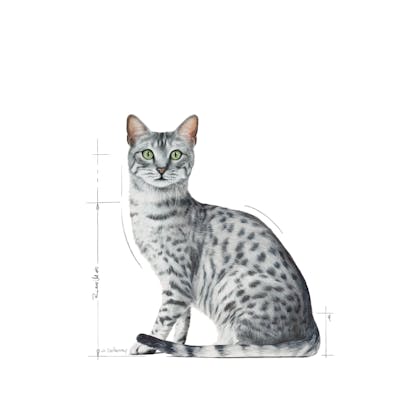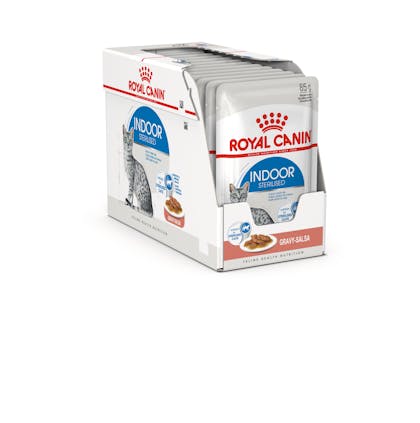 SKŁAD: mięso oraz produkty pochodzenia zwierzęcego, zboża, produkty pochodzenia roślinnego, oleje i tłuszcze, minerały, cukry.

DODATKI (na 1 kg karmy): Dodatki dietetyczne: Witamina D3: 40 UI, Żelazo (3b103): 3 mg, Jod (3b202): 0,3 mg, Miedź (3b405, 3b406): 2,2 mg, Mangan (3b502, 3b503, 3b504): 1 mg, Cynk (3b603, 3b605, 3b606): 10 mg - Dodatki technologiczne: Klinoptylolit pochodzenia osadowego: 2 g.

SKŁADNIKI ANALITYCZNE: Białko surowe: 9,7% - Oleje i tłuszcze surowe: 3,3% - Popiół surowy: 1,8% - Włókno surowe: 0,9% - Wilgotność: 80,8% - Wapń: 0,25%.

For RSA: Guaranteed analysis g/kg: Crude protein (min) 77 - Moisture (max) 838 - Crude fat (min) 13 - Crude fibre (max) 19 - Crude ash (max) 20. Product registration number: XXXXXX - Act 36/1947. For Namibia: N-FF XXXX.

SPOSÓB UŻYCIA: patrz tabela.Najlepiej wykorzystać przed: patrz data ważności. Data ważności, numer partii i numer rejestracyjny zakładu znajdują się z tyłu opakowania.Przechowywać w suchym i chłodnym miejscu.

FEED MATERIAL: meat and its products, cereal and its products, cellulose, collagen, maize starch, oil seed and its products, fish and other aquatic organisms and their products, mineral.

FEED ADDITIVE: amino acids (Taurine), vitamins (Choline Chloride, L-Carnitine, Vitamine D3, DL-alpha-tocopherol acetate, Vitamin B1, Nicotinic Acid, Vitamin B2, D-Calcium Pantothenate, Vitamin B6, Folic Acid, D-Biotin, Vitamin B12), minerals (Zinc sulfate, Ferrous Sulfate, Copper Sulfate, manganese sulfate, Calcium Iodate), calcium sulfate, sodium tripolyphosphate, carrageenan, potassium chloride, colorant.

GUARANTEED ANALYSIS: Crude Protein (min) 7.7%, Crude Fat (min) 1.3%, Moisture (max) 83.8%, Crude Fiber (max) 1.9%, Crude Ash (max) 2.0%, Calcium (min) 0.13%, Total Phosphorus (min) 0.11%, Water soluble chloride (as Cl-) (min) 0.09%, Taurine (min) 0.05%.

FEEDING INSTRUCTION: see table. Batch number, factory registration number and best before date: see information on packaging. To be stored in a cool, dry place.

ANALYTICAL CONSTITUANTS: Crude Protein 7.7% (min.), Crude Fat 1.3% (min.), Calcium 0.200% (min.), Calcium 0.25% (av.), Phosphorus 0.176% (min.), Ash 2.0% (max.), Crude Fiber 1.9% (max.), Moisture 81.8% (max.).

COMPOSITION : meat and animal derivatives (chicken, pork), cereals (corn flour, corn starch), derivatives of vegetable origin (cellulose, gelling agents), oils and fats (sunflower oil, fish oil), minerals, various sugars (caramel).

ADDITIVES (per kg): Amino acids - Vitamin D3: 40 IU, Iron: 3 mg, Iodine: 0.3 mg, Copper: 2.2 mg, Manganese: 1 mg, Zinc: 10 mg, Clinoptilolite of sedimentary origin: 2 g.

FEEDING INSTRUCTION: see table. Batch number, factory registration number and best before date: see information on packaging. To be stored in a cool, dry place.

LEGAL NOTICE Expiration date: Displayed on the container (date/month/year) Manufacture date: 24 months before the expiration date Manufacturing country &  source: Austria, MARS AUSTRIA Net Weight: Separately declared on the bag Importer & Address: ROYAL CANIN KOREA, Jipyungsun-sandan-2 gil, 72, Baeksan-myun, Gymje City, Jeollabukdo Importer phone number: 080-041-5161 Animal medicine & Re-packaging: Not applied NOTICE: Feed for companion animals. Do not feed the ruminant cattle. Store in a cool, dry place away from direct sunlight and pests. This product can be exchanged or compensated for the legitimate consumer damage in accordance with the Fair Trade Commission's Notice of Consumer Dispute Resolution Standards. Country of origin: Austria.