Dermacomfort
Helfoder för hund - Anpassat för vuxna hundar från 10 månaders ålder - För hundar med känslig hud.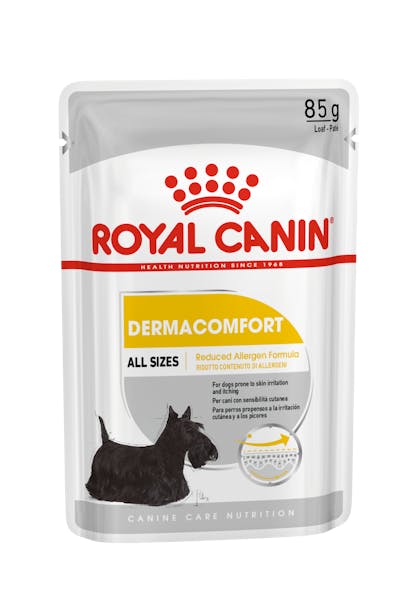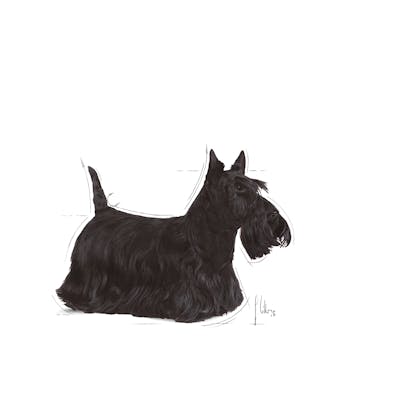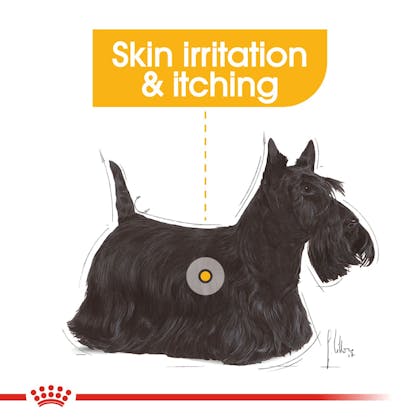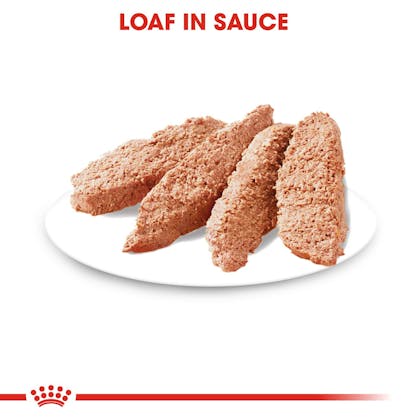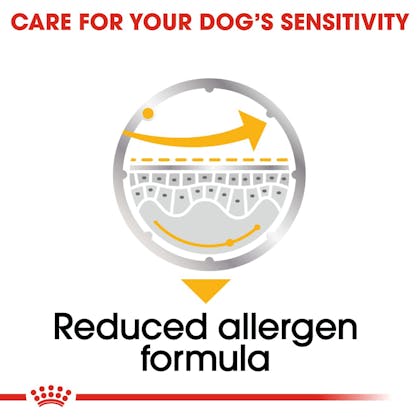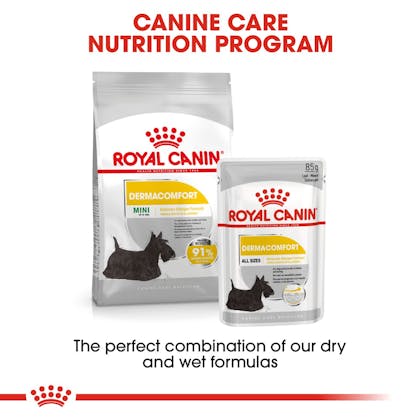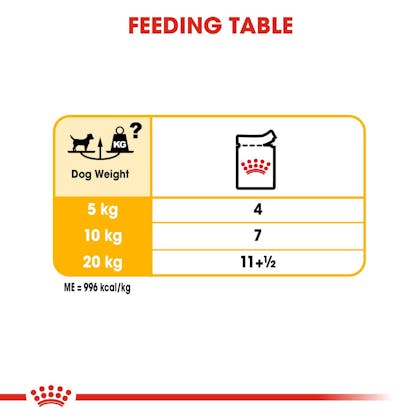 Support healthy skin

Nutritionally formulated with a precise & high quality protein source to help support and nourish his skin.

Sensitivity description

A dog's skin responds to dietary, seasonal and environmental irritants. Too much scratching can damage his skin disrupting his protective skin barrier.

Canine care nutrition programme

Providing a healthy & balanced nutrition with the perfect combination of our dry & wet formulas.

Skin irritation is the number one reason dogs are taken to see a vet. Skin sensitivities and excessive scratching can damage your dog's skin and even lead to infection. Skin sensitivities can be soothed by a diet that contains supportive nutrients. ROYAL CANIN® Dermacomfort Loaf is enriched with Omega 3 and 6 fatty acids that help to soothe and protect your dog's skin, as well as making it less sensitive to environmental irritants. Selected protein sources included in ROYAL CANIN® Dermacomfort Loaf help to reduce the risk of intolerance. This tasty recipe is rich in carefully selected, low-allergen proteins that were selected to exclusively align with your dog's needs. What's more, caring for your dog by feeding him high-quality nutrients not only help to care for sensitive skin, it also helps him maintain a full and healthy coat. ROYAL CANIN® Dermacomfort Loaf is suitable for dogs of all sizes. In addition to this delicious pâté, our Dermacomfort nutritional program is also available as crunchy kibble. Both are nutritionally complete and perfectly complement each other. Why not try the pâté as a delicious topping to the kibble?
Sammansättning: kött och animaliska biprodukter, vegetabiliska biprodukter, spannmål, mineraler, oljor och fetter, socker.

Tillsatser (per kg): Näringstillsatser: Vitamin D3: 200IE, E1 (Järn): 10mg, E2 (Jod): 0,3mg, E4 (Koppar): 2,1mg, E5 (Mangan): 3,1mg, E6 (Zink): 30mg - Tekniska tillsatser: Clinoptilolit av sedimentärt ursprung: 2,2g.

Genomsnittligt analysvärde: Protein: 8,6 % - Fettinnehåll: 6,6 % - Råaska: 1,9 % - Växttråd: 1,3 % - Vattenhalt: 78,0 %.

Utfodringsanvisning: se tabell. Fabrikens registrerings- och partinummer, bäst före datum: se förpackning. Förvaras torrt och svalt.

| Hundens vikt | Pouch |
| --- | --- |
| 5 kg | 4 |
| 10 kg | 7 |
| 20 kg | 11 + 1/2 |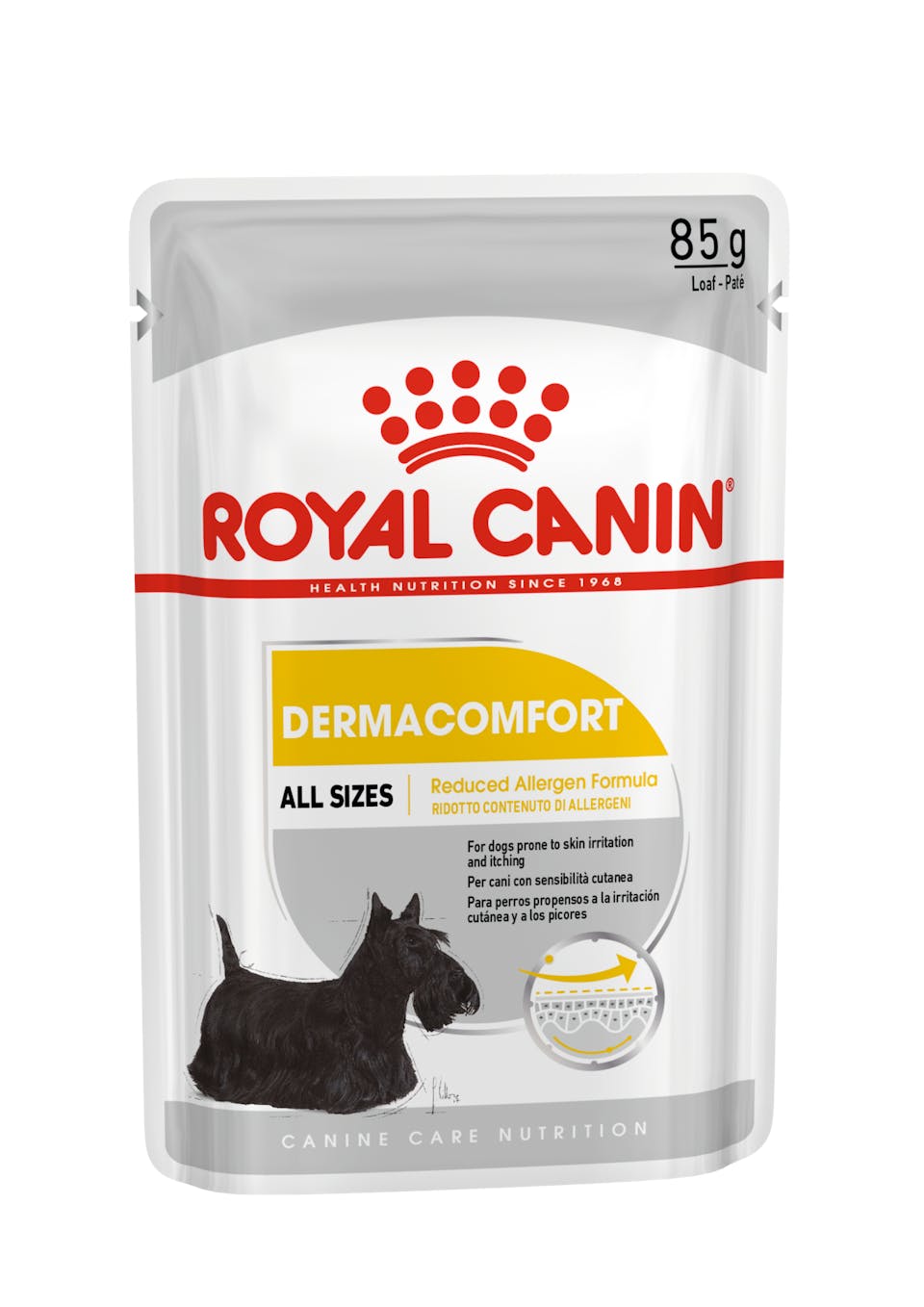 Har du fler frågor om den här produkten?
Ta reda på hur du kan nå oss och hör gärna av dig.
Ställ en fråga