Medium Dermacomfort
Fuldfoder til hund/Helfoder för hund - Til voksne/vuxna og modne/äldre hunde/hundar af mellemstore racer/av medelstora raser (mellem 11 og 25 kg) - Over 12 måneder - Hunde med tendens til følsom hud/til irriterad og kliande hud.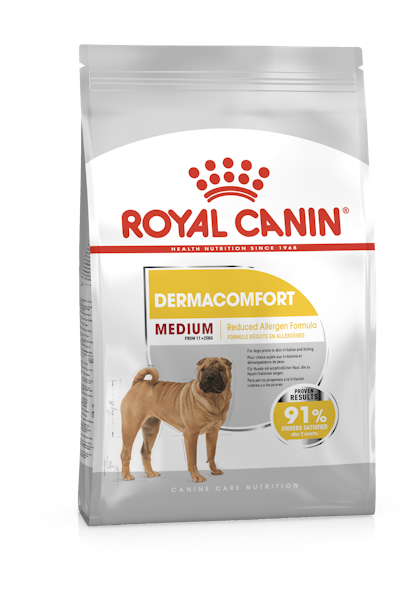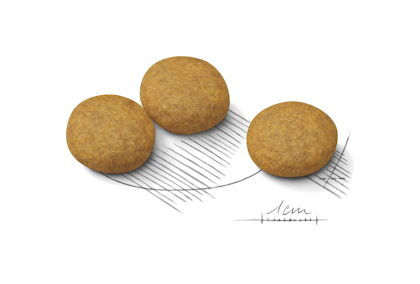 Sensitivity Description

Dog's skin respond to dietary, seasonal and environmental irritants. Too much scratching can damage his skin disrupting the protective skin barrier.

How else can you help your dog?

How else can you help your dog with sensitive skin? You can help protect your dog's skin by keeping his bed and favorite resting places clean. This helps remove dust and dandruff, a breeding ground for itchy parasites. If you have any questions or concerns about your dog's health, please contact your veterinarian.

Did you know that skin irritation is the most common reason dogs are taken to the vet? Sensitive, itchy skin leads to scratching, which can damage your dog's skin and cause infection. Specially adapted nutrition can help keep your dog's skin in the best possible condition to help maintain his good quality of life. Suitable for dogs that weigh between 11kg and 25kg, ROYAL CANIN® Dermacomfort Medium contains kibble that's carefully designed to perfectly fit between your dog's teeth. This food is enriched with Omega 3 and 6 fatty acids, with anti-inflammatory properties. These fatty acids from fish and vegetable oils help soothe and protect your dog's skin, making it less sensitive to irritants in the environment. What's more, these nutrients also help to protect your dog's healthy coat. ROYAL CANIN® Dermacomfort Medium's extra tasty recipe is rich in carefully selected, low-allergen proteins. Royal Canin takes proteins very seriously, that's why we only use the highest quality nutrients and adapt protein type to suit your dog's specific needs. Our Dermacomfort nutritional program has two components available: crunchy kibble and a delicious pâté in a pouch, both are nutritionally complete and perfectly complement each other. Why not try the pâté as a delicious topping to the kibble? Don't just take our word for it, 91% of owners were satisfied with this product after just 2 months of continued use. This means that ROYAL CANIN® Dermacomfort Medium's results are a proven success.
SAMMENSÆTNING/INNEHÅLL: Ris, vegetabilsk proteinisolat*, hvede/vete, animalsk fedt/fett, majsgluten, afskallet havre, majs, mineraler, hydrolyserede animalske proteiner, sojaolie, roetrævler/betmassa, fiskeolie, hørfrø/linfrö, frugto-oligosakkarider, boragoolie, tagetesekstrakt (luteinkilde/luteinkälla). TILSÆTNINGSSTOFFER/TILLSATSER (pr. kg): Tilsætningsstoffer med ernæringsmæssige egenskaber/Näringsmässiga egenskaper: A-vitamin: 29500 IE, D3-vitamin: 800 IE, E1 (Jern): 67 mg, E2 (Jod): 5,5 mg, E4 (Kobber/Koppar): 13 mg, E5 (Mangan): 67 mg, E6 (Zink): 150 mg, E8 (Selen): 0,17 mg - Konserveringsmidler - Antioxidanter. ANALYTISKE BESTANDDELE/GENOMSNITTLIGT ANALYSVÄRDE: Protein: 24,0% - Råfedt/Råfett: 17,0% - Råaske: 5,9% - Træstof/Växttråd: 1,4% - Pr. kg: Omega-6 fedtsyrer: 34,2 g inkl. gamma-linolensyre: 0,3 g - Omega-3 fedtsyrer: 11,3 g inkl. EPA/DHA: 4,1 g. FODRINGSANVISNING/UTFODRINGSANVISNING: Se tabel. Udløbsdato/Bäst före datum, batch- og registreringsnummer: Se pakken/förpackningen. Opbevares køligt og tørt/Förvaras svalt och torrt. *L.I.P.: Utvald/Udvalgt proteinkälla/proteinkilde med en mycket hög/meget høj smältbarhet/fordøjelighed.

| Dog's Weight | Normal activity level | Moderate activity level | High activity level |
| --- | --- | --- | --- |
| 11 kg | 144 g (1+3/8 cups) | 167 g (1+4/8 cups) | 190 g (1+6/8 cups) |
| 15 kg | 182 g (1+5/8 cups) | 211 g (2 cups) | 239 g (2+2/8 cups) |
| 20 kg | 226 g (2+1/8 cups) | 261 g (2+3/8 cups) | 297 g (2+6/8 cups) |
| 25 kg | 267 g (2+4/8 cups) | 309 g (2+7/8 cups) | 351 g (3+2/8 cups) |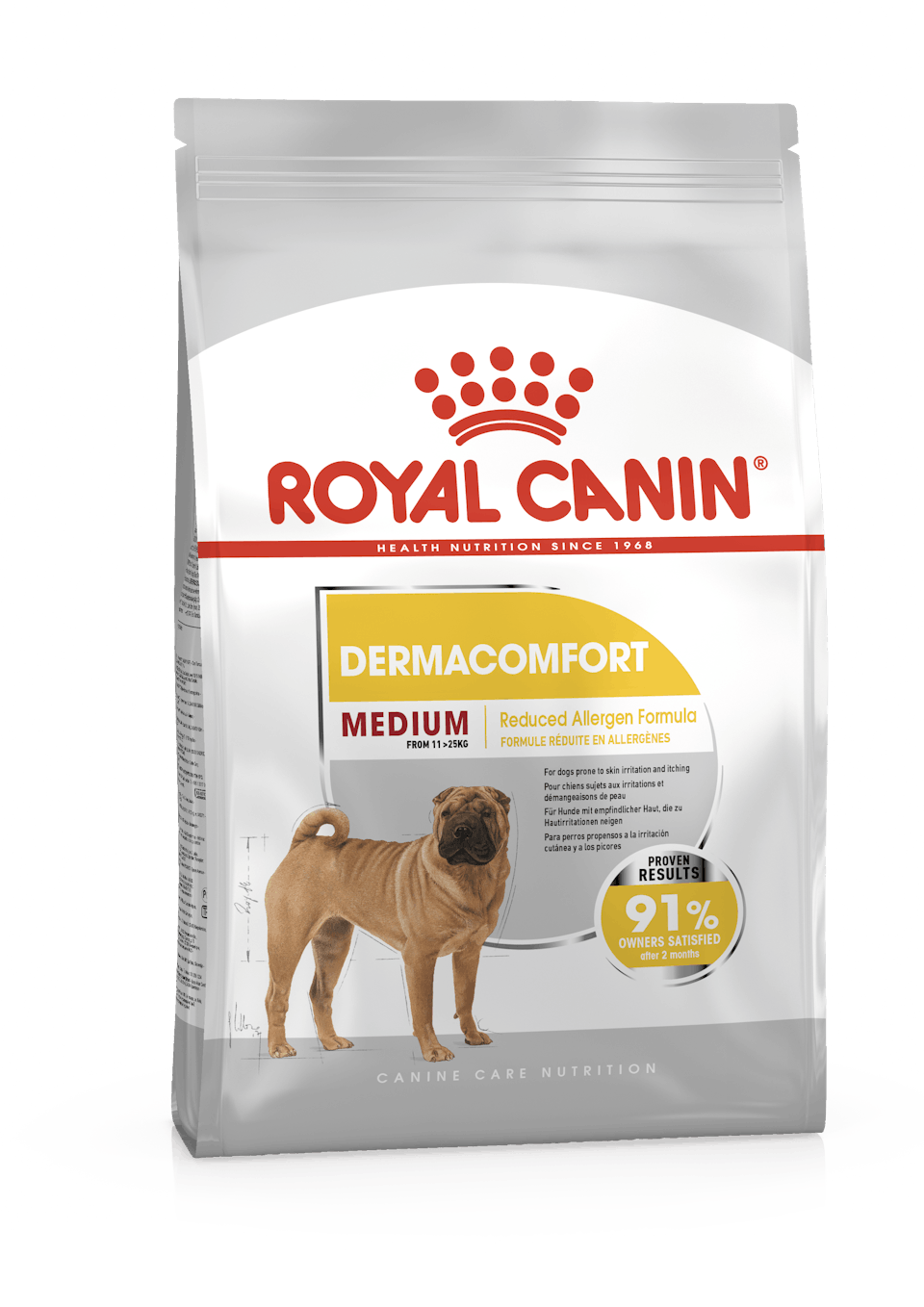 Har du fler frågor om den här produkten?
Ta reda på hur du kan nå oss och hör gärna av dig.
Ställ en fråga