Medium Sterilised
Fuldfoder til hund/Helfoder för hund - Til steriliserede/kastrerede voksne/vuxna og modne/äldre hunde/hundar af mellemstore racer/av medelstora raser (mellem 11 og 25 kg) - Over 12 måneder - Hunde med tendens til overvægt/som har tendens att öka i vikt.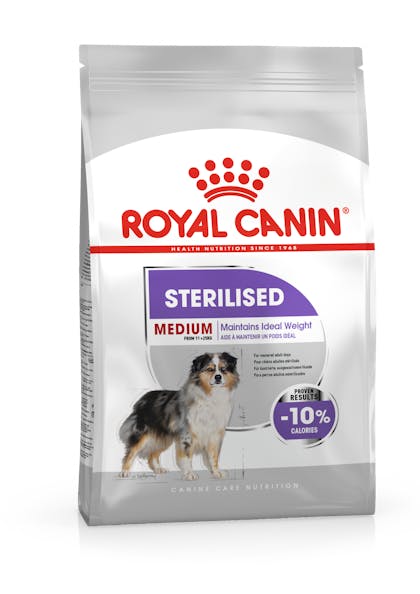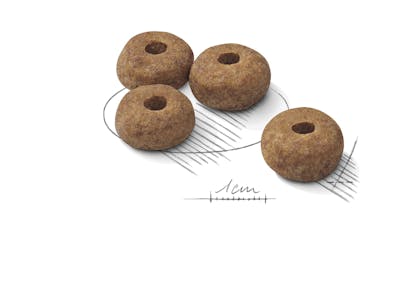 How else can you help your dog?

How else can you help your dog? Get your dog active with walks, games in the park or play at home. Reward him with kibbles taken from his meal allowance, instead of snacks. Most importantly, follow the food measures on this pack. If you have any questions or concerns about your dog's health, please contact your veterinarian.

Your dog's metabolism slows down after sterilisation, and he may be happy to rest on the sofa as opposed to active adventuring, but still be ravenous at mealtimes. ROYAL CANIN® Sterilised Medium is suitable for neutered adult dogs that weigh from 11kg to 25kg. This extra-tasty recipe satisfies your dog's hunger with high-quality nutrients, specially calibrated to keep him trim and active. The moderate fat content in ROYAL CANIN® Sterilised Medium food helps your dog avoid the health complications that go with excess weight gain. Formulated with less dietary fat, this food helps your dog stay lighter on his paws. The optimal combination of fibers included in ROYAL CANIN® Sterilised Medium helps your dog feel full, while also ensuring a regular and healthy transit for better overall digestion. What's more, ROYAL CANIN® Sterilised Medium's high protein content helps your dog to maintain muscle mass, while reducing fat and calories. Don't just take our word for it, ROYAL CANIN® Sterilised Medium is scientifically proven to be 10% lower in calories than regular adult food. This means that ROYAL CANIN® Sterilised Medium's results are a proven success. Our Sterilised nutritional program has two components available: crunchy kibble and a delicious pâté in a pouch, both are nutritionally complete and perfectly complement each other. Why not try the pâté as a delicious topping to the kibble?
Sammansättning: Majs, tørret fjerkræprotein/torkat fågelprotein, hvede/vete, vegetabilske fibre, hydrolyserede animalske proteiner, animalsk fedt/fett, majsgluten, vegetabilsk proteinisolat*, roetrævler/betmassa, gær/jäst og dele heraf/delar därav, fiskeolie, sojaolie, mineraler, psylliumfrø og -skaller/skal, frugto-oligosakkarider, hydrolysat af gær/jäst (kilde af/källa till mannan-oligosakkarider), boragoolie, tagetesekstrakt (luteinkilde/luteinkälla).

Tillsatser (pr. kg): Tilsætningsstoffer med ernæringsmæssige egenskaber/Näringsmässiga egenskaper: A-vitamin: 21000 IE, D3-vitamin: 1000 IE, E1 (Jern): 37 mg, E2 (Jod): 3,7 mg, E4 (Kobber/Koppar): 11 mg, E5 (Mangan): 48 mg, E6 (Zink): 135 mg, E8 (Selen): 0,06 mg, L-carnitin: 200 mg - Teknologiske tilsætningsstoffer: Clinoptilolit/Klinoptilolit af sedimentær/sedimentärt oprindelse/ursprung: 5 g - Konserveringsmidler - Antioxidanter.

Genomsnittligt analysvärde: Protein: 28,0% - Råfedt/Råfett: 13,0% - Råaske: 4,9% - Træstof/Växttråd: 6,4%.

*L.I.P.: Utvald/Udvalgt proteinkälla/proteinkilde med en mycket hög/meget høj smältbarhet/fordøjelighed.

Utfodringsanvisning: Se tabel. Udløbsdato/Bäst före datum, batch- og registreringsnummer: Se pakken/förpackningen. Opbevares køligt og tørt/Förvaras svalt och torrt.

| Hundens vikt | 11 kg | - | 15 kg | - | 20 kg | - | 25 kg | - |
| --- | --- | --- | --- | --- | --- | --- | --- | --- |
| Inomhus - Ingen motion | 140 g | 1+5/8 fodermått | 177 g | 2 fodermått | 219 g | 2+4/8 fodermått | 259 g | 3 fodermått |
| Normal aktivitet | 166 g | 1+7/8 fodermått | 210 g | 2+3/8 fodermått | 260 g | 3 fodermått | 308 g | 3+5/8 fodermått |
| Hög aktivitet | 193 g | 2+2/8 fodermått | 243 g | 2+7/8 fodermått | 301 g | 3+4/8 fodermått | 356 g | 4+1/8 fodermått |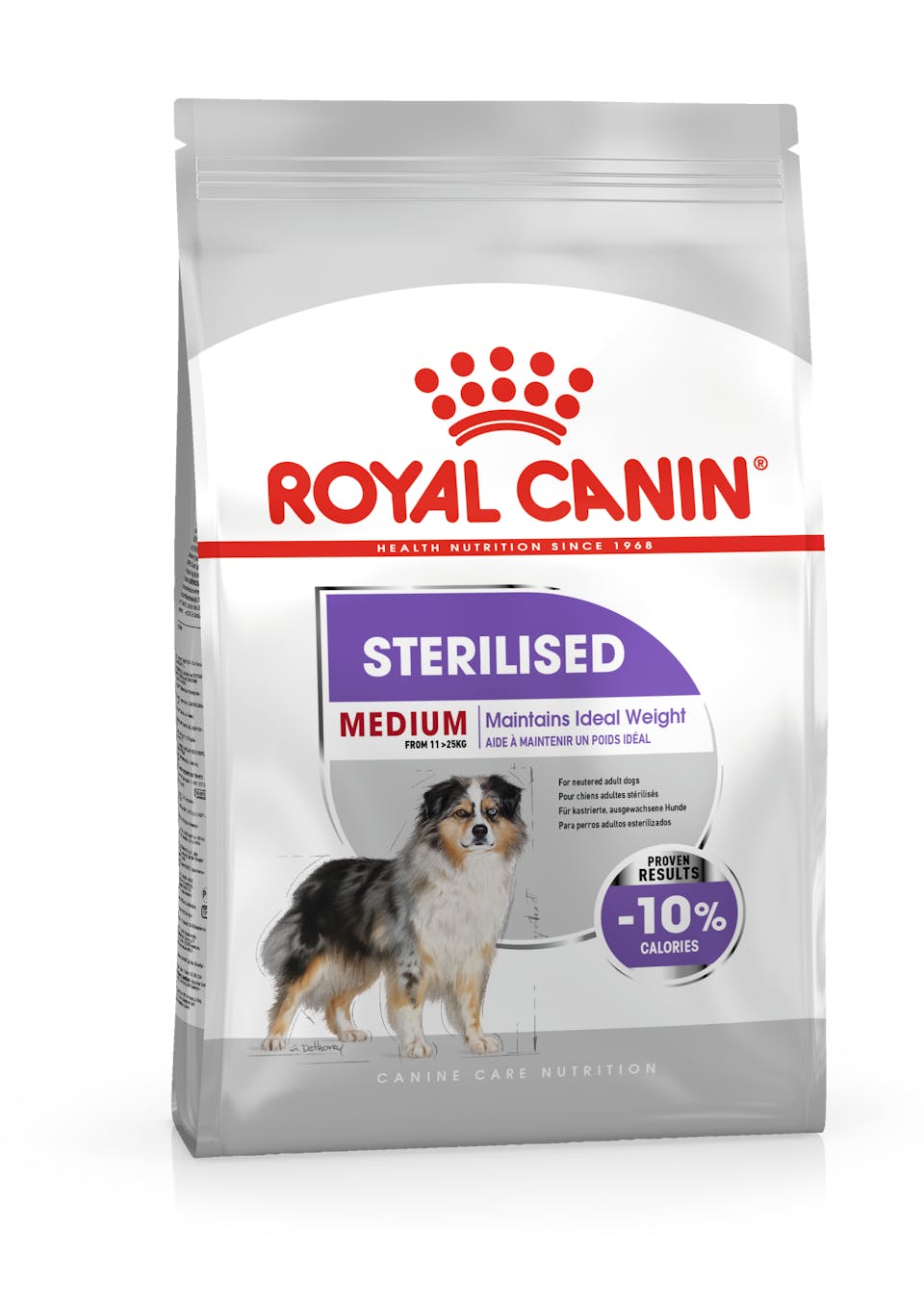 Har du fler frågor om den här produkten?
Ta reda på hur du kan nå oss och hör gärna av dig.
Ställ en fråga