Yorkshire Terrier Adult
Fuldfoder/Helfolder til voksne/vuxna og modne/äldre hunde/hundar af racen Yorkshire Terrier - Over 10 måneder.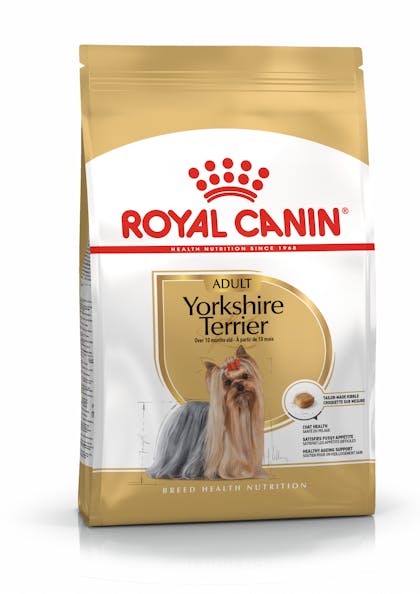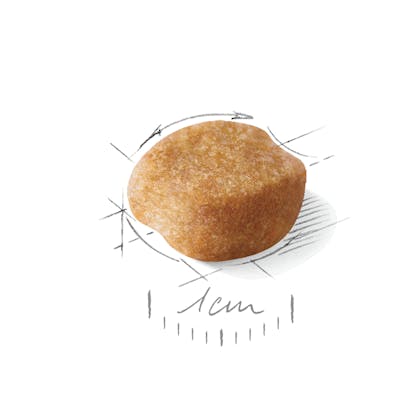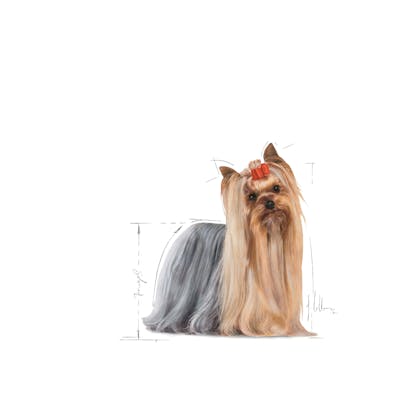 Coat health

This exclusive formula contributes to maintaining health of the Yorkshire's long coat. Enriched with adapted content of Omega 3 fatty acids (EPA & DHA), Omega 6 fatty acids, borage oil and biotin.

Satisfies fussy appetite

This formula satisfies the fussiest of appetites thanks to a combination of exceptional flavours.

Healthy ageing support

This formula supplies a selection of nutrients to help maintain health in mature dogs.

Exclusive kibble design: dental health

This formula helps reduce the risk of tartar formation thanks to calcium chelators.

Because each breed has its own specific requirements, ROYAL CANIN®'s Breed Health Nutrition range caters to the dietary needs of dogs of different breeds to support optimal health.Suitable for Yorkshire Terriers over 10 months old, ROYAL CANIN® Yorkshire Terrier Adult is specially formulated with all the nutritional needs of your adult dog in mind.ROYAL CANIN® Yorkshire Terrier Adult contributes to maintaining the health of your Yorkie's coat through an adapted content enriched by essential omega-3 fatty acids (EPA & DHA), omega-6 fatty acids, borage oil, and biotin.ROYAL CANIN® Yorkshire Terrier Adult satisfies even the fussiest of appetites, thanks to a combination of exceptional flavours that your dog won't be able to resist!Good oral hygiene is an important consideration when selecting your dog's food. ROYAL CANIN® Yorkshire Terrier Adult helps slow down tartar formation through a precise inclusion of calcium chelators within the kibble.To cater to each dog's individual preferences, ROYAL CANIN® Yorkshire Terrier Adult is also available as wet food in a soft and tasty loaf.If you're considering mixed feeding, simply follow our feeding guidelines to ensure your dog gets an accurate amount of both wet and dry food for optimal benefit.
Sammansättning: Tørret fjerkræprotein/torkat fågelprotein, majsmel/majs-mjöl, ris, animalsk fedt/fett, vegetabilsk proteinisolat*, majs, hydrolyserede animalske proteiner, majsgluten, vegetabilske fibre, roetrævler/betmassa, fiskeolie, mineraler, sojaolie, gær/jäst og dele heraf/delar därav, frugto-oligosakkarider, hydrolysat af gær/jäst (kilde af/källa till mannan-oligosakkarider), boragoolie (0,1 %), hydrolysat af krebsdyr/skaldjur (glucosaminkilde/glukosaminkälla), tagetesekstrakt (luteinkilde/luteinkälla), hydrolysat af brusk/brosk (chondroitinkilde/kondroitinkälla).

Tillsatser (pr. kg): Tilsætningsstoffer med ernæringsmæssige egenskaber/Näringsmässiga egenskaper: A-vitamin: 29500 IE, D3-vitamin: 800 IE, Biotin: 3 mg, E1 (Jern): 45 mg, E2 (Jod): 4,5 mg, E4 (Kobber/Koppar): 14 mg, E5 (Mangan): 58 mg, E6 (Zink): 137 mg, E8 (Selen): 0,1 mg - Teknologiske tilsætningsstoffer: Clinoptilolit/Klinoptilolit af sedimentær/sedimentärt oprindelse/ursprung: 5 g - Sensoriske tilsætningsstoffer: Ekstrakt af te (polyfenolkilde/polyfenolkälla): 150 mg - Konserveringsmidler - Antioxidanter.

Genomsnittligt analysvärde: Protein: 28,0% - Råfedt/Råfett: 18,0% - Råaske: 5,1% - Træstof/Växttråd: 3,0% - Pr. kg: Omega-6 fedtsyrer: 33,7 g - Omega-3 fedtsyrer: 7,5 g inkl. EPA/DHA: 3 g - Pentanatriumtriphosphat: 3,5 g.

*L.I.P.: Udvalgt/Utvald proteinkilde/proteinkälla med en meget høj/mycket hög fordøjelighed/smältbarhet.

Utfodringsanvisning: Se tabel. Udløbsdato/Bäst före datum, batch- og registreringsnummer: Se pakken/förpackningen. Opbevares køligt og tørt/Förvaras svalt och torrt.

| Hundens vikt | Låg aktivitet | Normal aktivitet |
| --- | --- | --- |
| 2 kg | 40 g | 47 g |
| 3 kg | 55 g | 64 g |
| 4 kg | 68 g | 79 g |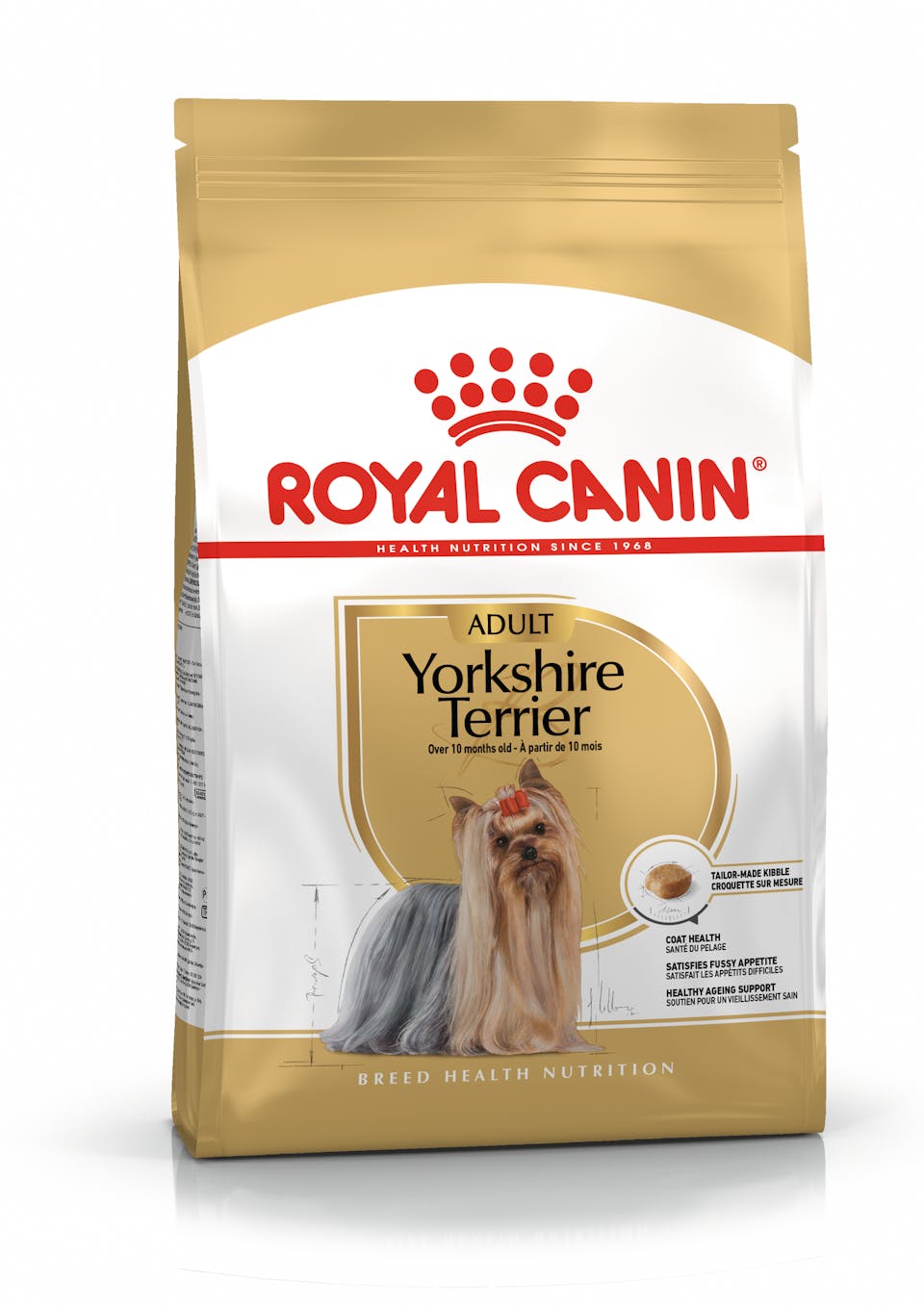 Har du fler frågor om den här produkten?
Ta reda på hur du kan nå oss och hör gärna av dig.
Ställ en fråga