Urinary S/O
RECOMMENDED FOR CASES OF; Struvite uroliths: dissolution and management of recurrence, Calcium oxalate uroliths: management of recurrence. NOT RECOMMENDED IN CASE OF; Chronic Kidney Disease (CKD), Heart disease (when sodium restriction is sought), Concurrent use of urine-acidifying medication, Growth, gestation/lactation.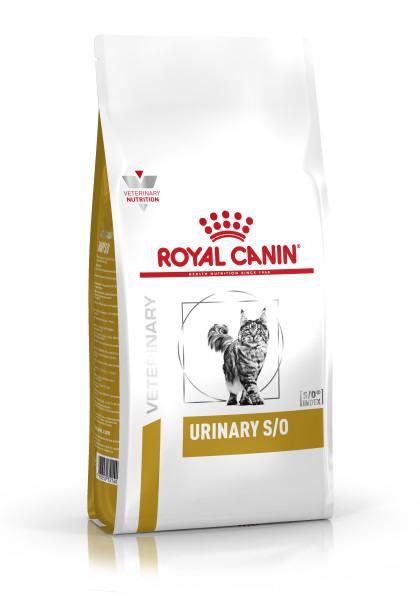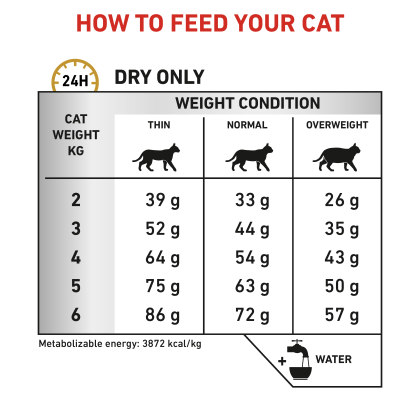 Helps dissolve all types of struvite stones.

Urine dilution makes the urine less liable to form struvite and calcium oxalate stones.

Helps lower the concentration of ions contributing to crystal formation.

For a limited time only, purchases of 1.5kg bags of ROYAL CANIN® Urinary S/O will come with a free test sample of ROYAL CANIN® HEMATURIA DETECTION technology by Blücare® - a granule which you can add to your cat's litter tray to detect blood in your cat's urine. *THIS SAMPLE PRODUCT IS NOT FOOD* Did you know that traces of blood in your cat's urine (haematuria) can be associated with many diseases, urinary issues being the most common? As an owner, you want to ensure that your cat is in good health and detect any potential problems as early as possible. HEMATURIA DETECTION is a tool which enables early detection of blood in a cat's urine, making urinary health management easier. The sachet you will receive contains white granules, with a reagent incorporated, that turns from white to blue when it comes into contact with blood present in the urine. This sample can last for up to a month in the litter tray. If you have any questions about the product, please speak to your veterinarian. Information on ROYAL CANIN® HEMATURIA DETECTION will be included with your order. *PLEASE NOTE - ROYAL CANIN® HEMATURIA DETECTION technology by Blücare® is not food* ROYAL CANIN® Urinary S/O food is specifically formulated with the needs of your adult cat in mind and is available in 1.5kg, 2.5kg and 7kg bags. Suitable for cats with urinary health concerns, ROYAL CANIN® Urinary S/O helps to dissolve all types of struvite stones in your cat's bladder. It also helps to dilute your cat's urine to lessen the likelihood of crystal formation. Because one of the natural components of struvite crystals is magnesium, ROYAL CANIN® Urinary S/O is exclusively formulated with a reduced level of magnesium to further support your cat's overall urinary health. As part of the ROYAL CANIN® Veterinary Range, it is important that this product is only given to your pet when recommended by a veterinary professional. To cater to each cat's individual preferences, ROYAL CANIN® ROYAL CANIN® Urinary S/O is also available as wet food in either a delicious gravy or a soft and tasty loaf. If you're considering mixed feeding, simply follow our feeding guidelines to ensure your cat gets an accurate amount of both wet and dry food for optimal benefit.
Rice, wheat gluten**, dehydrated poultry protein, maize flour, animal fats, hydrolysed animal proteins, maize gluten, minerals, vegetable fibres, fish oil, soya oil, fructo-oligo-saccharides, marigold extract (source of lutein). **L.I.P.: protein selected for its very high digestibility. Vitamin A: 21500 IU, Vitamin D3: 800 IU, E1 (Iron): 37 mg, E2 (Iodine): 3.7 mg, E4 (Copper): 11 mg, E5 (Manganese): 48 mg, E6 (Zinc): 136 mg, E8 (Selenium): 0.06 mg, Urine acidifying substances: calcium sulphate (1.25%). Preservatives - Antioxidants.

Crude fibre: 2.9%. Protein: 34.5%.