Pill Assist Cat
Pill Assist has been specifically developed to help pet owners administer oral medication to their cat. Pill Assist are highly palatable and tightly seal the capsule or tablet to hide the smell of medications. However, try not to touch the Pill Assist with the hand that has come in contact with the medication as your cat could smell the residue and may reject both the medication and the Pill Assist.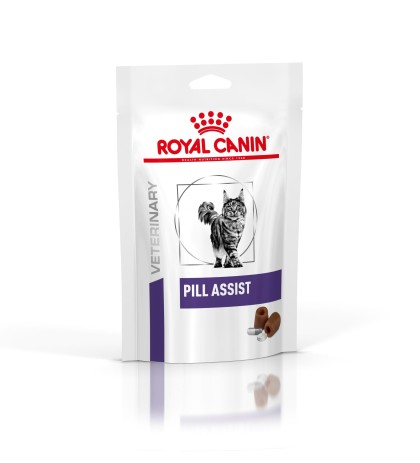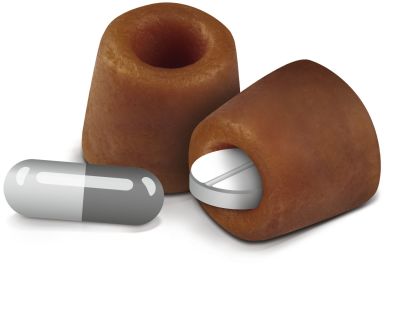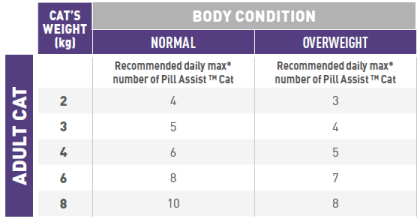 Easy to mould and shape for most pills

Only 3 calories per piece

Pill Assist was shown to ensure a daily pill acceptance in 91% of cases*

ROYAL CANIN® Pill Assist has a soft, mouldable texture that is specially formulated to help make medication administration easier for your cat. Thanks to its mouldable texture, Pill Assist can be shaped around most types and sizes of tablets and pills, to cover and disguise them. Each piece is only 3-calories and made with vitamins and prebiotics to help support healthy digestion. Please consult with your veterinarian to determine the best diet for your pet. It is recommended to follow the on pack feeding guide in order to adhere to the daily intake for your cat. You may also need to alter your cat's daily food ration to ensure an appropriate calorie intake, which will help to maintain an optimal bodyweight for your cat.
Glycerine, dehydrated chicken protein, wheat flour, hydrolysed poultry liver, wheat gluten, palm oil, hydrolysed yeasts (including fructooligo-saccharides), glucose syrup, hydrolysed fish extract. Vitamin C: 280 mg, Vitamin E: 750 IU - Technological additives: gum Arabic - Preservatives - Antioxidant.