Pill Assist Cat
Pill Assist has been specifically developed to help pet owners administer oral medication to their cat. Pill Assist are highly palatable and tightly seal the capsule or tablet to hide the smell of medications. However, try not to touch the Pill Assist with the hand that has come in contact with the medication as your cat could smell the residue and may reject both the medication and the Pill Assist.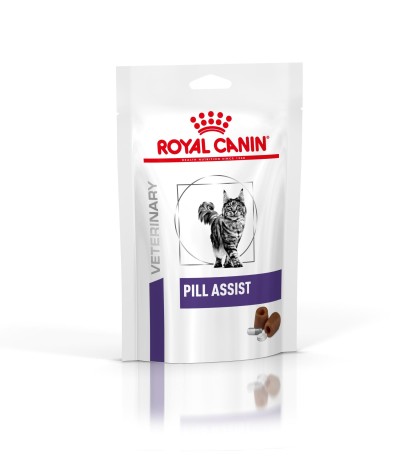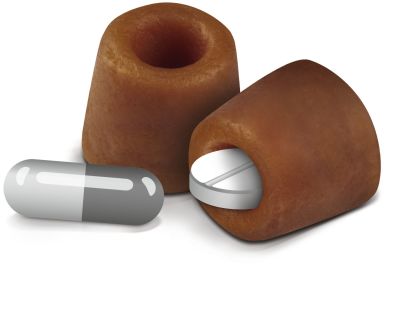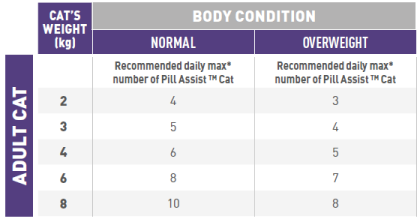 Easy to mould and shape for most pills

Only 3 calories per piece

Pill Assist was shown to ensure a daily pill acceptance in 91% of cases*

Available in 45g pouches, ROYAL CANIN® Pill Assist is specially formulated to help make medication administration easier for adult cats like yours. Thanks to its soft, mouldable texture, ROYAL CANIN® Pill Assist easily covers and disguises most types of pills, making pill time a much easier and more enjoyable daily routine for you both. Each piece of Pill Assist kibble only contains 3 calories per piece. It's also highly palatable in taste and texture to appeal to your cat's appetite. Thanks to an optimal balance of vitamins and prebiotics, ROYAL CANIN® Pill Assist also helps to support your cat's digestive health. Simply place your cat's tablet inside a piece of the kibble, mould the kibble around the tablet so it isn't visible, then feed it to your cat. It is important that you hold, mould and give Pill Assist with one hand, and manipulate and insert the medication with your other hand. That way, you avoid spreading the tablet's taste on the surface of the Pill Assist. ROYAL CANIN® Pill Assist should be stored at room temperature, in a dry place, and in its original packaging (tightly closed). It is not recommended to keep a pack opened for longer than one month. Be sure to follow the on pack-feeding guide to adhere to your cat's daily intake allowance.
Glycerine, dehydrated chicken protein, wheat flour, hydrolysed poultry liver, wheat gluten, palm oil, hydrolysed yeasts (including fructooligo-saccharides), glucose syrup, hydrolysed fish extract. Vitamin C: 280 mg, Vitamin E: 750 IU - Technological additives: gum Arabic - Preservatives - Antioxidant.

Crude ash: 18%. Crude fibre: 1.1%. Crude oil fats: 12.5%. Moisture: 23%. Protein: 21%.