Renal Liquid
Royal Canin Renal Liquid Adult Wet Cat Food is suitable for tube feeding in cases of Acute Kidney Injury (AKI), Azotaemic Chronic Kidney Disease (IRIS stage 2 to stage 4), Hepatic encephalopathy, Chronic Kidney Disease with proteinuria (IRIS stage 1 to 4). This product is not suitable in cases of growth, gestation/lactation. This product should only be fed based upon the specific recommendation of your vet.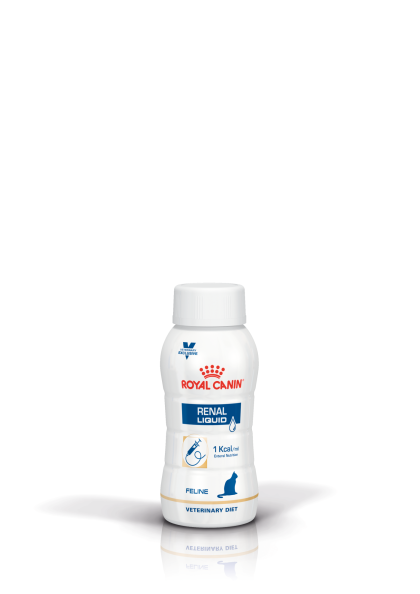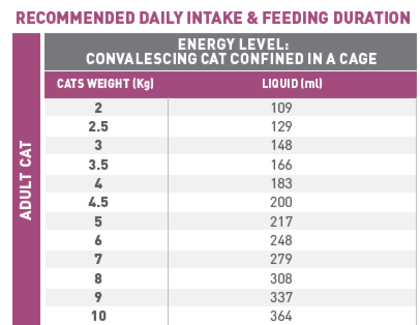 High energy density that provides daily energy requirements in a reduced feeding volume.

Complete and balanced liquid diet to support the renal function in case of renal insufficiency, for cats requiring assisted enteral nutrition.

Formulated to support renal function in case_x000D_ of renal insufficiency: high quality proteins and_x000D_ restricted levels of phosphorus._x000D_ Contains EPA + DHA and antioxidants.

Liquid formula with adapted viscosity for an easy use whatever the tube size.

ROYAL CANIN® Renal Liquid is a nutritionally complete liquid formula designed for tube-feeding cats with renal insufficiency. ROYAL CANIN® Renal Liquid is formulated with high quality proteins and a restricted phosphorus content to help support kidney function. Enriched with EPA, DHA, and a synergistic antioxidant complex, ROYAL CANIN® Renal Liquid also helps to neutralise free radicals. ROYAL CANIN® Renal Liquid has a high energy density, meeting your cat's daily energy requirements in a reduced feeding volume. Thanks to its adapted viscosity, ROYAL CANIN® Renal Liquid is ideal for easy tube feeding, regardless of the tube size.
Milk low lactose**, maltodextrin**, vegetable oil** (including oil rich in arachidonic acid), calcium caseinate**, soya protein concentrate**, minerals, fish oil**, mono and diglyceride of fatty acids, marigold extract (source of lutein). ** Highly digestible ingredients Vitamin A: 3660 IU, Vitamin D3: 280 IU, E1 (Iron): 28.5 mg, E2 (Iodine): 0.7 mg, E4 (Copper): 2.7 mg, E5 (Manganese): 2.4 mg, E6 (Zinc): 42 mg, E8 (Selenium): 0.14 mg. ***Values reflect only levels added to the formula, not those naturally occurring in components of the diet.

Crude ash: 0.9%. Crude fibre: 0%. Crude oil fats: 5.5%. Moisture: 85%. Protein: 7%.