Renal With Chicken (in gravy)
Royal Canin Renal With Chicken (in gravy) Adult Wet Cat Food is suitable for Azotaemic Chronic Kidney Disease (IRIS stage 2* to stage 4), Chronic Kidney Disease with proteinuria (IRIS stage 1 to 4), Management of calcium oxalate urolith recurrence in cats with impaired renal function, Prevention of recurrence of urolithiasis requiring urine alkalinisation: urate and cystine uroliths. This product is not suitable in cases of growth, gestation/lactation. This product should only be fed based upon the specific recommendation of your vet.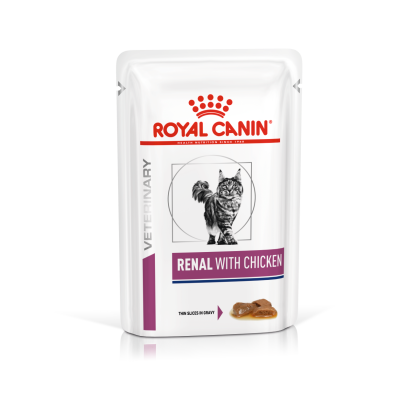 Adapted energy content to reduce meal volume and help support a reduced appetite.

A specific aromatic profile to help stimulate the cat's appetite, particularly in cases of food aversion.

Formulated with low phosphorus and moderate protein of high quality to support renal function.

ROYAL CANIN® Renal with Chicken features thin slices in gravy and is formulated to help support adult cats with Chronic Renal Insufficiency. ROYAL CANIN® Renal with Chicken contains a low level of phosphorus and a moderate protein content to help support kidney function. ROYAL CANIN® Renal with Chicken has an adapted energy content in order to reduce the volume of each meal which helps to support your cats reduced appetite. This food has a specially formulated aromatic profile that helps to stimulate your cat's appetite and appeal to their individual preferences in cases of food aversion and appetite reduction. ROYAL CANIN® Renal comes in two other formulations: beef and fish. It is also available as dry food with tailor-made kibble.
Poultry by-products**(chicken 4%), pork by-products**, wheat flour, pork blood products**, sunflower oil refined, corn starch mixture, maize flour, minerals, fish oil, powdercellulose, fructo-oligosaccharides, marigold extract (source of lutein). ** Protein sources. Vitamin D3: 390 IU, Iron (3b103): 6mg, Iodine (3b202): 0.55mg, Copper (3b405, 3b406): 4.5mg, Manganese (3b502, 3b503, 3b504): 1.9mg, Zinc (3b603, 3b605, 3b606): 19mg - Technological additives: clinoptilolite of sedimentary origin: 0.2g. ***Values reflect only levels added to the formula, not those naturally occurring in components of the diet.

Crude ash: 1.3%., Crude fibre: 0.5%., Crude oil fats: 8%., Moisture: 77%., Protein: 7.8%.