Urinary + Hypoallergenic
RECOMMENDED FOR CASES OF Feline lower urinary tract disease: • Dissolution of struvite uroliths • Management of recurrent struvite and calcium oxalate urolithiasis. In older cats, renal function should be checked before S/O-AFR Feline is recommended. + Dermatological/GI conditions: Food elimination trial • Food allergies • Food intolerance • Inflammatory Bowel Disease (IBD) • Chronic diarrhoea • Exocrine Pancreatic Insufficiency (EPI) • Small Intestinal Bacterial overgrowth (SIBO) NOT RECOMMENDED IN CASE OF Pregnancy, lactation, growth • Chronic Kidney Disease • Heart disease (where sodium restriction is required) • Concurrent use of urine-acidifying drugs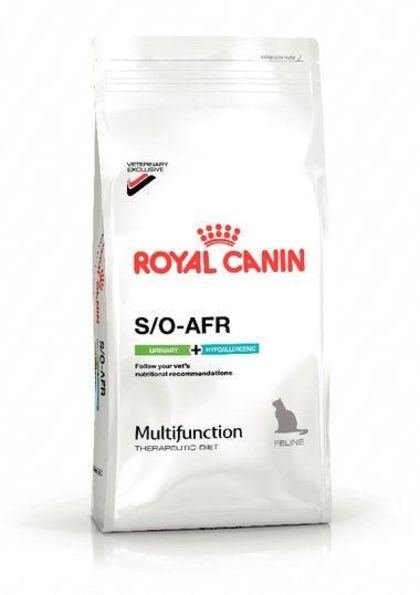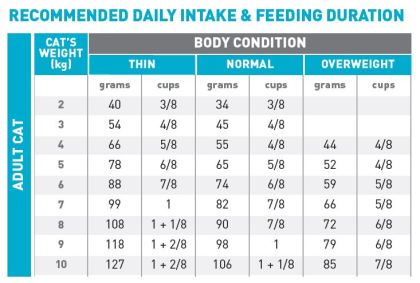 Helps lower the concentration of ions contributing to struvite and calcium oxalate crystal formation.

Hydrolysed protein with low molecular weight to help ensure very low allergenic potential.

Urine dilution makes the urine less liable to form struvite and calcium oxalate stones.
Rice, hydrolysed soya protein isolate, animal fats, minerals, chicory pulp, vegetable fibre, soya oil, fish oil, fructo-oligo-saccharides, fatty acid salt, borage oil. Vitamin A: 28500IU, Vitamin D3: 800IU, E1 (Iron): 43mg, E2 (Iodine): 3.9mg, E4 (Copper): 15mg, E5 (Manganese): 57mg, E6 (Zinc): 205mg, E8 (Selenium): 0.25mg Technological additives: Clinoptilolite of sedimentary origin: 10g. Preservatives - Antioxidants.

Crude ash: 8.9%. Crude fibre: 5.3%. Crude oil fats: 16%. Moisture: 5.5%. Protein: 27%.