Urinary + Satiety
RECOMMENDED FOR CASES OF Feline lower urinary tract disease: • Dissolution of struvite uroliths • Management of recurrent struvite and calcium oxalate rolithiasis. In older cats, renal function should be checked before S/O-Kcal Control Feline is recommended. + Weight Management: Obesity • Diabetes mellitus associated with obesity NOT RECOMMENDED IN CASE OF Pregnancy, lactation, growth • Chronic diseases requiring an increased energy intake • Chronic Kidney Disease • Heart disease (where sodium restriction is required) • Concurrent use of urine-acidifying drugs • Conditions where high fibre content is not recommended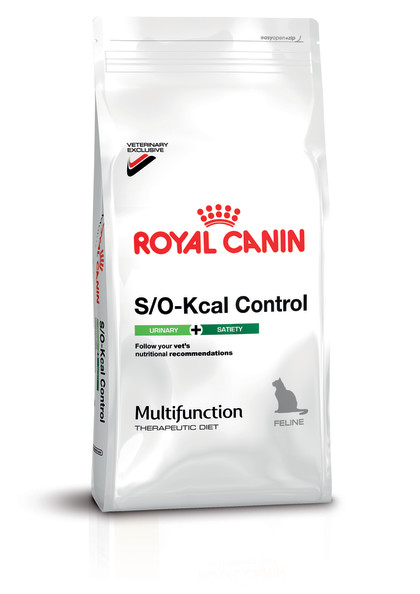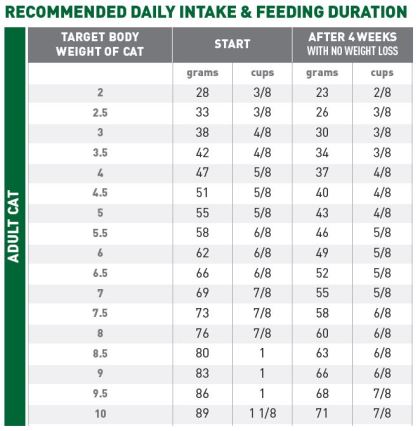 A high protein content (111 g/1000 kcal ME) helps maintain muscle mass throughout the weight loss period.

Urine dilution makes the urine less liable to form struvite and calcium oxalate stones.`

Contains a special blend of fibres which have a satiating effect on cats.
Dehydrated poultry protein, vegetable fibres, tapioca, wheat gluten**, maize gluten, wheat flour, hydrolysed animal proteins, minerals, animal fats, chicory pulp, fish oil, psyllium husks and seeds, hydrolysed crustaceans (source of glucosamine), hydrolysed cartilage (source of chondroitin). Vitamin A: 23800IU, Vitamin D3: 900IU, E1 (Iron): 29mg, E2 (Iodine): 2.9mg, E4 (Copper): 9mg, E5 (Manganese): 37mg, E6 (Zinc): 112mg, E8 (Selenium): 0.04mg Preservatives - Antioxidants.

Crude ash: 9.6%. Crude fibre: 14%. Crude oil fats: 9%. Moisture: 5.5%. Protein: 34%.