Gastrointestinal High Fibre
RECOMMENDED FOR CASES OF • Fibre responsive colitis / diarrhoea (including stress diarrhoea) • Chronic Idiopathic Large Bowel Diarrhoea • Conditions requiring a high fibre level* NOT RECOMMENDED IN CASE OF • Obstipation* • Dehydration • Growth, gestation/lactation *A fibre rich diet may support dogs suffering with constipation, however it may also increase faecal volume which is contraindicated in some cases of constipation, particularly if associated with dehydration, obstipation and/or obstruction. For these cases a low residue diet such as Gastrointestinal may be recommended.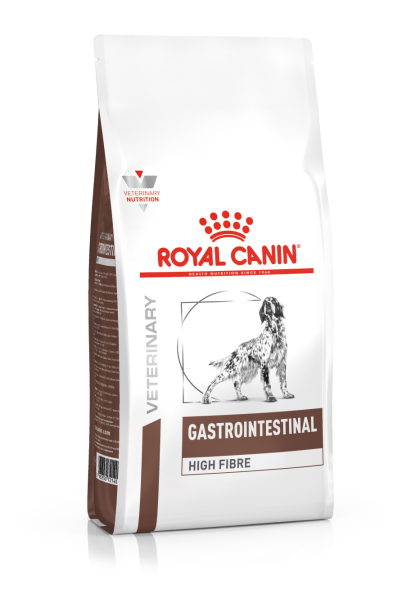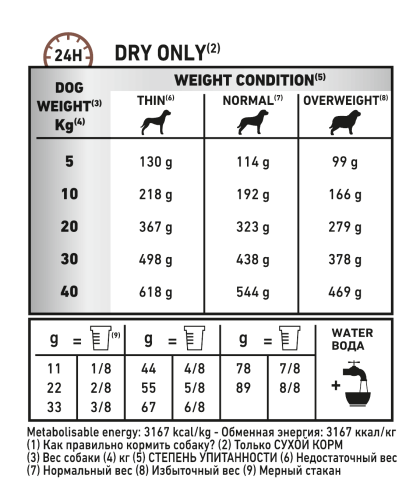 A fibre rich diet with an optimal blend of fibre to help regulate intestinal transit.

Provides maintenance energy levels despite high fibre content.

A highly digestible formula with balanced fibres, including prebiotics, to support a healthy digestion and transit.

For dogs with digestive sensitivities, a diet that is rich in high-quality fibres can help to support healthy digestion. ROYAL CANIN® Gastrointestinal High Fibre is specially formulated to support the nutritional needs of dogs with specific digestive sensitivities. This dry food product is available in 2 kg, 7.5 kg, and 14 kg bags. This highly digestible formula contains a specific balance of fibres – including prebiotics – that help support healthy digestion and gastrointestinal transit. A fibre rich diet containing nutrients that are easy for your dog to digest helps to support and regulate your dog's intestinal transit by relieving certain types constipation and helping to control diarrhoea. Despite its high fibre content, ROYAL CANIN® Gastrointestinal High Fibre still helps to maintain your dog's energy levels thanks to its adequate energy content As part of the ROYAL CANIN® Veterinary Range, it is important that this product is only given to your pet when recommended by a veterinary professional.
Vegetable fibres, rice, animal fats, dehydrated poultry protein, maize, wheat, maize gluten, dehydrated pork protein, wheat gluten, minerals, hydrolysed poultry liver, beet pulp, soya oil, fish oil, psyllium husks and seeds, yeasts products, hydrolysed animal proteins, fructooligosaccharides (0.5%), hydrolysed yeast (source of manno-oligosaccharides) (0.2%), marigold extract (source of lutein). Vitamin A: 16500 IU, Vitamin D3: 1100 IU, Iron (3b103): 47mg, Iodine (3b201, 3b202): 4.7mg, Copper (3b405, 3b406): 14mg, Manganese (3b502, 3b504): 61mg, Zinc (3b603, 3b605, 3b606): 143mg, Selenium (3b801, 3b811, 3b812): 0.09mg - Technological additives: Clinoptilolite of sedimentary origin: 10g - Preservatives - Antioxidants.

Crude ash: 7.4%., Crude fibre: 11.1%., Crude oil fats: 16%., Protein: 23%.