Gastrointestinal Low Fat (in loaf)
RECOMMENDED FOR CASES OF • Acute and chronic pancreatitis • Hyperlipidemia • Lymphangiectasia, exudative enteropathy • Gastritis, oesophagitis • Exocrine Pancreatic Insufficiency (EPI)* NOT RECOMMENDED IN CASE OF • Growth, gestation/lactation *In cases of EPI, Gastrointestinal is our first dietary recommendation.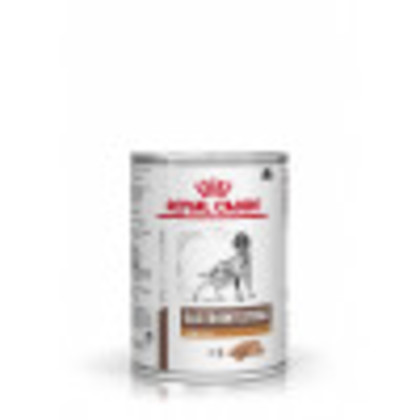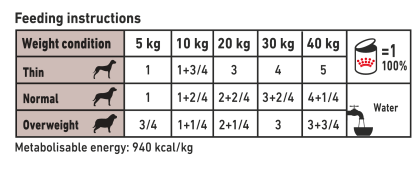 For the nutritional management of dogs needing a fat restricted diet.

Limited fibre content to allow provision of maintenance energy levels despite fat restriction.

A highly digestible formula with balanced fibres, including prebiotics, to support a healthy digestion and transit.

Available in 410 g cans, ROYAL CANIN® Gastrointestinal Low Fat Loaf is a fat-restricted diet that is tailor-made to support the nutritional needs of dogs with digestive sensitivities, where digestion of fat is an issue. With a combination of fibres and prebiotics, ROYAL CANIN® Gastrointestinal Low Fat Loaf helps to stimulate healthy digestion and transit. As some dogs cannot digest fat very easily, this exclusive diet is significantly low in fat whilst still meeting your dog's nutritional requirements. Even though the fat content has been reduced, the high-quality protein and digestible carbohydrates in ROYAL CANIN® Gastrointestinal Low Fat Loaf helps your dog to maintain its energy levels. As part of the ROYAL CANIN® Veterinary Range, it is important that this product is only given to your pet when recommended by a veterinary professional. To cater to each dog's individual preferences, ROYAL CANIN® Gastrointestinal Low Fat is also available as dry kibble. If you're considering mixed feeding, simply follow our feeding guidelines to ensure your dog gets an accurate amount of both wet and dry food for optimal benefit.
Pork by-products, rice flour, maize grits, maize flour, poultry byproducts, pork blood products, powdercellulose, minerals, dried beet pulp, yeasts and part thereof, fish oil, marigold extract (source of lutein). Vitamin D3: 200 IU, Iron (3b103): 4mg, Iodine (3b202): 0.3mg, Copper (3b405, 3b406): 2mg, Manganese (3b502, 3b503, 3b504): 1.3 mg, Zinc (3b603, 3b605, 3b606): 13mg - Technological additives: clinoptilolite of sedimentary origin: 2.5g.