Gastrointestinal Moderate Calorie
RECOMMENDED FOR OVERWEIGHT DOGS (OR DOGS PRONE TO OVERWEIGHT) IN CASE OF • Acute and chronic diarrhoea • Gastritis • Colitis • Exocrine Pancreatic Insufficiency • Maldigestion/ Malabsorption • Anorexia, re-feeding after surgery NOT RECOMMENDED IN CASE OF • Acute pancreatitis or severe chronic pancreatitis* • Hyperlipidemia* • Lymphangiectasia, exudative enteropathy* • Growth, gestation/lactation *In these cases the recommended product is Gastrointestinal Low Fat.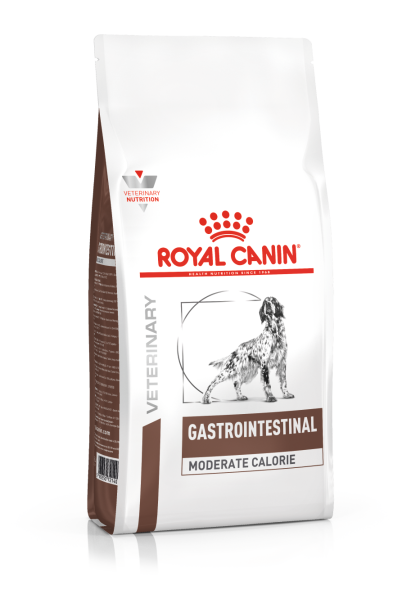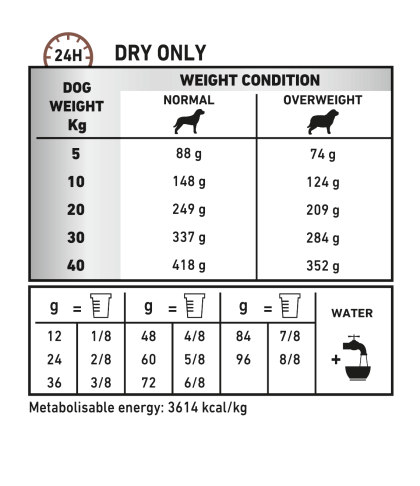 Moderate calorie content to help maintain ideal weight.

High palatability to satisfy decreased appetites.

A highly digestible formula with balanced fibres, including prebiotics, to support a healthy digestion and transit.

Available in 2 kg, 7.5 kg and 15 kg bags, ROYAL CANIN® Moderate Calorie is exclusively formulated to support adult dogs with digestive sensitivities, while also helping them maintain a healthy body weight. This highly digestible formula is specially tailored with a balance of fibres to help facilitate better digestion. Prebiotics are included to help stimulate a balance of good gut bacteria to support healthy transit. This product's purposely moderate calorie content helps your dog to maintain an ideal weight, especially if they have a tendency to gain weight. Despite the reduction in calories, ROYAL CANIN® Moderate Calorie still provides your dog with enough energy for optimal health and wellbeing. ROYAL CANIN® Moderate Calorie is a highly palatable diet with tailor-made kibble that appeals to your dog's appetite, even if their appetite has decreased recently. As part of the ROYAL CANIN® Veterinary Range, it is important that this product is only given to your pet when recommended by a veterinary professional.
Rice*, dehydrated poultry protein*, maize*, hydrolysed animal proteins*, animal fats*, beet pulp, egg powder*, vegetable fibres, minerals, soya oil*, yeasts products, fish oil*, psyllium husks and seeds (source of mucilaginous substances), fructo-oligosaccharides (0.5%), mono - and diglycerides of palmitic and stearic acids esterified with citric acid*, hydrolysed yeast (source of manno-oligosaccharides) (0.2%), marigold extract (source of lutein). * Highly digestible ingredients. Vitamin A: 16500 IU, Vitamin D3: 1000 IU, Iron (3b103): 43mg, Iodine (3b201, 3b202): 4.3mg, Copper (3b405, 3b406): 13mg, Manganese (3b502, 3b504): 56 mg, Zinc (3b603, 3b605, 3b606): 135mg, Selenium (3b801, 3b811, 3b812): 0.08mg - Technological additives: Clinoptilolite of sedimentary origin: 5g - Preservatives - Antioxidants.

Crude ash: 6.2%. Crude fibre: 2.4%. Crude oil fats: 11%. Protein: 23%.