Gastrointestinal (in loaf)
RECOMMENDED FOR CASES OF • Acute and chronic diarrhoea • Gastritis • Colitis • Exocrine Pancreatic Insufficiency (EPI) • Maldigestion/ Malabsorption • Anorexia, re-feeding after surgery NOT RECOMMENDED IN CASE OF • Pancreatitis or history of pancreatitis* • Hyperlipidemia* • Lymphangiectasia, exudative enteropathy* *In these cases the recommended product is Gastrointestinal Low Fat.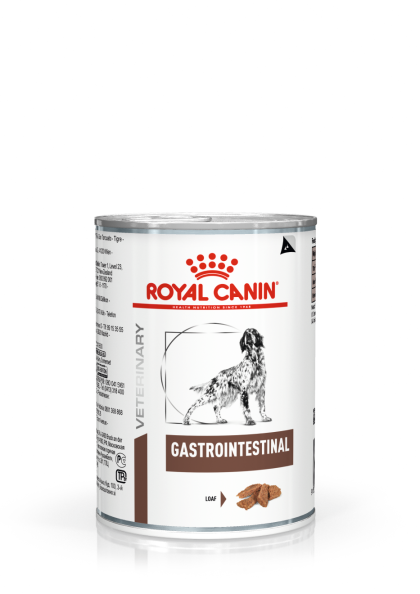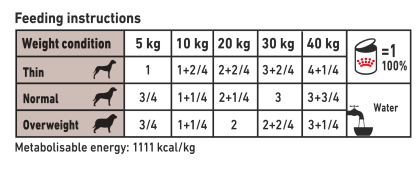 A high energy content to reduce meal volume and decrease intestinal load.

High palatability to satisfy decreased appetites.

A highly digestible formula with balanced fibres, including prebiotics, to support a healthy digestion and transit.

ROYAL CANIN® Gastrointestinal Loaf is exclusively developed to support the nutritional needs of dogs with digestive sensitivities. ROYAL CANIN® Gastrointestinal Loaf is very energy-dense, providing all the right nutrients in a smaller meal, helping to reduce the load on your dog's intestines and making digestion easier. Thanks to an optimal balance of fibres, ROYAL CANIN® Gastrointestinal Loaf helps to support healthy intestinal transit for good digestion and is highly palatable. If you're considering mixed feeding, there is a dry version of Gastrointestinal available; simply follow the on-pack feeding guidelines to ensure your dog gets an accurate amount of both wet and dry food for optimal benefit. As part of the ROYAL CANIN® Veterinary Range, it is important that this product is only given to your pet when recommended by a veterinary professional.
Pork by-products*, poultry by-products*, salmon*, rice*, sunflower oil refined, pork blood products*, powdercellulose, minerals, dried beet pulp, fish oil, yeasts and part thereof, marigold extract (source of lutein). * Highly digestible ingredients. Vitamin D3: 260 IU, Iron (3b103): 6mg, Iodine (3b201, 3b202): 0.3mg, Copper (3b405, 3b406): 2.8mg, Manganese (3b502, 3b503, 3b504): 2mg, Zinc (3b603, 3b605, 3b606): 20mg - Technological additives: clinoptilolite of sedimentary origin: 2.5g.

Crude ash: 2.4%. Crude fibre: 1.2%. Crude oil fats: 5.9%. Moisture: 74%. Protein: 8.9%.