Gastrointestinal Puppy (ultra-soft mousse)
RECOMMENDED FOR PUPPIES FROM WEANING TO ADULTHOOD (AND GESTATING/LACTATING BITCHES) IN CASE OF • Acute and chronic diarrhoea (including weaning diarrhoea) • Gastritis • Colitis • Exocrine Pancreatic Insufficiency • Maldigestion/ Malabsorption • Anorexia, re-feeding after surgery NOT RECOMMENDED IN CASE OF • Pancreatitis or history of pancreatitis* • Hyperlipidemia* • Lymphangiectasia, exudative enteropathy* *In these cases contact the Royal Canin Nutritional Helpline for further advice.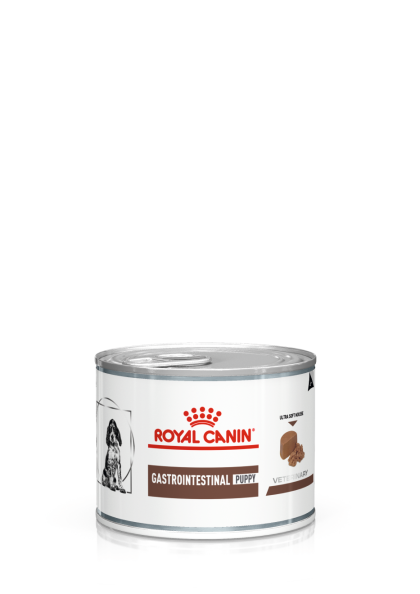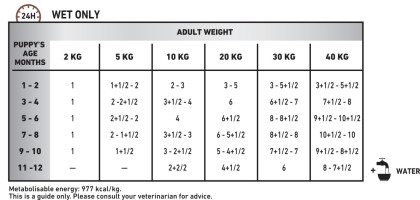 High energy formula with adapted levels of nutrients (including protein and calcium) to meet the needs of a growing puppy.

Specific mousse texture to facilitate food intake in puppies with decreased appetite and help the transition from milk to solid food.

A highly digestible formula with balanced fibres, including prebiotics, to support a healthy digestion and transit.

Available in 95 g cans, ROYAL CANIN® Gastrointestinal Puppy Ultra-Soft Mousse is specially formulated to support puppies with digestive sensitivities. ROYAL CANIN® Gastrointestinal Puppy Ultra-Soft Mousse is a highly digestible formula, containing carefully selected nutrients that help support good digestion and healthy transit. This high energy diet is formulated with specifically adapted protein and calcium levels to make sure your puppy gets the nutrition needed to support optimal growth and development. If your puppy has a reduced appetite, this highly palatable diet has been formulated to help encourage a healthy appetite. As part of the ROYAL CANIN® Veterinary Range, it's important that this product is only given to your pet when recommended by a veterinary professional. To cater to each dog's individual preferences, ROYAL CANIN® Gastrointestinal Puppy is also available as dry kibble. If you're considering mixed feeding, simply follow the on-pack feeding guidelines to ensure your dog gets an accurate amount of both wet and dry food for optimal benefit.
Poultry by-products*, pork by-products*, chicken meat*, pork gelatine*, rice flour*, powdercellulose, minerals, hydrolysed poultry by-products*, caseinate*, fish oil, pork blood products*, yeasts and part thereof, marigold extract (source of lutein). * Highly digestible ingredients. Vitamin D3: 130 IU, Iron (3b103): 6mg, Iodine (3b202): 0.3mg, Copper (3b405, 3b406): 2.4mg, Manganese (3b502, 3b503, 3b504): 1.8mg, Zinc (3b603, 3b605, 3b606): 18mg - Technological additives: clinoptilolite of sedimentary origin: 2.1g.

Crude ash: 2.2%. Crude fibre: 0.8%. Crude oil fats: 5.8%. Moisture: 78.5%. Protein: 10%.