Hepatic (in loaf)
RECOMMENDED FOR CASES OF • Chronic hepatitis associated with liver dysfunction • Portosystemic shunt • Hepatic encephalopathy • Copper storage disease NOT RECOMMENDED IN CASE OF • Pancreatitis or history of pancreatitis • Hyperlipidemia • Acute hepatitis without hepatic encephalopathy* • Growth, gestation/lactation *In this case the recommended products are Gastrointestinal or Recovery.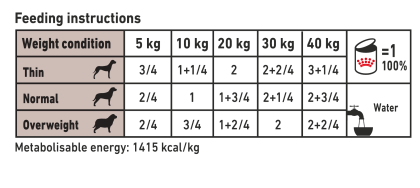 Low level of copper to help minimize its accumulation in liver cells.

A high energy content to reduce meal volume and decrease intestinal load.

Adapted levels of highly digestible vegetable proteins to support liver function in case of chronic liver insufficiency.

ROYAL CANIN® Hepatic is exclusively formulated to support dogs suffering with liver disease, thanks to a variety of helpful nutrients. This tailor-made diet contains specially adapted, high-quality proteins. In cases of chronic liver insufficiency, these carefully selected proteins help to support your dog's liver function. Copper accumulation can happen in some liver diseases, and ROYAL CANIN® Hepatic Loaf's low copper content can therefore help minimising copper accumulation in your dog's liver Maintaining your dog's energy levels is important, as this also contributes to healthy liver function. This exclusive diet boasts a high energy content to help maintain your dog's energy intake. As part of the ROYAL CANIN® Veterinary Range, it is important that this product is only given to your pet when recommended by a veterinary professional.
Poultry by-products*, rice**, maize grits, maize flour**, sunflower oil refined, powdercellulose, minerals, fish oil, dried beet pulp, fructooligosaccharides, marigold extract (source of lutein). * Protein sources. **Highly digestible carbohydrates.. Vitamin D3: 300 IU, Iron (3b103): 13mg, Iodine (3b202): 0.7 mg, Copper (3b405, 3b406): 0.8mg, Manganese (3b502, 3b503, 3b504): 5.8mg, Zinc (3b603, 3b605, 3b606): 24mg, Selenium (3b801, 3b811): 0.039mg.