Satiety Weight Management (in loaf)
RECOMMENDED FOR WEIGHT LOSS / MAINTENANCE AFTER WEIGHT LOSS IN CASE OF: Overweight/Obesity, Diabetes Mellitus with overweight/obesity, Hyperlipidemia with overweight/obesity. NOT RECOMMENDED IN CASE OF: Growth, gestation/lactation.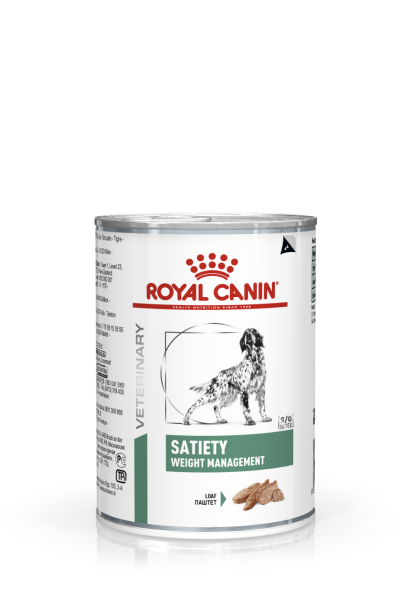 Nutritional profile that helps keep dogs satisfied between meals

High protein content helps support healthy weight loss while maintaining muscle mass.

An adapted macronutrient profile helps provide safe weight loss and avoid weight regain.

Available in either 195g or 410g cans, ROYAL CANIN® Canine Satiety Weight Management Loaf is specially formulated with overweight and obese dogs' nutritional needs in mind. To help support safe and healthy weight loss in your dog, ROYAL CANIN® Canine Satiety Weight Management Loaf contains a specially adapted macronutrient profile. The specific nutritional profile in ROYAL CANIN® Canine Satiety Weight Management Loaf helps to keeping them feeling satisfied between meals and limit begging behaviours. ROYAL CANIN® Canine Satiety Weight Management Loaf contains a high protein content to not only support weight loss, but also to support the maintenance of your dog's muscle mass. As part of the ROYAL CANIN® Veterinary Range, it is important that this product is only given to your pet when recommended by a veterinary professional. To cater to each dog's individual preferences, ROYAL CANIN® Canine Satiety Weight Management is also available as dry kibble food. If you're considering mixed feeding, simply follow our feeding guidelines to ensure your dog gets an accurate amount of both wet and dry food for optimal benefit. It is essential to accurately follow feeding rations as prescribed by your Veterinary Practice and we recommend dividing the daily ration between 2 meals.
Pork by-products, poultry by-products, maize flour, pork blood products, powdered cellulose, dried beet pulp, fish oil, minerals, marigold extract (source of lutein), hydrolysed crustaceans (source of glucosamine), hydrolysed cartilage (source of chondroitin). Vitamin D3: 290 IU, Iron (3b103): 6.5 mg, Iodine (3b202): 0.2 mg, Copper (3b405, 3b406): 1.8 mg, Manganese (3b502, 3b503, 3b504): 2 mg, Zinc (3b603, 3b605, 3b606): 20 mg - Technological additives: Clinoptilolite of sedimentary origin: 1 g.

Crude ash: 1%. Crude fibre: 2%. Crude oil fats: 2%. Moisture: 83%. Protein: 8%.