Urinary + Hypoallergenic
RECOMMENDED FOR CASES OF Urinary disorders: • Dissolution of struvite uroliths • Recurrent struvite and calcium oxalate urolithiasis • Bacterial cystitis. In older dogs, renal function should be checked before S/O-AFR Canine is recommended. + Dermatological/GI conditions: Food elimination trial • Food allergies • Food intolerance • Food responsive Inflammatory Bowel Disease (IBD) • Chronic diarrhoea • Small Intestinal Bacterial Overgrowth (SIBO) • Exocrine Pancreatic Insufficiency [EPI] NOT RECOMMENDED IN CASE OF Pregnancy, lactation, growth • Chronic Kidney Disease • Heart disease (where sodium restriction is required) • Concurrent use of urine-acidifying drugs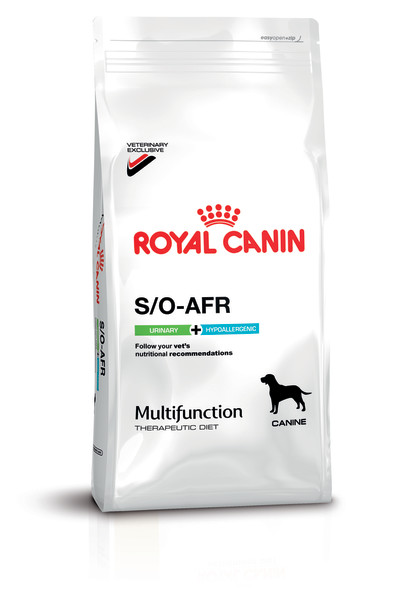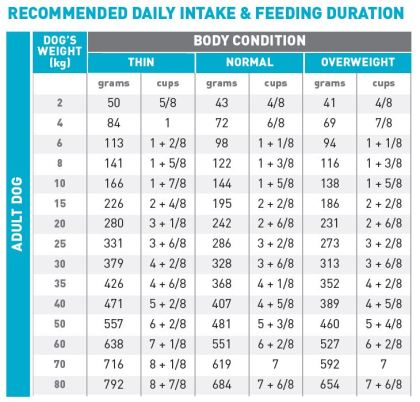 Low RSS (Relative Super-saturation) diets encourage an undersaturated urinary environment, unfavourable to the development of struvite and calcium oxalate crystals.

A specially formulated complex of nutrients to support the skin's natural protective barrier role and for optimal skin health

Diluting urine decreases the urinary concentrations of struvite and calcium oxalate crystals. Greater urinary volumes also ensure regular bladder wash-out.
Rice, hydrolysed soya protein isolate, animal fats, minerals, chicory pulp, vegetable fibre, soya oil, fish oil, fructo-oligo-saccharides, fatty acid salt, borage oil. Vitamin A: 28500IU, Vitamin D3: 800IU, E1 (Iron): 43mg, E2 (Iodine): 3.9mg, E4 (Copper): 15mg, E5 (Manganese): 57mg, E6 (Zinc): 205mg, E8 (Selenium): 0.25mg Technological additives: Clinoptilolite of sedimentary origin: 10g. Preservatives - Antioxidants.

Crude ash: 4%. Crude fibre: 2.4%. Crude oil fats: 15%. Moisture: 5.5%. Protein: 20%.