Digest Sensitive Loaf in Sauce Canned Cat Food
DIGEST SENSITIVE thin slices in gravy is for adult cats over 1 year.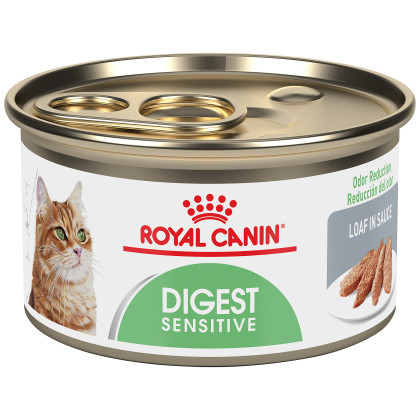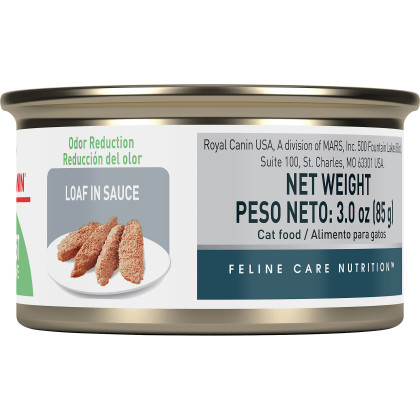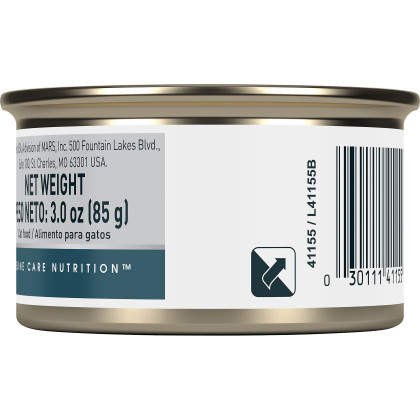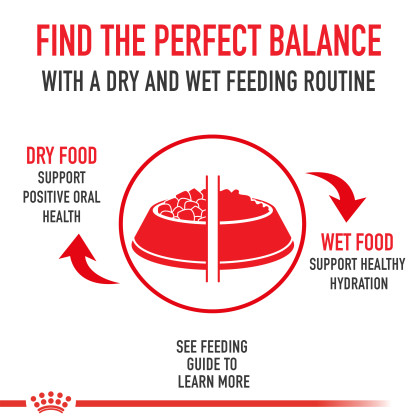 Helps maintain ideal weight.

Formulated with a precise balance of vitamins and minerals to maintain optimal health and wellness.

Cats can be very good at hiding digestive upsets. However, you can find clues in their litter box. Lots of stinky stools could mean your cat has a sensitive stomach and digestive tract. And regular regurgitation may indicate a more serious issue, so you should consult your veterinarian.

Royal Canin Digest Sensitive Loaf in Sauce wet cat food is formulated to provide digestive support for your adult cat with a sensitive tummy. Highly digestible proteins promote digestive health and a balanced intestinal tract so that your cat enjoys their food comfortably. The high-protein formula also helps your cat maintain a healthy weight. And a uniquely balanced blend of vitamins and minerals promotes your pet's overall physical health and wellness. Try pairing with Royal Canin Digestive Care dry cat food for a meal your cat will love.
Water sufficient for processing, pork by-products, chicken by-products, chicken liver, pork liver, salmon, corn flour, wheat gluten, pork plasma, hydrolyzed chicken liver, powdered cellulose, natural flavors, carrageenan, calcium sulfate, sodium silico aluminate, guar gum, sodium tripolyphosphate, potassium chloride, taurine, choline chloride, vitamins [DL-alpha tocopherol acetate (source of vitamin E), thiamine mononitrate (vitamin B1), niacin supplement, biotin, D-calcium pantothenate, folic acid, pyridoxine hydrochloride (vitamin B6), riboflavin supplement, vitamin B12 supplement, vitamin D3 supplement], trace minerals [zinc oxide, zinc proteinate, ferrous sulfate, copper sulfate, manganous oxide, calcium iodate, sodium selenite].

Calorie Content

This diet contains 774 kcal ME/kg; 66 kcal ME/can on an as fed basis (calculated).

| Nutrient | Amount |
| --- | --- |
| Crude Protein (min) | 7.5% |
| Crude Fat (min) | 2.0% |
| Crude Fiber (max) | 1.8% |
| Moisture (max) | 82.5%. |

3 oz (85 g) Can Only

| Cat Weight | Low Activity | Medium Activity | High Activity |
| --- | --- | --- | --- |
| 4.4 lb (2 kg) | 1 1/4 cans (115 g) | 1 3/4 cans (145 g) | 2 cans (175 g) |
| 6.6 lb (3 kg) | 1 3/4 cans (155 g) | 2 1/4 cans (195 g) | 2 3/4 cans (230 g) |
| 8.8 lb (4 kg) | 2 1/4 cans (190 g) | 2 3/4 cans (235 g) | 3 1/4 cans (285 g) |
| 11 lb (5 kg) | 2 1/2 cans (220 g) | 3 1/4 cans (275 g) | 4 cans (335 g) |
| 13 lb (6 kg) | 3  cans (255 g) | 3 3/4 cans (315 g) | 4 1/2 cans (380 g) |
| 15 lb (7 kg) | 3 1/4 cans (280 g) | 4 cans (350 g) | 5 cans (420 g) |
| 18 lb (8 kg) | 3 3/4 cans (310 g) | 4 1/2 cans (385 g) | 5 1/2 cans (465 g) |
| 20 lb (9 kg) | 4 cans (335 g) | 5 cans (420 g) | 6 cans (505 g) |
| 22 lb (10 kg) | 4 1/4 cans (365 g) | 5 1/4 cans (455 g) | 6 1/2 cans (545 g) |

5.8 oz (165 g) Can Only

| Cat Weight | Low Activity | Medium Activity | High Activity |
| --- | --- | --- | --- |
| 4.4 lb (2 kg) | 3/4 can (115 g) | 1 can (145 g) | 1 can (175 g) |
| 6.6 lb (3 kg) | 1 can (155 g) | 1 1/4 cans (195 g) | 1 1/2 cans (230 g) |
| 8.8 lb (4 kg) | 1 1/4 cans (190 g) | 1 1/2 cans (235 g) | 1 3/4 cans (285 g) |
| 11 lb (5 kg) | 1 1/4 cans (220 g) | 1 3/4 cans (275 g) | 2 cans (335 g) |
| 13 lb (6 kg) | 1 1/2 cans (255 g) | 2 cans (315 g) | 2 1/4 cans (380 g) |
| 15 lb (7 kg) | 1 3/4 cans (280 g) | 2 cans (350 g) | 2 1/2 cans (420 g) |
| 18 lb (8 kg) | 2 cans (310 g) | 2 1/4 cans (385 g) | 2 3/4 cans (465 g) |
| 20 lb (9 kg) | 2 cans (335 g) | 2 1/2 cans (420 g) | 3 cans (505 g) |
| 22 lb (10 kg) | 2 1/4 cans (365 g) | 2 3/4 cans (455 g) | 3 1/4 cans (545 g) |