Gastrointestinal Fiber Response Dry Cat Food
Royal Canin Gastrointestinal Fiber Response is a veterinary-exclusive dry cat food for cats with long- or short-term digestive sensitivities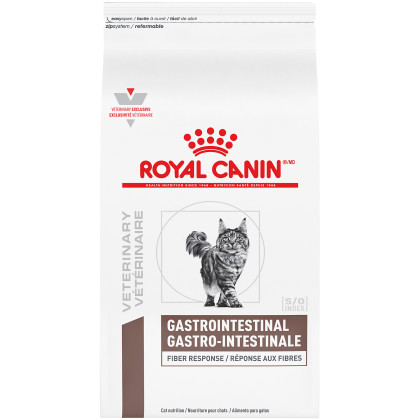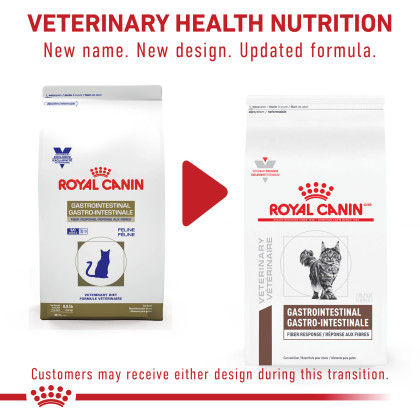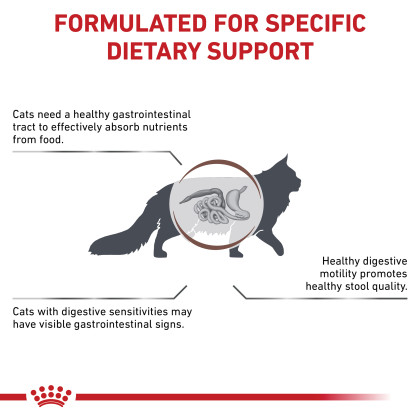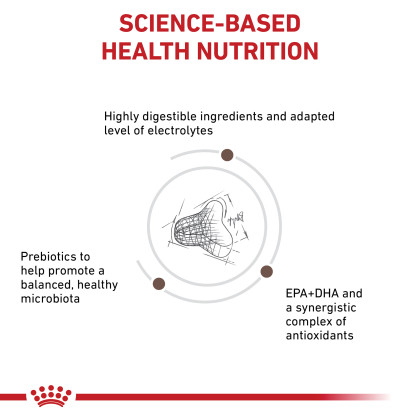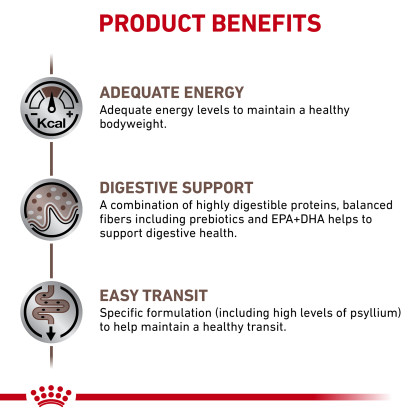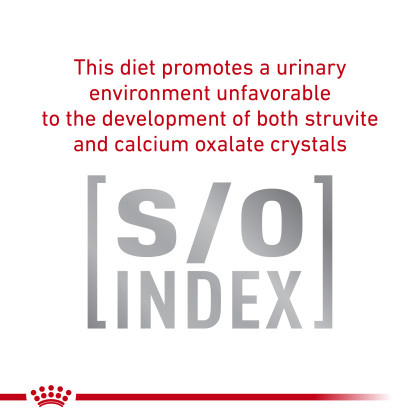 Promotes digestive health and optimal stool quality with highly digestible proteins and prebiotics

Formulated to help manage GI health and common gastrointestinal sensitivities

Enriched with a blend of soluble and insoluble fibers for healthy transit through the GI tract

Supports urinary health with the exclusive S/O Index, which creates an environment unfavorable to crystal formation in the bladder

You've tried everything to help with your cat's GI issues, whether those are vomiting, diarrhea, or lack of appetite. And while bland homemade diets are often used for digestive upsets, your cat could be missing some key nutrients to help them fully recover. But with the help of your veterinarian and Royal Canin, there's not just hope—there can be a true difference.

This high fiber cat food is specially formulated with a blend of soluble and insoluble fibers to aid with intestinal movement for your cat's GI upsets. Prebiotics help maintain the balance of good bacteria in the gut. A blend of dietary fibers supports healthy digestion for optimal stool quality. Omega-3 fatty acids, EPA and DHA, from fish oil help nourish and soothe the GI tract. And the exclusive S/O Index supports urinary health by creating an environment unfavorable to crystal formation in the bladder.
Brewers rice, chicken by-product meal, corn, chicken fat, corn gluten meal, wheat gluten, psyllium seed husk, natural flavors, dried chicory root, egg product, potassium chloride, fish oil, calcium sulfate, sodium pyrophosphate, monocalcium phosphate, fructooligosaccharides, DL-methionine, choline chloride, vegetable oil, salt, taurine, hydrolyzed yeast, vitamins [DL-alpha tocopherol acetate (source of vitamin E), L-ascorbyl-2-polyphosphate (source of vitamin C), niacin supplement, biotin, riboflavin supplement, D-calcium pantothenate, pyridoxine hydrochloride (vitamin B6), vitamin A acetate, thiamine mononitrate (vitamin B1), vitamin B12 supplement, folic acid, vitamin D3 supplement], L-lysine, trace minerals [zinc proteinate, zinc oxide, manganese proteinate, ferrous sulfate, manganous oxide, copper sulfate, calcium iodate, sodium selenite, copper proteinate], marigold extract (Tagetes erecta L.), rosemary extract, preserved with mixed tocopherols and citric acid.

Calorie Content

This diet contains 3690 kilocalories of metabolizable energy (ME) per kilogram or 362 kilocalories ME per cup on an as fed basis (calculated).

| | |
| --- | --- |
| Crude Protein (min) | 29.0% |
| Crude Fat (min) | 13.0% |
| Crude Fiber (max) | 4.7% |
| Moisture (max) | 8.0% |
| Eicosapentaenoic Acid (EPA)* (min) | 0.18% |
| Docosahexaenoic Acid (DHA)* (min) | 0.08% |

*Not recognized as an essential nutrient by the AAFCO Cat Food Nutrient Profiles.

| Weight | Low Activity - Cups | Medium Activity - Cups | High Activity - Cups |
| --- | --- | --- | --- |
| 4.4 lb (2 g) | 1/4 (26 g) | 3/8 (33 g) | 3/8 (39 g) |
| 5.5 lb (2.5 g) | 3/8 (31 g) | 3/8 (38 g) | 1/2 (46 g) |
| 6.6 lb (3 g) | 3/8 (35 g) | 3/8 (43 g) | 1/2 (52 g) |
| 7.7 lb (3.5 g) | 3/8 (39 g) | 1/2 (48 g) | 5/8 (58 g) |
| 8.8 lb (4 g) | 3/8 (43 g) | 1/2 (53 g) | 5/8 (64 g) |
| 9.9 lb (4.5 g) | 1/2 (46 g) | 5/8 (58 g) | 3/4 (69 g) |
| 11 lb (5 g) | 1/2 (50 g) | 5/8 (62 g) | 3/4 (75 g) |
| 12 lb (5.5 g) | 1/2 (53 g) | 5/8 (67 g) | 7/8 (80 g) |
| 13 lb (6 g) | 5/8 (57 g) | 3/4 (71 g) | 7/8 (85 g) |
| 14 lb (6.5 g) | 5/8 (60 g) | 3/4 (75 g) | 7/8 (90 g) |
| 15 lb (7 g) | 5/8 (63 g) | 3/4 (79 g) | 1 (95 g) |
| 17 lb (7.5 g) | 5/8 (67 g) | 7/8 (83 g) | 1 (100 g) |
| 18 lb (8 g) | 3/4 (70 g) | 7/8 (87 g) | 1 1/8 (105 g) |
| 19 lb (8.5 g) | 3/4 (73 g) | 7/8 (91 g) | 1 1/8 (109 g) |
EllenW
14 Nov 2021
Life saver
This food saved my cat with megacolon from surgery and dramatically improved his quality of life. I have an 8 year-old Maine coon who started having severe constipation about 2 years ago. He was miserable, in pain, and not very active. After several trips to my regular vet and the emergency vet and several hundred dollars spent, he was diagnosed with megacolon. He had tried everything from lactulose, Miralax, and finally cisapride. He also had tried all kinds of different types of prescription foods, but nothing seemed to really help. I read about this food for cats with megacolon and asked my vet about, and we decided to give it a try. After just a month on the food, he no longer needed any other meds. I also was able to mix this food 50/50 with another food and it has worked just as well. It's been over a year now, and the food has completely eliminated any issues with constipation. In addition, I feed my other cat this food and they both love it!
ttwinma
28 Oct 2021
Keeps our two cats regular!
Life saver. We have a rescue cat Rocky, w one eye as his hind quarters had been run over by car at 5 weeks old. We adopted him after that. He has lost some feeling in legs although he walks ok, a little wably but doc was concerned w his stools. He does great. We also have a big Maine Coone at 23#, Maximus. We had had a Burmese several years ago who had large intestine removed at MSU due to mega colon. I was worried our big cat would have difficulty do vet says this food is good for him too! Highly recommend it!!! Expensive but so worth it!!
Royal Canin response
Great review and great feedback, thank you!
Felixthecat
23 Aug 2021
Game Changer
My cat suffered from chronic constipation and had to be taken to the vet for enemas frequently. This food made a huge difference. He has been eating it for 5 months and now "goes" once a day. I can't say enough good things about this food.
My sweet boy
06 Jul 2021
Treating hypercalcemia
Our sweet 17 year old boy was vomiting, loosing weight, and falling over. After 2 days in the veterinary hospital he was diagnosed with hyperparathyroidism. the only cure is surgery. With his age, heart murmur, decreased kidney function, and poor condition we opted for any other option. His calcium level was the highest the vet had ever seen. We have to keep him hydrated and prevent constipation. They sent him home on canned food only. Due to a oral issue as a kitten, all of his teeth have been removed. I told the vet that soft food was Not an option. He cannot pick it up with his tongue. So $3,000 to diagnose him and give me food he cannot possibly eat. 2 weeks of trying to keep him alive, cooking fish, hand feeding, anything to help him. He was So hungry. I started searching in-line and came across all the wonderful reviews for this food. The day it was delivered, he went right to the bowl. It has been 15 days! He is so Happy! Gaining weight, easily moving bowels IN the litter pan, cuddling, purring, swatting at the dog!!! Thank You!!! PLEASE do not stop making this food!!!
Jazzycat
17 May 2021
Happy Kitty Happy Mom
My 11 year old British Shorthair started having constipation issues. After many enemas giving her pumpkin and cat lax I was finally able to get his food after being out of stock. After 3 days of mixing the old with the new she is now pooping. This food is a miracle please don't let this go out of stock.
Deniz
11 May 2021
Ingredients
Hello, my cat suffers from constipation for along time and I felt very happy at the time I heard about your fiber response variant, everybody seems to be very happy with the result. However since my cat is corona positive I would like to learn why this food contains l-lysine as it is not recommended for corona + cats? Only for this reason I have doubts about using your product? Could I kindly ask you to enlighten me about this issue? All the besti
Catseven58
03 May 2021
Great food for my Izzy & his constipation
Izzy is a Japanese Bobtail who wears the coat of a Norwegian Forest Cat. A friend found him in Petsmart where they told her that he was very traumatized bu the loss of his first lady. He hid under a blanket, so no one ever saw him. He was under weight and sad. Not much was known about his life so far. Spent first wk at my house behind the fridge ,coming out only at night to eat a little & use box. He was very constipated. Saw Vet twice for disimpaction, few hundred $, food was problem. Until Dr Harmon said "Royal canin Gi fiber response". Same food my last cat was on, she had diarrhea & vomiting. At the end we found she had a lrg liver tumor. She was gone 2 wks when I heard about Izzy. The Royal Canin helped the constipation. Now, after 2 yrs Izzy is comfortable in his home. No need for disimpaction for 2 yrs, using box well. Good Izzy.
shorty
30 Apr 2021
My adult cats love this food!
This food has saved my 2 adult cats from a lot of misery from severe constipation and bleeding and they love the taste of the kibbles. But now I cannot find the food anywhere and am in desperate need. Please start shipping again to Chewy.
ringostar34
26 Apr 2021
Big poops, but yay poops!
My cat was suffering from horrible constipation. This food helped us to manage the issue and my cat has been pooping regularly since we started using it. Unfortunately for the last 3 months it is out of stock everywhere I look, including online retailers. What am I supposed to do about this? I can't feed him anything else at this point and no one has this food.
Dawn B
18 Apr 2021
Has been a godsend
I have two kitties that are a little over two years old. One morning we woke up to piles of poop all over our house. We couldn't believe that much poop came from a cat. It was unbelievable. They had never pooped or peed outside of the litter box. We quickly found out it was from the male cat by the way he acted (ashamed) and was on his furry tail. Poor thing has been impacted and we didn't know. I quickly called a friend that works at the vet we use and she right away recommend this food. It has been about three months with positive results. No more constipation. It has been a godsend for my kitties and they both love it!!