Gastrointestinal Moderate Calorie™ Thin Slices in Gravy Canned Cat Food (Packaging May Vary)
Royal Canin Gastrointestinal Moderate Calorie is a veterinary-exclusive wet cat food for cats with long- or short-term digestive sensitivities that are prone to weight gain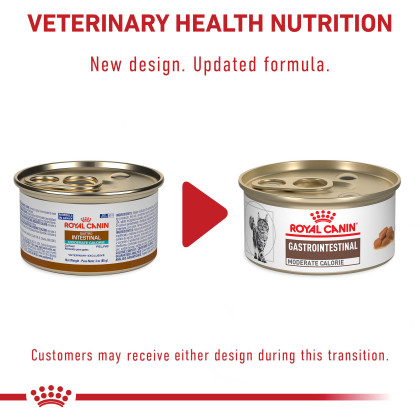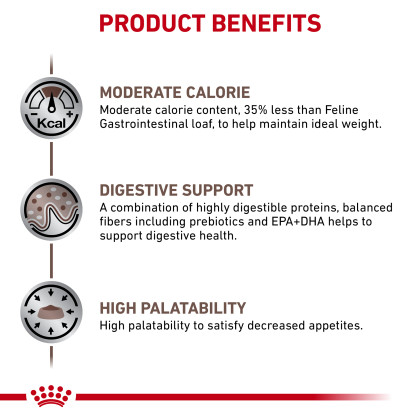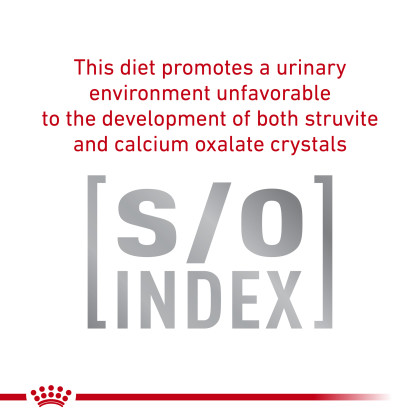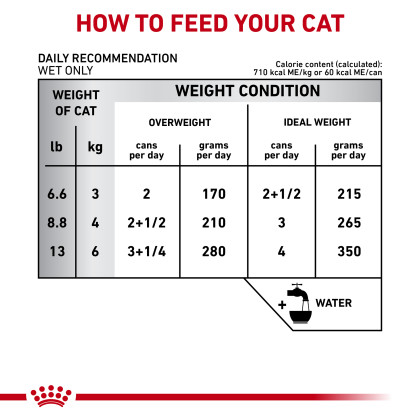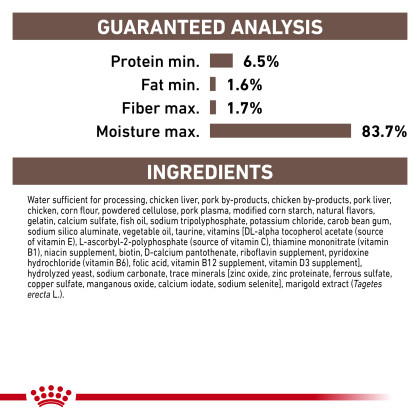 Promotes digestive health and optimal stool quality with highly digestible proteins and prebiotics

Moderate fat content supports healthy weight control for spayed/neutered cats or those with a tendency to become overweight (35% fewer calories compared to Royal Canin Feline Gastrointestinal loaf cat food)

Enriched with a blend of soluble and insoluble fibers for GI health

Supports urinary health with the exclusive S/O Index, which creates an environment unfavorable to crystal formation in the bladder

You've tried everything to help with your cat's GI issues, whether those are vomiting, diarrhea, or lack of appetite. And while bland homemade diets are often used for digestive upsets, your cat could be missing some key nutrients to help them fully recover. But with the help of your veterinarian and Royal Canin, there's not just hope—there can be a true difference.

This palatable, digestible thin slices in gravy canned wet cat food is formulated with lower calories* for healthy weight maintenance—especially in cats with a tendency to become overweight. Prebiotics help maintain the balance of good bacteria in the gut. A blend of dietary fibers supports healthy digestion for optimal stool quality. Omega-3 fatty acids, EPA and DHA, from fish oil help nourish and soothe the GI tract. And the exclusive S/O Index supports urinary health by creating an environment unfavorable to crystal formation in the bladder. Ask your veterinarian about pairing with Royal Canin Moderate Calorie dry cat food and Gastrointestinal cat treats as a complement to your cat's diet.

* 35% lower calories compared to Royal Canin Feline Gastrointestinal loaf cat food
Water sufficient for processing, chicken liver, pork by-products, chicken by-products, pork liver, chicken, corn flour, powdered cellulose, pork plasma, modified corn starch, natural flavors, gelatin, calcium sulfate, fish oil, sodium tripolyphosphate, potassium chloride, carob bean gum, sodium silico aluminate, vegetable oil, taurine, vitamins [DL-alpha tocopherol acetate (source of vitamin E), L-ascorbyl-2-polyphosphate (source of vitamin C), thiamine mononitrate (vitamin B1), niacin supplement, biotin, D-calcium pantothenate, riboflavin supplement, pyridoxine hydrochloride (vitamin B6), folic acid, vitamin B12 supplement, vitamin D3 supplement], hydrolyzed yeast, sodium carbonate, trace minerals [zinc oxide, zinc proteinate, ferrous sulfate, copper sulfate, manganous oxide, calcium iodate, sodium selenite], marigold extract (Tagetes erecta L.).

Calorie Content

This diet contains 710 kcal ME/kg; 60 kcal ME/can on an as fed basis (calculated).

| | |
| --- | --- |
| Crude Protein (min) | 6.0% |
| Crude Fat (min) | 1.5% |
| Crude Fiber (max) | 2.0% |
| Moisture (max) | 84.5% |

Wet Feeding

| Weight | Low Activity - Cans | Medium Activity - Cans | High Activity - Cans |
| --- | --- | --- | --- |
| 4.4 lb (2 kg) | 1 1/2 (130 g) | 2 (160 g) | 2 1/4 (195 g) |
| 5.5 lb (2.5 kg) | 1 3/4 (150 g) | 2 1/4 (190 g) | 2 3/4 (225 g) |
| 6.6 lb (3 kg) | 2 (170 g) | 2 1/2 (215 g) | 3 (260 g) |
| 7.7 lb (3.5 kg) | 2 1/4 (190 g) | 2 3/4 (240 g) | 3 1/2 (290 g) |
| 8.8 lb (4 kg) | 2 1/2 (210 g) | 3 (265 g) | 3 3/4 (315 g) |
| 9.9 lb (4.5 kg) | 2 3/4 (230 g) | 3 1/4 (285 g) | 4 (345 g) |
| 11 lb (5 kg) | 3 (245 g) | 3 3/4 (310 g) | 4 1/4 (370 g) |
| 12.1 lb (5.5 kg) | 3 (265 g) | 4 (330 g) | 4 3/4 (395 g) |
| 13.2 lb (6 kg) | 3 1/4 (280 g) | 4 (350 g) | 5 (420 g) |
| 14.3 lb (6.5 kg) | 3 1/2 (300 g) | 4 1/2 (375 g) | 5 1/4 (445 g) |
| 15.4 lb (7 kg) | 3 3/4 (315 g) | 4 3/4 (395 g) | 5 1/2 (470 g) |
| 16.5 lb (7.5 kg) | 4 (330 g) | 5 (415 g) | 5 3/4 (495 g) |
| 17.6 lb (8 kg) | 4 (345 g) | 5 (430 g) | 6 (520 g) |
| 18.7 lb (8.5 kg) | 4 1/4 (360 g) | 5 1/4 (450 g) | 6 1/4 (540 g) |

Mixed Feeding

Mix with Royal Canin® Feline Gastrointestinal Moderate Calorie Dry Cat Food

| Weight | Cans/Day | Low Activity - Cups | Medium Activity - Cups | High Activity - Cups |
| --- | --- | --- | --- | --- |
| 4.4 lb (2 kg) | 1 | 1/8 (9 g) | 1/8 (16 g) | 1/4 (23 g) |
| 5.5 lb (2.5 kg) | 1 | 1/8 (14 g) | 1/4 (22 g) | 3/8 (30 g) |
| 6.6 lb (3 kg) | 1 | 1/4 (19 g) | 1/4 (28 g) | 3/8 (37 g) |
| 7.7 lb (3.5 kg) | 1 | 1/4 (23 g) | 3/8 (33 g) | 1/2 (43 g) |
| 8.8 lb (4 kg) | 1 | 1/4 (27 g) | 3/8 (38 g) | 1/2 (49 g) |
| 9.9 lb (4.5 kg) | 1 | 3/8 (31 g) | 1/2 (43 g) | 5/8 (55 g) |
| 11 lb (5 kg) | 1 | 3/8 (35 g) | 1/2 (48 g) | 5/8 (61 g) |
| 12.1 lb (5.5 kg) | 1 | 3/8 (38 g) | 1/2 (53 g) | 3/4 (67 g) |
| 13.2 lb (6 kg) | 1 | 3/8 (42 g) | 5/8 (57 g) | 3/4 (72 g) |
| 14.3 lb (6.5 kg) | 1 | 1/2 (45 g) | 5/8 (61 g) | 3/4 (77 g) |
| 15.4 lb (7 kg) | 1 | 1/2 (49 g) | 5/8 (66 g) | 7/8 (82 g) |
| 16.5 lb (7.5 kg) | 1 | 1/2 (52 g) | 3/4 (70 g) | 7/8 (87 g) |
| 17.6 lb (8 kg) | 1 | 5/8 (56 g) | 3/4 (74 g) | 1 (92 g) |
| 18.7 lb (8.5 kg) | 1 | 5/8 (59 g) | 7/8 (87 g) | 1 1/8 (107 g) |
Gaily
30 Oct 2019
Great Tasting
I couldn't get my cat to eat any of the other brands of cat food for gastrointestinal problems. Now she loves the great flavor and taste of your product.
Rima
14 Nov 2018
I wish it did not have Pork by Product
I only gave it four stars because it has pork by products. I wish Royal Canine would eliminate the pork-by-products or any pork ingredients. The doctor prescribed the wet and dry for my cats. I bought the dry bag and 30 cans. Someone brought to my attention that it has pork in it but my cat had already ate most of the cans. As a Muslim, I will not be able to buy it again but I will continue to get the RC Gastrointestinal Dry food.
Royal Canin response
Thank you for the feedback and I will be sure to alert our research and development team.
SARAHMAE
05 Nov 2018
"They're gonna love it"
I fostered a kitten with tummy troubles and have since adopted her....The royal canin gastrointestinal saved her life! She is over a year old now and we are so grateful for this product!
Kari89
06 Oct 2018
Perfect for my cat's health needs.
I originally was feeding my cats dry food in the morning and this stuff only at night. After one of my cats, Brick, kept throwing up multiple times a day, we knew it was time for a change. We stopped feeding the cats dry food and replaced all their meals with wet food. (Though we still give them Royal Canin Oral dry kibble as treats!) Brick now gets the Gastrointestinal Moderate Calorie canned food multiple times a day, and he vomits significantly less. Even better, since it's moderate calorie, I'm not worried if my other cat TJ (who is a little chubby) steals a little bite of it here and there...as he is wont to do. The only suggestion I would have is to offer this food in a larger can size. It can get pricey feeding my cats all wet food, and I think larger sizes would cut down on cost as well as packaging waste. Thanks Royal Canin!
Annphie
04 Oct 2018
My cat loves it!
My indoor baby calico has an extra sensitive GI tract where almost all commercial foods will cause her bad bowel movements and her stools at some point were never consistent! I was worried she may not like the new taste of the Prescription Diet she would be assigned but to my surprise and my vet's, she absolutely loves it and her tummy is happy, her stools have improved drastically!
AMCofSurprise
03 Oct 2018
Special food for our Special friend!
We are going to start this review with a little back story on our precious Alfie. Alfie was found hiding in the closet of his home about 2 weeks after his elderly owner had passed away. He was sad, scared, and hungry, and did not understand what happened to his life. After a short trial run in another family's home, that unfortunately had some more dominant felines who kept beating poor Alfie up, he was brought to us here at the Animal Medical Center of Surprise to be in the direct care of Karen and Dr. Paquin. Through his life changes and journey into new places, his stomach was just not acting right. Poor Alfie would not keep any food down, leading him to have chronic vomiting and diarrhea. Dr. Paquin ran some diagnostics and was suspicious of Alfie having feline IBD so he prescribed Royal Canin Gastrointestinal Moderate Calorie canned cat food. This food change was the best thing to happen to Alfie, who began to shine at the life he had always wanted! He began to live out his kitty dreams of becoming a Client Service Coordinator for the Animal Medical Center of Surprise, and also a certified ray of sunshine for those in need. Thank you Royal Canin for having such good products that we love to prescribe for our furry friends, especially our own loveable Alfie!
moons
03 Oct 2018
she loves it!
my 15 yr old cat has stomach problems. vomits a lot. this cat food she is able to just fine! she loves the gravy! how about coming out with a version like grinding the turkey up in the gravy instead of chunks! also ship your digestion type treats to the store. (petsmart). they don't carry them anywhere here in syr ny!! also alittle expensive!!
Twink
02 Oct 2018
Great features!
My vet recommended this food for my diabetic cat who was getting over another bout of pancreatitis. He absolutely loves it!!! I'm so very happy!!! My other cats love it too, but since I have to order a lot of it, it's getting very expensive.
Minabean
02 Oct 2018
My cat loves it
Since Mina has been on the Gastrointestinal wet and dry food she has not vomited regularly. I wish she would have been put on this sooner! It's a miracle and I'm so thankful. She also loves the food and we have had problems in the past with her getting bored with food and not eating it any longer. She gets excited for this food.
Patricia62
18 Aug 2018
My cat likes it, but.................
My cat has megacolon and was put on this can food. It is way too expensive. It comes in a case of 24, 3 oz. cans, NOT 5 OZ CANS, for $40.63 which lasts my cat less than 2 weeks. So I am spending well over $100 a month for this food.