Weight Care Pouch Dog Food
Wet dog food formulated for adult dogs of all sizes with a tendency to gain weight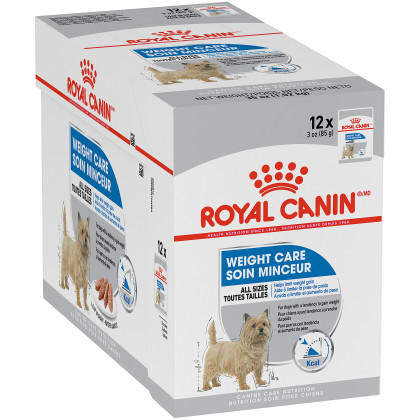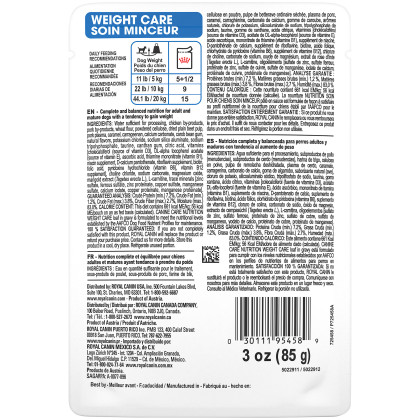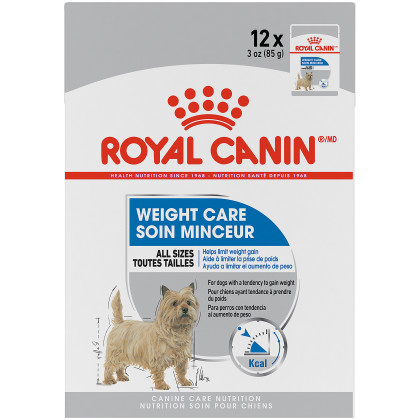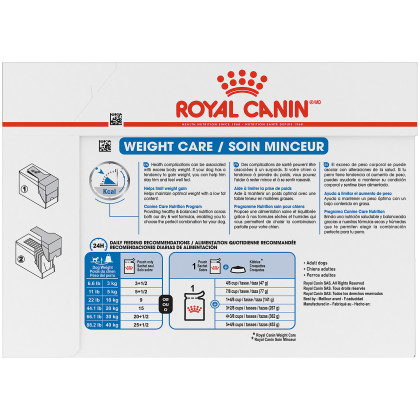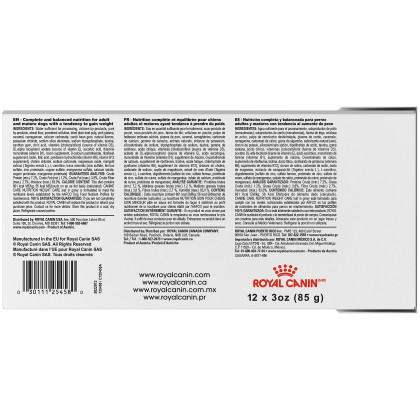 Helps dogs feel full with an optimal combination of soluble and insoluble fibers

Provides complete and balanced nutrition in a soft dog food formula

Loaf in sauce texture pairs perfectly with Royal Canin Weight Care dry dog foods

Helps manage healthy weight in combination with regular exercise

Royal Canin Weight Care Loaf in Gravy soft dog food is tailored nutrition to help your adult dog maintain a healthy weight. This complete and balanced nutrition comes in a convenient pouch and is low in fat to provide weight control in dogs with a tendency to gain weight. Pair with Royal Canin Weight Care dry dog food to satisfy your big eater and give them a little variety now and then.
Water sufficient for processing, chicken by-products, pork by-products, wheat flour, powdered cellulose, dried plain beet pulp, pork plasma, caramel, carrageenan, calcium carbonate, carob bean gum, natural flavors, potassium chloride, sodium silico aluminate, sodium tripolyphosphate, taurine, xanthan gum, citric acid, vitamins [cholecalciferol (source of vitamin D3), DL-alpha tocopherol acetate (source of vitamin E), ascorbic acid, thiamine mononitrate (vitamin B1), niacin supplement, D-calcium pantothenate, riboflavin supplement, biotin, folic acid, pyridoxine hydrochloride (vitamin B6), vitamin B12 supplement], choline chloride, sodium carbonate, magnesium oxide, marigold extract (Tagetes erecta L.), L-carnitine, trace minerals [zinc sulfate, ferrous sulfate, zinc proteinate, copper sulfate, manganese sulfate, calcium iodate, copper proteinate, manganese proteinate].

Calorie Content

This diet contains 661 kcal ME/kg; 56 kcal ME/pouch on an as fed basis (calculated).

Mixed Feeding for Small Dog

| Weight | Pouch | Low Activity | Medium Activity | High Activity |
| --- | --- | --- | --- | --- |
| 4.4 lb (2 kg) | 1 | 1/4 cup (22 g) | 3/8 cup (30 g) | 1/2 cup (37 g) |
| 8.8 lb (4 kg) | 1 | 5/8 cup (50 g) | 3/4 cup (62 g) | 1 cup (75 g) |
| 13.2 lb (6 kg) | 1 | 1 cup (74 g) | 1 1/8 cups (91 g) | 1 3/8 cups (108 g) |
| 17.6 lb (8 kg) | 1 | 1 1/4 cups (96 g) | 1 1/2 cups (117 g) | 1 3/4 cups (138 g) |
| 22 lb (10 kg) | 1 | 1 1/2 cups (116 g) | 1 7/8 cups (141 g) | 2 1/8 cups (167 g) |

Mixed Feeding for Medium Dog

| Weight | Pouch | Low Activity | Medium Activity | High Activity |
| --- | --- | --- | --- | --- |
| 26.5 lb (12 kg) | 1 | 2 1/8 cups (145 g) | 2 5/8 cups (176 g) | 3 cups (207 g) |
| 30.9 lb (14 kg) | 1 | 2 3/8 cups (165 g) | 2 7/8 cups (200 g) | 3 1/2 cups (234 g) |
| 35.3 lb (16 kg) | 1 | 2 3/4 cups (185 g) | 3 1/4 cups (223 g) | 3 7/8 cups (261 g) |
| 39.7 lb (18 kg) | 1 | 3 cups (203 g) | 3 5/8 cups (245 g) | 4 1/4 cups (287 g) |
| 44.1 lb (20 kg) | 1 | 3 1/4 cups (222 g) | 3 7/8 cups (267 g) | 4 5/8 cups (312 g) |
| 48.5 lb (22 kg) | 1 | 3 1/2 cups (239 g) | 4 1/4 cups (288 g) | 5 cups (336 g) |
| 52.9 lb (24 kg) | 1 | 3 3/4 cups (257 g) | 4 1/2 cups (309 g) | 5 1/4 cups (360 g) |

Mixed Feeding for Large Dog

| Weight | Pouch | Low Activity | Medium Activity | High Activity |
| --- | --- | --- | --- | --- |
| 57.3 lb (26 kg) | 1 | 4 cups (269 g) | 4 3/4 cups (323 g) | 5 1/2 cups (377 g) |
| 61.7 lb (28 kg) | 1 | 4 1/4 cups (286 g) | 5 cups (343 g) | 5 7/8 cups (400 g) |
| 66.1 lb (30 kg) | 1 | 4 1/2 cups (302 g) | 5 3/8 cups (362 g) | 6 1/4 cups (422 g) |
| 75 lb (34 kg) | 1 | 4 7/8 cups (333 g) | 5 7/8 cups (399 g) | 6 7/8 cups (465 g) |
| 83.8 lb (38 kg) | 1 | 5 3/8 cups (364 g) | 6 3/8 cups (436 g) | 7 1/2 cups (507 g) |
| 92.6 lb (42 kg) | 1 | 5 3/4 cups (394 g) | 6 7/8 cups (471 g) | 8 1/8 cups (548 g) |
Leonardo
22 Oct 2019
Dogs love
Recommended by vet for a slighty pudgy husky, the dog loves and it and he has lost some weight