Gastrointestinal Moderate Calorie Dry Dog Food
Royal Canin Gastrointestinal Moderate Calorie is a veterinary-exclusive dry dog food for dogs with long- or short-term digestive sensitivities that are prone to weight gain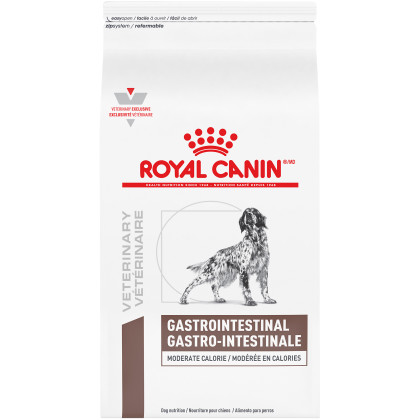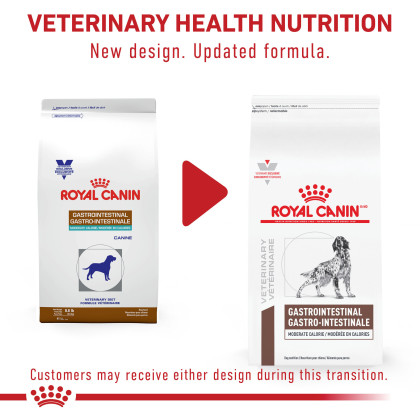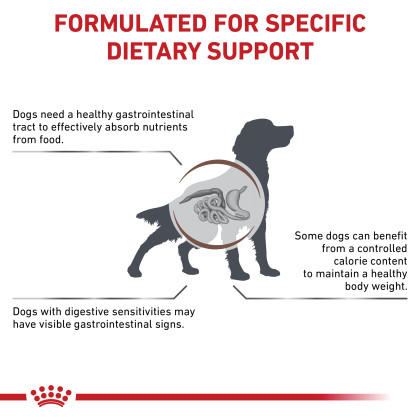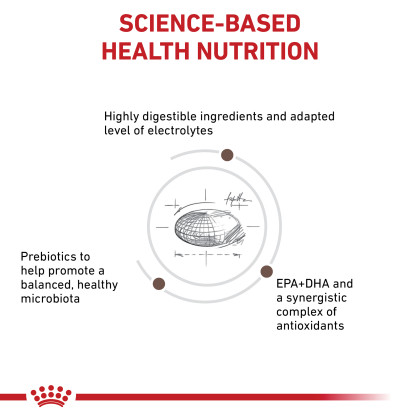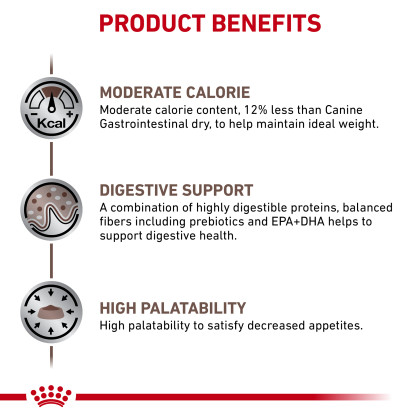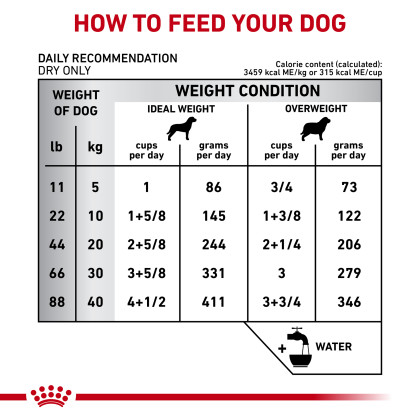 Promotes digestive health and optimal stool quality with highly digestible proteins and prebiotics

Moderate calorie content supports healthy weight control for spayed/neutered dogs or those with a tendency to become overweight (12% less calorie content compared to Royal Canin Canine Gastrointestinal dry dog food)

Enriched with a blend of soluble and insoluble fibers for healthy GI transit

Helps manage GI health with omega-3 fatty acids, EPA and DHA

You've tried everything to help with your dog's GI issues, whether those are vomiting, diarrhea, or lack of appetite. And while bland homemade diets are often used for digestive upsets, your dog could be missing some key nutrients to help them fully recover. But with the help of your veterinarian and Royal Canin, there's not just hope—there can be a true difference.

This palatable, digestible GI diet is formulated with lower calories* for healthy weight maintenance—especially in those dogs with a tendency to become overweight. Prebiotics help maintain the balance of good bacteria in the gut. A blend of dietary fibers supports healthy digestion for optimal stool quality. Omega-3 fatty acids, EPA and DHA, from fish oil help soothe the GI tract. And a precise blend of antioxidants supports a healthy immune system. Looking for a way to reward your dog? Royal Canin Gastrointestinal dog treats are just 4.5 calories and are made for your dog's sensitive stomach.

* 12% less calorie content compared to Royal Canin Canine Gastrointestinal dry dog food
Working towards a sustainable future
Our belief that pets make our world better inspires and gives life to our purpose of making a better A BETTER WORLD FOR PETS ™
Discover more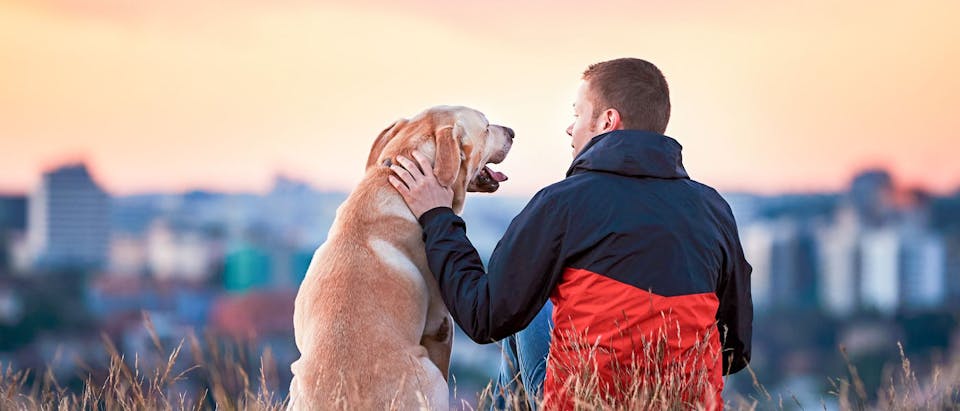 | | |
| --- | --- |
| Crude Protein (min) | 21.0% |
| Crude Fat (min) | 9.0% |
| Crude Fiber (max) | 3.8% |
| Moisture (max) | 10.0% |
| Eicosapentaenoic Acid (EPA)* (min) | 0.12% |
| Docosahexaenoic Acid (DHA)* (min) | 0.05% |

*Not recognized as an essential nutrient by the AAFCO Dog Food Nutrient Profiles.

| Weight | Low Activity - Cups | Medium Activity - Cups |
| --- | --- | --- |
| 4.4 lb (2 kg) | 3/8 (37 g) | 1/2 (43 g) |
| 6.6 lb (3 kg) | 1/2 (50 g) | 5/8 (59 g) |
| 8.8 lb (4 kg) | 5/8 (62 g) | 3/4 (73 g) |
| 11 lb (5 kg) | 3/4 (73 g) | 1 (86 g) |
| 13 lb (6 kg) | 7/8 (83 g) | 1 1/8 (99 g) |
| 22 lb (10 kg) | 1 3/8 (122 g) | 1 5/8 (145 g) |
| 26 lb (12 kg) | 1 1/2 (140 g) | 1 7/8 (167 g) |
| 35 lb (16 kg) | 1 7/8 (174 g) | 2 1/4 (207 g) |
| 44 lb (20 kg) | 2 1/4 (206 g) | 2 5/8 (244 g) |
| 55 lb (25 kg) | 2 5/8 (243 g) | 3 1/8 (289 g) |
| 66 lb (30 kg) | 3 (279 g) | 3 5/8 (331 g) |
| 77 lb (35 kg) | 3 3/8 (313 g) | 4 1/8 (372 g) |
| 88 lb (40 kg) | 3 3/4 (346 g) | 4 1/2 (411 g) |
| 110 lb (50 kg) | 4 1/2 (409 g) | 5 3/8 (486 g) |
| 132 lb (60 kg) | 5 1/8 (469 g) | 6 1/8 (557 g) |
GingerSnap
30 Oct 2019
Very palatable
Never had a dog (used it for my picky Italian Greyhound with digestive troubles) refuse it. It's healthy & they love it. We feed/sell royal canine diets at the clinic I work at.
Lucky dog
30 Oct 2019
only food Lucky can eat
Due to health issues this is the only food our rescue dog can eat
Receptionist
30 Oct 2019
clients love it.
Clients at our clinic love the results they get from all RX diets.
iomyr
30 Oct 2019
Great Features!
Very happy to see my dog getting better soon when he eats it.
ucspca1234
23 Oct 2019
Great for our Shelter Dogs!
The gastrointestinal meal options are used for multiple reasons at the Ulster County SPCA, and have tremendous results. Part of our standard procedure established by our on-site veterinarian is to use the gastro blend when dogs begin symptoms of gastrointestinal tract upset. Often this resolves the issue after a couple of days and the dog can return to a normal diet. It also has been effective for dogs with long term gastrointestinal disease, providing a better quality of life with highly palatable wet and dry food options as well as treats. Even some of our dogs who don't require this special diet will pull out every trick in the book for the gastro treats!
Sweetie08
22 Oct 2019
Healthy Dog
My baby had bladder stones and since being put on this she has been symptom free!
PitBullMom
02 Jun 2019
Helped my dog so quickly
After a month of not knowing what was wrong with my pit bull/ bull mastiff mix I was in tears. I felt so terrible for him. He has constant diarrhea, was losing weight and was all around not acting like himself. I tried everything I could think of and even started making his food at home for him. Nothing was working and my poor baby kept getting sicker. Many trips to the vet, hundreds of dollars in medication and many stressful days later - my vet recommended this food. After only 48 hours of eating this food I could already tell he was starting to feel better. As of now he's been eating this food for 4 days and he is already 100% back to normal. I can't believe the turn around. I am so happy with the results and will continue with this food.
Royal Canin response
Wonderful to hear that he is doing better!
LoriAnn
28 Nov 2018
Really helped my dog!
My precious Callie had diarrhea for months, and nothing helped. Then my vet recommended this wonderful food. Now Callie is completely regular!!!
Royal Canin response
Hooray Callie!
Chris314
31 Oct 2018
No more vet bills!
We have used this for 2 years and no more constipation and no more vet visits.
Cakes12
30 Oct 2018
Changed my dogs life!
My dog has been taking this food for about 5 years, ever since she was diagnosed with Chronic Pancreatitis. This is the only food that does not cause her to get sick after eating . Since she has been eating this along with the wet food version she has not had one attack. She just turned 12 his month!