Hydrolyzed Protein Loaf Canned Dog Food (Packaging May Vary)
Royal Canin Hydrolyzed Protein is a veterinary-exclusive wet dog food for adult dogs with food sensitivities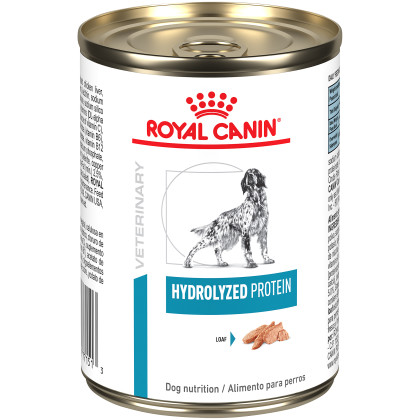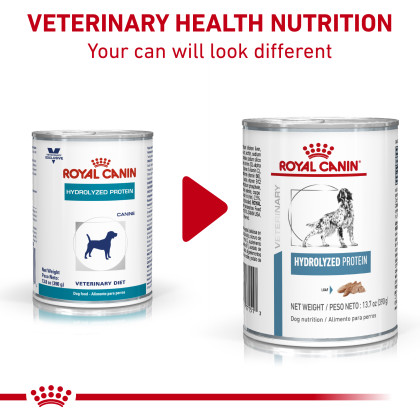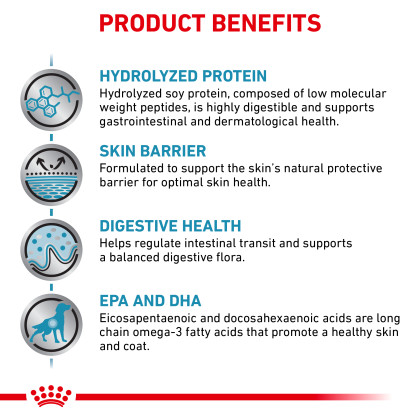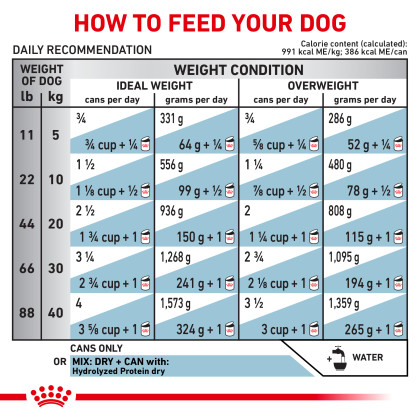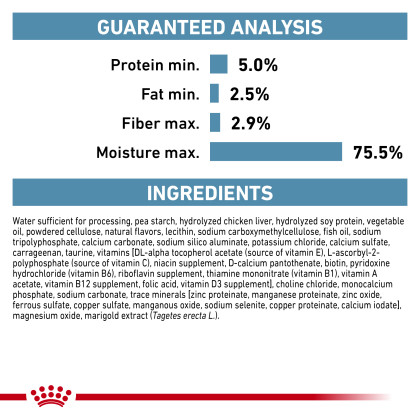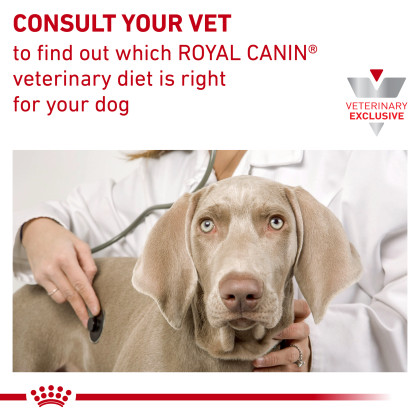 Helps reduce skin and GI reactions that may be a result of sensitivities to common proteins found in pet foods

Helps minimize risk of reaction with proteins that are broken down to a size that's less likely to be recognized by the immune system

Reinforces the skin barrier with essential nutrients to support healthy skin in dogs with skin sensitivity and irritation

Helps support healthy digestion with an exclusive blend of fibers

Whether a veterinarian has determined through an elimination diet trial that your dog has food sensitivities or that he requires long-term support for his skin and GI issues, your veterinarian recommended Royal Canin Hydrolyzed Protein for a reason. This highly palatable diet is designed for adult dogs. It's formulated with hydrolyzed proteins, composed of low molecular weight peptides, so they can be absorbed in the digestive tract with a reduced risk of triggering an immune reaction. Optimal amounts of B vitamins and amino acids reinforce your dog's skin barrier. Omega-3 fatty acids EPA and DHA help promote healthy skin and coat. An exclusive blend of fibers helps support healthy digestion in dogs prone to digestive upsets, including diarrhea. And with strict manufacturing procedures to avoid cross contamination, you can confidently feed Royal Canin Hydrolyzed Protein long-term to dogs with food sensitivities. Ask your vet about feeding your adult dog Royal Canin Veterinary Diet Hydrolyzed Protein Adult HP dry dog food as a complement.
Water sufficient for processing, pea starch, hydrolyzed chicken liver, hydrolyzed soy protein, vegetable oil, powdered cellulose, natural flavors, lecithin, sodium carboxymethylcellulose, fish oil, sodium tripolyphosphate, calcium carbonate, sodium silico aluminate, potassium chloride, calcium sulfate, carrageenan, taurine, vitamins [DL-alpha tocopherol acetate (source of vitamin E), L-ascorbyl-2-polyphosphate (source of vitamin C), niacin supplement, D-calcium pantothenate, biotin, pyridoxine hydrochloride (vitamin B6), riboflavin supplement, thiamine mononitrate (vitamin B1), vitamin A acetate, vitamin B12 supplement, folic acid, vitamin D3 supplement], choline chloride, monocalcium phosphate, sodium carbonate, trace minerals [zinc proteinate, manganese proteinate, zinc oxide, ferrous sulfate, copper sulfate, manganous oxide, sodium selenite, copper proteinate, calcium iodate], magnesium oxide, marigold extract (Tagetes erecta L.).

Calorie Content

This diet contains 991 kcal ME/kg; 386 kcal ME/can on an as fed basis (calculated).

| | |
| --- | --- |
| Crude Protein (min) | 5.0% |
| Crude Fat (min) | 2.5% |
| Crude Fiber (max) | 2.5% |
| Moisture (max) | 76.0% |

| Body Weight | Tendency to Become Overweight | Ideal Weight |
| --- | --- | --- |
| 4.4 lb (2 kg) | 1/4 can (144 g) | 1/2 can (166 g) |
| 6.6 lb (3 kg) | 1/2 can (195 g) | 1/2 can (225 g) |
| 8.8 lb (4 kg) | 3/4 can (242 g) | 3/4 can (280 g) |
| 11 lb (5 kg) | 3/4 can (286 g) | 3/4 can (331 g) |
| 13 lb (6 kg) | 3/4 can (328 g) | 1 can (379 g) |
| 22 lb (10 kg) | 1 1/4 cans (480 g) | 1 1/2 cans (556 g) |
| 26 lb (12 kg) | 1 1/2 cans (551 g) | 1 3/4 cans (638 g) |
| 35 lb (16 kg) | 1 3/4 cans (683 g) | 2 cans (791 g) |
| 44 lb (20 kg) | 2 cans (808 g) | 2 1/2 cans (936 g) |
| 55 lb (25 kg) | 2 1/2 cans (955 g) | 2 3/4 cans (1,106 g) |
| 66 lb (30 kg) | 2 3/4 cans (1,095 g) | 3 1/4 cans (1,268 g) |
| 77 lb (35 kg) | 3 1/4 cans (1,229 g) | 3 3/4 cans (1,423 g) |
| 88 lb (40 kg) | 3 1/2 cans (1,359 g) | 4 cans (1,573 g) |
| 110 lb (50 kg) | 4 1/4 cans (1,606 g) | 4 3/4 cans (1,860 g) |
| 132 lb (60 kg) | 4 3/4 cans (1,842 g) | 5 1/2 cans (2,133 g) |
Josie Jo
02 Oct 2018
So thankful this is available
I did not even know this existed until my 14 year old dog started to have issues with protein. It has been lifesaving for her. She gobbles it up without hesitation. I mix the canned food with the HP dry food to give her some variety since she cannot have anything else. I also give her the HP treats and she looks forward to getting them every night. The consistency of the canned food is quite different than anything else I had used in the past and it gets quite firm after being refrigerated so have a nice strong fork or knife to use to cut it up. Also be sure to order before you're on the last can because you can't just walk in and buy some like other pet foods.
Jpsmom
02 Oct 2018

My dog still broke out in allergies, she does better on venison diet
Linda C
06 Aug 2018
Best dog food ever
My dog has been eating the Hydrolyzed protein diet for months now. Her rashes have all gone away and she has even lost weight. It may seem more expensive than other dog food, but I have saved so much on vet bills and allergy medication it is well worth the cost.
Royal Canin response
We are glad to hear how well your dog has done with the Hydrolyzed Protein cans!
Creams owner
29 Jun 2018
Has probably saved our dogs life
Our dog has IBD. Everything causes bloody stools and some vomiting except the canned hydrolyzed protein. She does get tired of it, and it's a bit pasty but unfortunately it's the only thing she can eat. She can eat only 1 hydrolyzed cookie and about 12 pieces of the hard food before they cause additional bloody stool. I'm grateful forthis product as we went through many months of trying other food items with bad results.
colliemom
21 Jun 2018
Black Spots
A couple of people mentioned the black spots. I had my dermatologist check to see if it was mold. It was not. So I took pictures, and wrote to RC. Here is what I was told. Smaller spots: This can occur when the minerals cook and clump slightly, causing some slight discoloration during the baking process. These discolorations can be more visible in the HP since it's light in color. The Hydrolyzed Protein cans are safe and healthy to feed, these spots will not affect the benefits or nutritional value. Larger spots: Typically attributed to the lecithin in the product that helps to thicken the formula. This ingredient is not very soluble in water so it does not always completely dissolve during the baking process. Due to this, it is possible to sometimes see spots of this substance in the food. Hope this helps.
Montess88
25 Mar 2018
Black spots?
I'm having the same black spots as another customer that asked 7 months ago but the question was not really addressed. Just wondering as to what these tiny black spots actually are because we see them too but only in 2-3 cans per box of 12
Toro
21 Mar 2018
Has not helped for IBD
We're feeding it to her as instructed by vet for at least a month now, no improvement in her IBD, plus the food causes the most absolutely horrific farts.
Rochelle
18 Feb 2018
Skin Allergy Relief
My pup had a terrible rash, tried everything but this was the cure! Amazing product.
LuMomma
24 Jan 2018
Awesome
My Vet recommended my 10 year old cocker spaniel switch to the Hydro diet due to chronic ear and skin infections. We are 2 weeks into the diet, Lucy LOVES the wet and dry foods, and Hydro treats. Her ears look great and her coat is shiny and itch free. Thank you so much for this Awesome product
Ailika55
29 Aug 2017
The RC Hydrolyed soft food
I just have a question about the soft food. I opened the new can and noticed black spots. Is that normal for this food? I gave it 4 stars because my pet is tolerating the hard food well.