Hydrolyzed Protein Moderate Calorie Dry Dog Food
Royal Canin Hydrolyzed Protein Moderate Calorie is a veterinary-exclusive dry dog food for adult dogs with food sensitivities that have a tendency to be overweight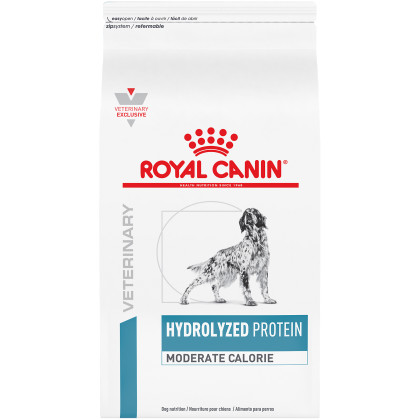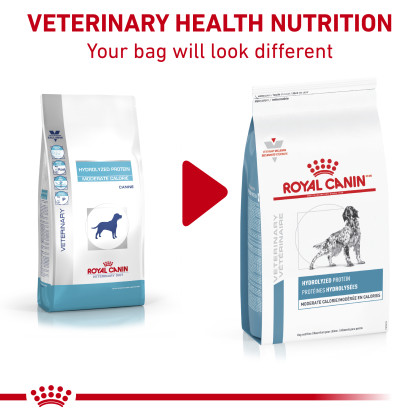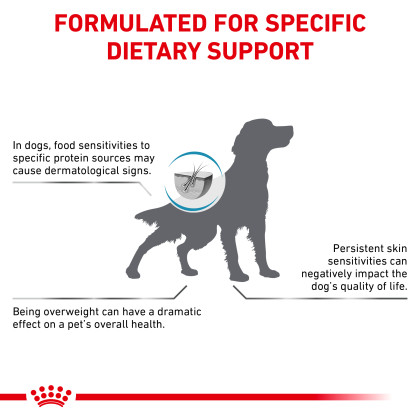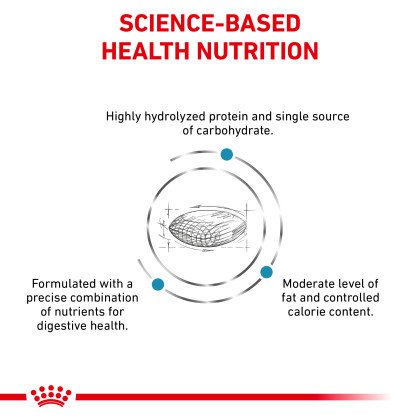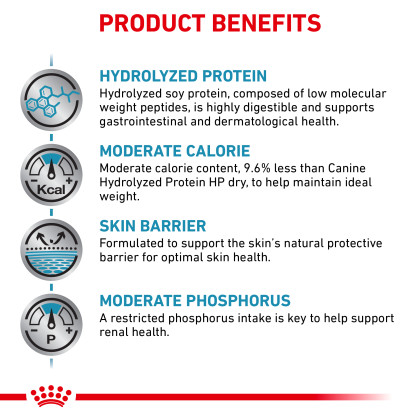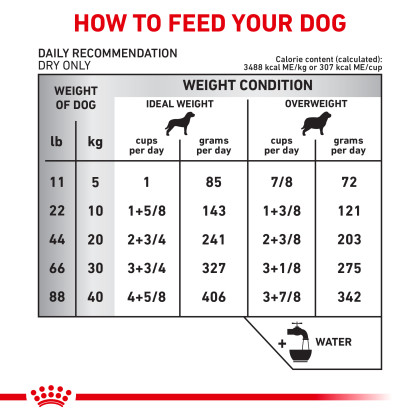 Helps reduce skin and GI reactions that may be a result of sensitivities to common proteins found in pet foods

Moderate calorie content to help low-activity dogs maintain a healthy weight

Reinforces the skin barrier with essential nutrients to support healthy skin in dogs with skin sensitivity and irritation

Maintains renal health with specific phosphorus levels for healthy kidneys

Whether a veterinarian has determined through an elimination diet trial that your dog has food sensitivities or that he requires long-term support for his skin and GI issues, your vet recommended Royal Canin Hydrolyzed Protein Moderate Calorie for a reason. This highly palatable diet is designed for adult dogs. It's formulated with hydrolyzed soy proteins, composed of low molecular weight peptides, so they can be absorbed in the digestive tract with a reduced risk of triggering an immune reaction. Moderate calorie content and fat levels (9.6% less calories and 42.8% less fat than Royal Canin Hydrolyzed Protein Adult HP dry dog food) help dogs prone to gaining weight maintain an ideal weight. Optimal amounts of B vitamins and amino acids reinforce your dog's skin barrier. Omega-3 fatty acids EPA and DHA help promote healthy skin and coat. An exclusive blend of fibers helps support healthy digestion in dogs prone to digestive upsets, including diarrhea. And with strict manufacturing procedures to avoid cross contamination, you can confidently feed Royal Canin Hydrolyzed Protein Moderate Calorie long-term to dogs with food sensitivities. Ask your vet about adding Royal Canin Hydrolyzed Protein Treats to your dog's diet for his enjoyment.
Brewers rice, hydrolyzed soy protein, chicken fat, natural flavors, dried plain beet pulp, vegetable oil, sodium silico aluminate, fish oil, calcium sulfate, monocalcium phosphate, potassium chloride, salt, calcium carbonate, fructooligosaccharides, DL-methionine, taurine, vitamins [DL-alpha tocopherol acetate (source of vitamin E), niacin supplement, L-ascorbyl-2-polyphosphate (source of vitamin C), D-calcium pantothenate, biotin, pyridoxine hydrochloride (vitamin B6), riboflavin supplement, thiamine mononitrate (vitamin B1), vitamin A acetate, vitamin B12 supplement, folic acid], choline chloride, trace minerals [zinc proteinate, zinc oxide, manganese proteinate, manganous oxide, copper sulfate, ferrous sulfate, sodium selenite, copper proteinate, calcium iodate], GLA safflower oil, marigold extract (Tagetes erecta L.), magnesium oxide, rosemary extract, preserved with mixed tocopherols and citric acid.

Calorie Content

This diet contains 3488 kilocalories of metabolizable energy (ME) per kilogram or 307 kilocalories ME per cup on an as fed basis (calculated).

| | |
| --- | --- |
| Crude Protein (min) | 21.5% |
| Crude Fat (min) | 10.5% |
| Crude Fiber (max) | 3.1% |
| Moisture (max) | 10.0% |
| Phosphorus (min) | 0.50% |

| Weight | Low Activity | Medium Activity | High Activity |
| --- | --- | --- | --- |
| 4 lb (2 kg) | 1/2 cup (43 g) | 5/8 cup (50 g) | 5/8 cup (57 g) |
| 11 lb (5 kg) | 1 cup (86 g) | 1 1/8 cups (99 g) | 1 1/4 cups (113 g) |
| 22 lb (10 kg) | 1 5/8 cups (144 g) | 1 7/8 cups (167 g) | 2 1/8 cups (190 g) |
| 33 lb (15 kg) | 2 1/4 cups (196 g) | 2 5/8 cups (226 g) | 2 7/8 cups (257 g) |
| 44 lb (20 kg) | 2 3/4 cups (243 g) | 3 1/4 cups (281 g) | 3 5/8 cups (319 g) |
| 55 lb (25 kg) | 3 1/4 cups (287 g) | 3 3/4 cups (332 g) | 4 3/8 cups (378 g) |
| 66 lb (30 kg) | 3 3/4 cups (329 g) | 4 3/8 cups (381 g) | 5 cups (433 g) |
| 77 lb (35 kg) | 4 1/4 cups (369 g) | 4 7/8 cups (428 g) | 5 1/2 cups (486 g) |
| 88 lb (40 kg) | 4 5/8 cups (408 g) | 5 3/8 cups (473 g) | 6 1/8 cups (537 g) |
| 99 lb (45 kg) | 5 1/8 cups (446 g) | 5 7/8 cups (516 g) | 6 3/4 cups (587 g) |
| 110 lb (50 kg) | 5 1/2 cups (483 g) | 6 3/8 cups (559 g) | 7 1/4 cups (635 g) |
| 132 lb (60 kg) | 6 3/8 cups (553 g) | 7 3/8 cups (641 g) | 8 1/4 cups (728 g) |
LoveMyPup
28 Oct 2021
Great for IBD in dogs
After lots of trial and error with dog food, finally realized my dog could not digest any protein enzymes. It took 4 months but his tummy (no diarrhea) is so much better. Thank you!
SusanAlex
02 Sep 2020
Why was this beautiful dog in a kill shelter?
CONSTANT, UNCONTROLLABLE DIARRHEA!! But, I didn't know it at the time. My 4-year old Aussie Shepherd mix came from a kill shelter. He was skinny, terrified and deposited diarrhea all over my car's back seat, back doors, handles, floors and all over me when I brought him home from the shelter. I thought he was simply nervous. NO! It was the reason he was in the shelter. I have spent eight months, several antibiotic prescriptions and $700 on x-rays, tests, etc. to determine the cause. I was not about to give up on him. Once I adopt a dog, they're mine for life no matter what issues they may have. The love they give goes both ways. Unfortunately, the vet couldn't find any obstructions or reason for the diarrhea. While my pup eventually gained 10 lbs (1/3 of his weight), the diarrhea continued ... on and off. My vet finally suggest this food. Within 2 days (TWO DAYS) the diarrhea stopped ... completely. It was a shock. It's been three weeks and his bowels are solid and he is regular, for the first time since he came home. It is obvious that he is calmer, definitely happier and loves the food. I'll keep him on this food forever. BTW...I'm also calmer and happier. Thank you so much! It's expensive ... but worth EVERY PENNY!!!!!
Colorado Cairn
08 May 2020
Works great for food & skin issues combined
My Cairn Terrier (12.5 years old) has been strugglig with atopic skin issues as of late with some gastrointestinal issues (gallbladder delayed release). That later issue has been treated successfully with Ursodiol and his nausea and gastrointestinal issues have been pretty much solved by this food. His skin looks fabulous, he loves his food and his energy is excellent for a dog that is going on 13 years! GREAT product.
ELF Babies
17 Nov 2019
My girl loves her HP food
My pup is a very finicky eater that has had skin and digestion issues in the past. She is an anxious dog with separation issues and this food has calmed her stomach down. She eats her meals completely whereas with another brand she wouldn't eat unless I stood next to her. As she is getting older I switched to the moderate calorie version but she did well on the full calorie HP as well.
Scarlett
30 Oct 2019
Great dog food
Bought this dog food bc my lab has allergies and our vet recommended this food. I am so far happy with our purchase and our dog approves also.
Beverly
30 Oct 2019
Ella looks and feels great!
Our Vet recommended this food based on skin issues. It does not have empty filler and provides her with healthy kibble. She grazes rather than gulps. Her weight is perfect as is her skin.
Boooooyyyy
30 Oct 2019
This diet has saved my dog's skin and joints
Our family dog, Bennett, suffered from ongoing skin and joint issues. We tried everything, from medication to injections. These things helped but didn't seem to fix the issues, long term. Our vet recommended Royal Canin hydrolyzed protein to manage his weight which relieved his joint pain and also cured his skin. Bennett doesn't chew at his paws anymore and he doesn't break out in small bumps all over his body anymore. He feels relief and is a happy healthy boy again. When your fur baby suffers, the whole family suffers. This diet has been a life saver for us all.
borzoigirls
30 Oct 2019
HP Moderate Calorie
My two girls that have IBD have done really well on this food and seem to really love it!
HendrieL
30 Oct 2019
Great food
I've been buying this dog food for two large breeds dogs for almost three years and I'm very happy with it.
Scuddsie
30 Oct 2019
This food saved my dog's life!
Simply put, this food saved my dog's life. Luke, my German Shorthaired Pointer, was about 2 years old when he began suddenly dropping weight and having boughts of extreme diarrhea. His diarrhea was so severe at times that he actually collapsed from weakness and dehydration more than once. I am a vet tech and I had never seen anything like it. There were many nights he was hooked up to an IV in my living room to rehydrate him and get him back. Then he starting losing all the hair on his face. Doctors were baffled. Several specialists, countless tests, and many thousands of dollars later, it was discovered that he has a rare, unusual form of atopic dermatitis that attacks not only his skin, but his small intestines. In addition to horrible environmental allergies, he was found to be allergic to countless foods. He is normally 90 lbs and by the time we figured this out, he was down to 60lbs. I had tried every diet I could find, including other prescription diets and home cooked, and was desperate to save the dog I was certain I was going to lose. Doing a google search I found HP and ordered a bag. The results were almost overnight. His stool was solid in less than 48 hours and he started putting weight back on almost immediately. It took several months to get the fur on his face back, but the rawness and redness resolved within a week or so. He gained all the weight back and got to the point where I actually had to switch him to moderate calorie because he was getting chunky! He is now a happy, healthy 10 year old who has eaten HP for 8 years! Over the years, people have suggested trying other diets that may be a little less expensive or not prescription and I have always adamantly said no - I will never take him off the food that saved his life! I have attached photos of his before and after weight journey, as well as his face when I started the HP vs one week later vs now!
Royal Canin response
He is so handsome, thank you for sharing your success!