Satiety Support Weight Management Dry Dog Food
Royal Canin Satiety Support Weight Management is a veterinary-exclusive dry dog food formulated to help obese and overweight adult dogs lose weight and help reduce their begging behavior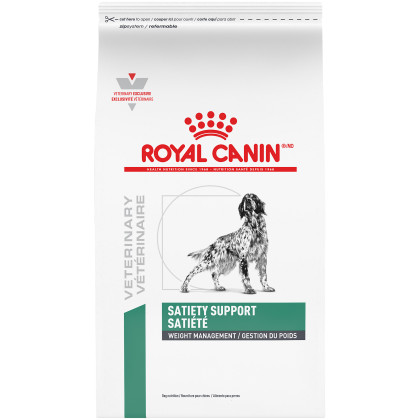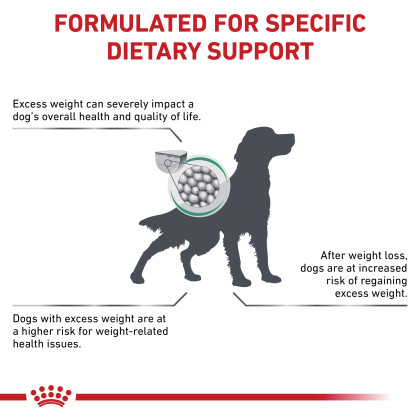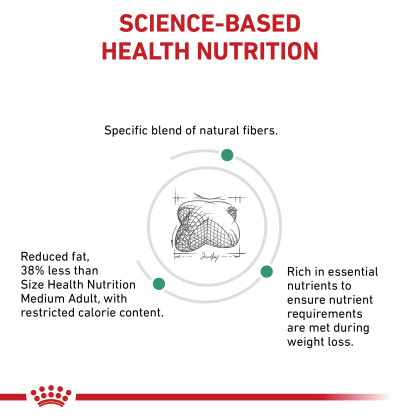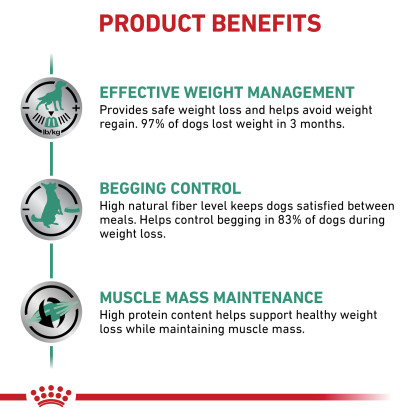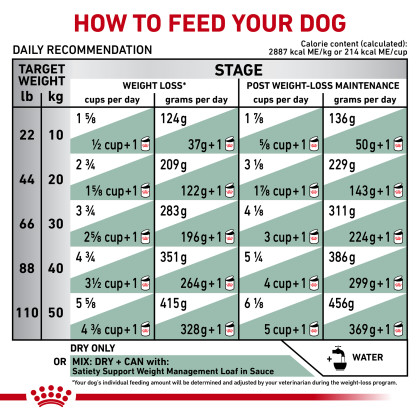 Helps satisfy hunger with a special blend of fibers to help dogs feel full

Supports bones and joints placed under stress by excess body weight with targeted nutrients

Complete and balanced nutrition that helps ensure essential nutrient needs are met during weight loss

High protein helps maintain muscle mass as dogs achieve their ideal weight

This veterinary-exclusive dry dog food is specially formulated to promote safe weight loss in overweight and obese dogs. In fact, in a clinical trial, 97% of dogs lost weight in three months, and begging was controlled in 83% of dogs. This complete and balanced diet promotes satiety—meaning it provides a feeling of satisfaction, which helps your dog feel full between meals and be less likely to beg. Its high fiber content helps reduce dogs' tendency to want to eat spontaneously throughout the day, and glucosamine and chondroitin supports joint and bone health. Balanced essential nutrients ensure nutrient requirements are met, while high protein helps maintain muscle mass. Soluble and insoluble fibers promote healthy digestion and optimal stool quality. And antioxidants support a healthy immune system. Remember, exercise like regular walks and playtime can also help your lovable dog achieve a healthy weight. Be sure to consult your veterinarian to know what level of activity is appropriate for your pet.
Powdered cellulose, chicken by-product meal, corn, wheat gluten, wheat, corn gluten meal, natural flavors, dried plain beet pulp, chicken fat, fish oil, pea fiber, potassium chloride, calcium carbonate, vegetable oil, psyllium seed husk, fructooligosaccharides, sodium tripolyphosphate, choline chloride, vitamins [DL-alpha tocopherol acetate (source of vitamin E), L-ascorbyl-2-polyphosphate (source of vitamin C), niacin supplement, biotin, riboflavin supplement, D-calcium pantothenate, thiamine mononitrate (vitamin B1), pyridoxine hydrochloride (vitamin B6), vitamin A acetate, vitamin B12 supplement, folic acid, vitamin D3 supplement], glucosamine hydrochloride, taurine, DL-methionine, L-lysine, salt, marigold extract (Tagetes erecta L.), magnesium oxide, trace minerals [zinc proteinate, zinc oxide, manganese proteinate, ferrous sulfate, manganous oxide, copper sulfate, calcium iodate, sodium selenite, copper proteinate], L-carnitine, chondroitin sulfate, rosemary extract, preserved with mixed tocopherols and citric acid.

Calorie Content

This diet contains 2887 kilocalories of metabolizable energy (ME) per kilogram or 214 kilocalories ME per cup on an as fed basis (calculated).

| | |
| --- | --- |
| Crude Protein (min) | 28.0% |
| Crude Fat (min) | 7.5% |
| Crude Fiber (max) | 18.8% |
| Moisture (max) | 10.0% |
| Glucosamine* (min) | 1,425 mg/kg |
| Chondroitin sulfate* (min) | 75 mg/kg. |

*Not recognized as an essential nutrient by the AAFCO Dog Food Nutrient Profiles.

Dry Feeding

| Target Adult Weight | Starting Weight Loss - Cups | After 4 Weeks - Cups | Maintenance After Weight Loss - Cups |
| --- | --- | --- | --- |
| 22 lb (10 kg) | 2 (145 g) | 1 5/8 (124 g) | 1 7/8 (136 g) |
| 44 lb (20 kg) | 3 1/4 (243 g) | 2 3/4 (209 g) | 3 1/8 (229 g) |
| 66 lb (30 kg) | 4 3/8 (330 g) | 3 3/4 (283 g) | 4 1/8 (311 g) |
| 88 lb (40 kg) | 5 1/2 (409 g) | 4 3/4 (351 g) | 5 1/4 (386 g) |
| 110 lb (50 kg) | 6 1/2 (484 g) | 5 5/8 (415 g) | 6 1/8 (456 g) |

Mixed Feeding

Mix with Royal Canin® Canine Satiety Support Weight Management Loaf in Sauce Canned Dog Food

| Target Adult Weight | Cans/Day | Starting Weight Loss - Cups | After 4 Weeks - Cups | Maintenance After Weight Loss - Cups |
| --- | --- | --- | --- | --- |
| 22 lb (10 kg) | 1 | 3/4 (58 g) | 1/2 (37 g) | 5/8 (50 g) |
| 44 lb (20 kg) | 1 | 2 1/8 (156 g) | 1 5/8 (122 g) | 1 7/8 (143 g) |
| 66 lb (30 kg) | 1 | 3 1/4 (243 g) | 2 5/8 (196 g) | 3 (224 g) |
| 88 lb (40 kg) | 1 | 4 3/8 (322 g) | 3 1/2 (264 g) | 4 (299 g) |
| 110 lb (50 kg) | 1 | 5 3/8 (397 g) | 4 3/8 (328 g) | 5 (369 g) |
jessnye
19 Jul 2021
Works great and my dog loves it!!
My female, spayed Golden/Great Pyrenees mix is almost 3 and at 93lbs was 15lbs over what the vet said should be her ideal weight (about 78lbs.) She's been on this food for about 6 months and has lost 12lbs; only 3 more to go! She loves the large kibble and it helps her eat more slowly and not choke. I'm so glad there is a larger kibble option for large dogs!
Tootsieroll
05 Jun 2021
Kibble size/shape change
My dog ate this food for years. As soon as we got our first bag with the new kibble, she is having a hard time eating it and looks like she's choking or having a hard time swallowing with each bite. All of the recent reviews I have seen are complaining of the new kibble so why haven't they changed it back by now?!
ElmosMom
02 May 2021
Why the change?!
My miniature Dachshund has been on this food since he got SARDS and gained 60% of his body weight in a couple months. He was doing great! We needed to buy the 17lb. bag because the smaller bags are waaaaaaay too expensive. No problem UNTIL you changed the size of the kibble! WHY?!?!?! Based on reviews, not even large dogs like the HUGE kibble, and you don't even offer a 17lb. bag of the smaller. So are you trying to rip people off by forcing them to pay for a bunch of small bags, or just not being smart? You have SO MANY negative reviews about the change, it's obvious most of your customers are unhappy with the new size?! Please bring back the bite size that WORKS FOR THE DOGS!!!
LeoNala
11 Apr 2021
Bring back the kibble size pieces
Please go back to the kibble size pieces I have a schnauzer that has been eating this food for 15 years. She won't eat the new start shaped large pieces
Tina DeAngelis
15 Mar 2021
New size pieces
Please go back to the kibble size pierces we have a lab and pit bull and they won't eat the mew start shaped large pieces
Britt2011
02 Mar 2021

Please bring back the smaller kibble pieces. My dog is an older dog and she is diabetic so she has to have this food. She has a harder time eating it. She still enjoys the food but I kind of have to mash it up and it's even hard for me to do.
Kathieds
16 Feb 2021
Dog will not eat this food anymore
Our 5 year old lab happily ate this food for years. She is a good weight now but we still order this food for her. But, there has been a change in the food recently and our Lab will not touch it. She leaves it in her bowl.....unbelievable. She is now eating our other dog's food and everything else she can find. Why the change in the food?
Unhappy Lab
31 Jan 2021
Bring back the smaller kibble size
Our lab has been on this food that our Vet prescribed. Most labs aren't fussy about food but ours is. She ate the small kibble food and since the kibble size changed she won't touch it. Luckily our vet had one bag available of the small kibble but when that runs out we will have to find something that she will eat. Please bring back the old kibble size!
TheSasuke
25 Jan 2021
WHY NO BIG BAG OF THE SMALLER KIBBLE?!?!
Both of my pugs have been on this for years and it works extremely well. However, quite a few months ago someone in the Royal Canin company decide to mess with success. I used to get the 18 pound bag and I was good for a month. Then I bought my normal big bag with new packaging and thought nothing of it, just to find out about the new HUGE stupid shaped kibble when I filled up my dogs' food container. They hate it. I've been having to buy three of the smaller bags (for small dogs) to equal one of the big bags. FURTHERMORE, doing so is much more costly. 3 of the small bags for small dog kibble is $33+ a bag which after tax comes out to about $100 for the same amount (18lbs) as the big bag (which is about $72). This is a humongous rip off. Either change back the kibble shape and size, OR, make a bigger bag of the "small dog" food that has the small kibble. Whatever you people were trying to do was really terrible.
ForEverGrateful
24 Jan 2021
Saved my girl!!!
My girl has had weight & allergy issues her wntire life. She walked by food and gained weight! Ok...so it felt like it anyway!! She is 8 1/2 years old. I have taken her to vet after vet after vet trying to find solutions for her struggles. After 8 years of searching for answers, a once again new vet prescribed for her this Royal Canin Satiety dog food. As skeptical as I was, because we had tried everything we could possibly try and spent literally thousands of dollars trying, this food turned out to be her God sent answer to not only losing weight but decreasing her allergies to the point of not needing injections and pills any longer!! I cannot tell you how so very thankful we are for this food and it's quality of ingredients that has helped my girl to be healthier & stronger on so many levels. I would not only reccomend this food but beg folks to give it a try if you are looking. It will NOT dissappoint!! As for reviews concerning how big the bites are, the easy fix is to crush it into small bites using a hammer or kitchen meat tenderizer pummel!! Just throwing it out there. Yes, it would be terrific if it came in various bite sizes, but until it does, going this extra step is worth it all for our dog's health sake!! Forever grateful!!!