Urinary SO Moderate Calorie Thin Slices in Gravy Canned Dog Food
Royal Canin Urinary SO Moderate Calorie is a veterinary-exclusive wet dog food for dogs prone to weight gain with urinary health concerns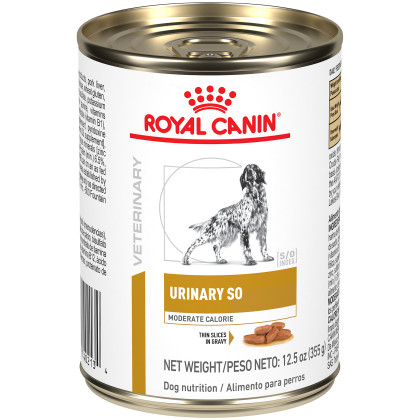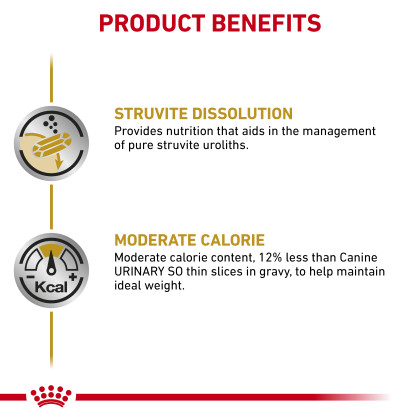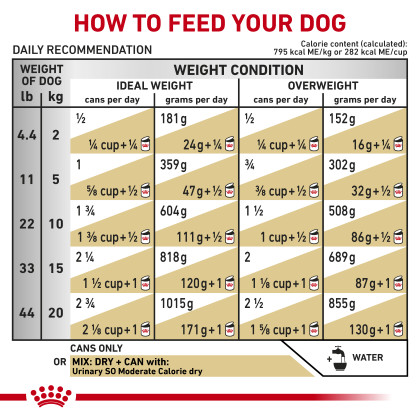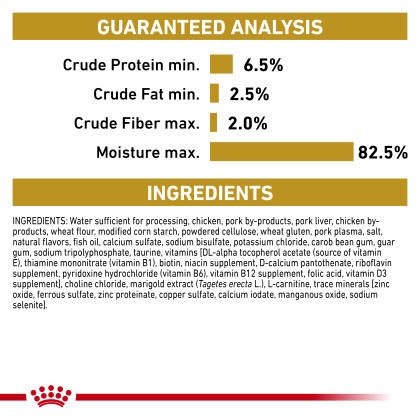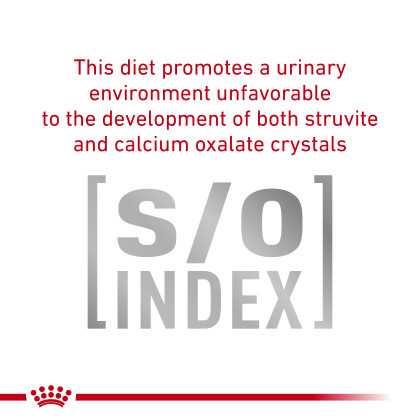 Helps dissolve pure struvite stones and helps prevent calcium oxalate stones

Moderate calorie content (12% less than Royal Canin Urinary SO thin slices in gravy wet dog food) for ideal weight maintenance

Lowers the risk of crystal formation using RSS methodology for bladder health

Supports urinary health with an exclusive S/O Index, and creates an environment unfavorable to crystal formation in the bladder

When your dog has urinary issues, easing their discomfort requires special care. But with the help of your veterinarian and Royal Canin, there's not just hope—there can be a true difference.

This veterinary-exclusive wet dog food was developed to nutritionally support your adult dog's urinary tract and bladder health. It increases the amount of urine your dog produces to help dilute excess minerals that can cause crystals and stones. Moderate calorie content (12% less than Royal Canin Urinary SO thin slices in gravy wet dog food) helps them maintain a healthy weight. Relative Super Saturation (RSS) methodology is used to help lower ion concentration in urine, which contributes to stone formation. This formula promotes a urinary environment unfavorable to the formation of both struvite and calcium oxalate crystals. Lower urinary tract issues may be a recurring concern for some dogs. Talk to your veterinarian about keeping your dog on this urinary dog food for long-term urinary support. And ask them about the right Royal Canin dry dog food and treats to complement your dog's diet.
Water sufficient for processing, chicken, pork by-products, pork liver, chicken by-products, wheat flour, modified corn starch, powdered cellulose, wheat gluten, pork plasma, salt, natural flavors, fish oil, calcium sulfate, sodium bisulfate, potassium chloride, carob bean gum, guar gum, sodium tripolyphosphate, taurine, vitamins [DL-alpha tocopherol acetate (source of vitamin E), thiamine mononitrate (vitamin B1), biotin, niacin supplement, D-calcium pantothenate, riboflavin supplement, pyridoxine hydrochloride (vitamin B6), vitamin B12 supplement, folic acid, vitamin D3 supplement], choline chloride, marigold extract (Tagetes erecta L.), L-carnitine, trace minerals [zinc oxide, ferrous sulfate, zinc proteinate, copper sulfate, calcium iodate, manganous oxide, sodium selenite].

Calorie Content

This diet contains 795 kcal ME/kg; 282 kcal ME/can on an as fed basis (calculated).

| | |
| --- | --- |
| Crude Protein (min) | 6.5% |
| Crude Fat (min) | 2.5% |
| Crude Fiber (max) | 2.0% |
| Moisture (max) | 82.5%. |

Wet Feeding

| Dog Weight | Low Activity | Medium Activity |
| --- | --- | --- |
| 4.4 lb (2 kg) | 1/2 can (152 g) | 1/2 can (181 g) |
| 11 lb (5 kg) | 3/4 can (302 g) | 1 can (359 g) |
| 22 lb (10 kg) | 1 1/2 cans (508 g) | 1 3/4 cans (604 g) |
| 33.1 lb (15 kg) | 2 cans (689 g) | 2 1/4 cans (818 g) |
| 44.1 lb (20 kg) | 2 1/2 cans (855 g) | 2 3/4 cans (1015 g) |

Mixed Feeding

| Dog Weight | Cans / Day | Low Activity | Medium Activity |
| --- | --- | --- | --- |
| 4.4 lb (2 kg) | 1/4 | 1/4 cup (16 g) | 1/4 cup (24 g) |
| 11 lb (5 kg) | 1/2 | 3/8 cup (32 g) | 5/8 cup (47 g) |
| 22 lb (10 kg) | 1/2 | 1 cup (86 g) | 1 3/8 cups (111 g) |
| 33.1 lb (15 kg) | 1 | 1 1/8 cups (87 g) | 1 1/2 cups (120 g) |
| 44.1 lb (20 kg) | 1 | 1 5/8 cups (130 g) | 2 1/8 cups (171 g) |
Rezamay
25 Jun 2020
Royal Canin changed formula and ruined a good food
NOT happy with the change in the formula. Thin slices on the SO wet moderate calorie dog good are not think slices at all, but chunks with a thick gel like fat they call gravy.
cmmc
18 Jun 2020
New Food
My dog has been eating a combination for wet and dry Urinary SO Mod Calorie for years and has done well. Since he started eating this new formula, he has been vomiting frequently. I need to find an alternative food or keep him only on the dry food, unless you changed that as well.I just received a shipment of a new bag of dry food and it has the new label on it. I may end up getting rid of it. This is not good.
Charliedog123
17 Jun 2020
New formula is too gassy!
Our small cavapoo has been eating this food for the last year, but just recently she started having excessive gas. Like so many others have mentioned here, something is wrong with the new formula.
Buffett
15 Apr 2020
New formaula=Bad news!
I have a older English Springer Spaniel that has been on this food for several years along with the Urinary SO dry and it was the perfect diet for her. Since buying the new formula we have been to the vet twice with diarrhea issues. I was amazed to see all the current reviews saying about the same thing. Please bring back the old formula. In the mean time, I will work with our vet to find a new food.
AntonioAmo
08 Apr 2020
Completely new formula. My dog won't eat it now.
The manufacturer changed the formula (even the shape of the food), and now my dog will not eat the food, or eat it and have horrible diarrhea. Please, go back to the old formula.
BanditsPerson
25 Mar 2020
Not happy with the new formula
Now my dog farts all the time. Not pleasant. Prefer the old formula
GMHatfield
13 Mar 2020
Good news, bad news
On the positive side, our miniature Schnauzer (Cosmo) actually likes the new formulation better than the old. We feed him a combination of the Urinary SO moderate calorie and an oxalate free homemade diet and have been for years. About 1/4 of his calories come from the canned food. He has had three bladder surgeries for oxalate stones and has been stone free for over two years on this diet. One improvement in the new formulation is that it contains fewer fat calories (about 26%) than the old formulation (about 47%) which is good for a breed that has a tendancy to develop pancreatitis. One the negative side, there are fewer calories per can which increases the price of this rather expensive food. But the biggest criticism of this food is the way it was introduced with no warning from the company, at least to pet owners. Even the new can does not have any notice that the formulation has changed. The color of the label did change, but it should have said something like "new and improved formula" to warn owners of the change.
Pookie Mom
03 Mar 2020
Why the Change
My dog has been eating this food for most of her life because of frequent UTIs. She loved it and does well with the formula . The last case I ordered is totally different. Label changed, the size of the food is much bigger, which is a challenge for my shiatsu. Also, it is less food! Come on! Please go back to what was working and don't try to fix what was not broken. If not, I'm going to find an alternate food.
29 Feb 2020
He won't touch it
My 15 yer old bichon Maltese had bladder surgery 4 years ago and has been on Royal Canaan urinary SO moderate calorie canned ever since. Now the new food came and he doesn't like it, in fact he's leaving it all over the house from his food bowl. What am I going to feed my dog now? Just got a new shipment yesterday and am going to have to send it back I'm thinking you changed the dry food too because we were getting that and he started throwing that up when it was never a problem before
Booger
24 Feb 2020
Very Upset, Concerned Doggie Mom
d My shih tzu has been eating this food for many years. I know the label of the can changed. I have no problem with this, however, the contents have changed tremendously. The texture, consistency, thick size of the slices and the collection of the fat on/in the food was rather disgusting. I was wondering why the collection of the fat started appearing in the "old" cans I purchased, but now I understand why..... You were transitioning the old to the new labeled cans. He started this new fresh can in one day and became Very Lethargic, Nauseated and had Loose stools! This is very upsetting! An explanation should be addressed as soon as possible. I emailed customer service and will be calling during the week. No representative is available after hours or on weekends.