Gastro Intestinal
It is recommended that a veterinarian's opinion be sought before use. Feed Gastro Intestinal for 1 to 2 weeks during periods of recovery from acute diarrhoea, until resolved.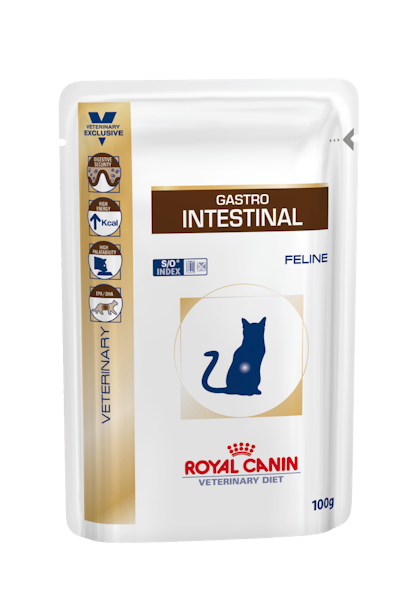 Digestive security

Nutrients which support a balanced digestive system.

High energy

Adequate energy intake to meet the needs of a cat without overloading the stomach.

High palatability

High palatability to satisfy decreased or fussy appetites.

EPA/DHA

Essential fatty acids to help maintain a healthy digestive system.
COMPOSITION: meat and animal derivatives, cereals, oils and fats, minerals, derivatives of vegetable origin, sugars, yeasts.

ADDITIVES (per kg): Nutritional additives: Vitamin D3: 295 IU, E1 (Iron): 11 mg, E2 (Iodine): 0.4 mg, E4 (Copper): 2.7 mg, E5 (Manganese): 3.3 mg, E6 (Zinc): 33 mg - Technological additives: Pentasodium triphosphate: 1.2 g.

ANALYTICAL CONSTITUENTS: Protein: 7.6% - Fat content: 5.6% - Crude ash: 1.6% - Crude fibre: 0.8% - Moisture: 80% - Metabolisable energy: 940 kcal/kg - Sodium: 0.11% - Potassium: 0.14% - Omega 6 essential fatty acids: 1% and Omega 3 essential fatty acids (EPA/DHA): 0.1%.

Cat's weight
2 kg
-
3 kg
-
4 kg
-
5 kg
-
6 kg
-
7 kg
-
8 kg
-
9 kg
-
10 kg
Lean
150 g
1+4/8 pouch
225 g
2+2/8 pouch
300 g
3 pouch
370 g
3+6/8 pouch
445 g
4+4/8 pouch
520 g
5+2/8 pouch
595 g
6 pouch
670 g
6+6/8 pouch
745 g
7+4/8 pouch
Normal
115 g
1+2/8 pouch
175 g
1+6/8 pouch
235 g
2+2/8 pouch
295 g
3 pouch
350 g
3+2/8 pouch
410 g
4 pouch
470 g
4+6/8 poucj
525 g
5+2/8 pouch
585 g
5+6/8 pouch
Overweight
----190 g
2 pouch
240 g
2+4/8 pouch
285 g
2+6/8 pouch
335 g
3+2/8 pouch
385 g
3+6/8 pouch
430 g
4+2/8 pouch
480 g
4+6/8 pouch