Sensitivity Control S/O Chicken
Sensitivity control Chicken & Rice is a complete dietetic feed for cats formulated to reduce ingredient and nutrient intolerances. This dietetic feed contains selected sources of protein and carbohydrate. Selected protein source: chicken. Selected carbohydrate source: rice.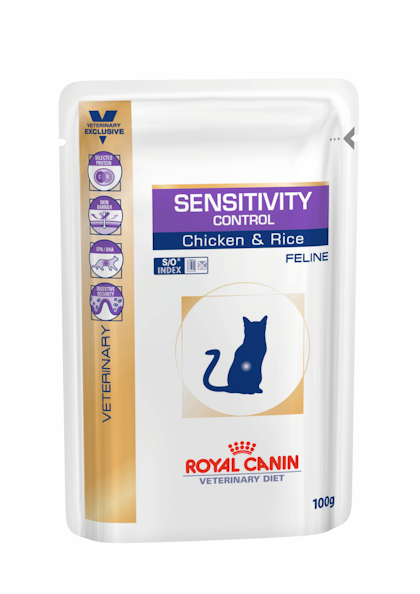 Skin barrier

A patented complex to support the barrier effect of the skin.

Selected protein

A limited number of protein sources helps reduce the risk of food allergies.

EPA/DHA

Fatty acids to help maintain a healthy digestive system and a healthy skin.

Digestive security

Nutrients which support a balanced digestive system.
COMPOSITION: meat and animal derivatives (chicken 34%), cereals (rice 6%), oils and fats, minerals, derivatives of vegetable origin, various sugars.

ADDITIVES (per kg): Nutritional additives: Vitamin D3: 370 IU, E1 (Iron): 7 mg, E2 (Iodine): 0.5 mg, E4 (Copper): 3 mg, E5 (Manganese): 2 mg, E6 (Zinc): 21 mg - Technological additives: Pentasodium triphosphate: 3 g, Calcium sulphate: 2.8 g, Cassia gum: 3 g.

ANALYTICAL CONSTITUENTS: Protein: 8% - Fat content: 5.5% - Crude ash: 2.2% - Crude fibres: 0.5% - Moisture: 78% - Essential fatty acids: 1.3% - EPA/DHA: 0.25%. SENSITIVITY CONTROL Chicken & Rice is a complete dietetic feed for cats formulated to reduce ingredient and nutrient intolerances. This dietetic feed contains selected sources of protein and carbohydrate. Selected protein source: chicken. Selected carbohydrate source: rice

MET.ENERGY (mesurée)=
-
980
kcal/kg
-
Pouch weight
100 g
kcal/kg pv
70
-
55
-
45
Cat's weight (kg)
LEAN
-
NORMAL
-
OVERWEIGHT
-
-
-
(g / day)
Pouch / day
(g / day)
Pouch / day
(g / day)
Pouch / day
2
145
1 1/2
110
1
-
3
215
2 1/4
170
1 3/4
-
4
285
2 3/4
225
2 1/4
185
1 3/4
5
355
3 1/2
280
2 3/4
230
2 1/4
6
430
4 1/4
335
3 1/4
275
2 3/4
7
-
395
4
320
3 1/4
8
-
450
4 1/2
365
3 3/4
9
-
505
5
415
4 1/4
10
-
560
5 1/2
460
4 1/2
-
-
-