Gastro Intestinal Low Fat
Gastro Intestinal Low Fat is a complete dietetic food for the nutritional management of dogs formulated to regulate lipid metabolism in the case of hyperlipidaemia. This food contains a low level of fat and a high level of essential fatty acids.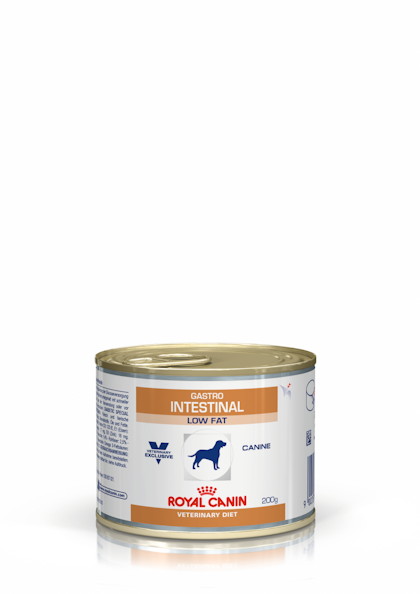 Digestive security

Combination of highly digestible proteins, prebiotics (mannan-oligo-saccharides), and fish oil to help support digestive security.

Low fat

A low fat concentration helps improve digestive function in dogs with hyperlipidæmia or with acute pancreatitis.

Fibre balance

Adjusted levels of soluble and insoluble fibres to help limit fermentation and helps promote good stool quality.

Antioxidant complex

The synergistic antioxidant complex neutralises free radicals, helps support healthy DNA and supports natural defences.
Pork liver, pork meat, maize, rice, minerals, cellulose fibre, beet pulp, taurine, yeast extract (source of mannan-oligosaccharides), fish oil, marigold extract (rich in lutein), trace elements (including chelated trace-elements), vitamins.

It is recommended to divide
the daily intake into 2 meals.
-
-
-
Dog's weight
THIN
-
NORMAL
-
OVERWEIGHT
(g / day)
can / day
(g / day)
can / day
(g / day)
can / day
2
285
3/4
225
1/2
170
1/2
5
555
1 1/4
445
1
330
3/4
10
920
2 1/4
735
1 3/4
550
1 1/4
15
1.235
3
990
2 1/2
740
1 3/4
20
1.525
3 3/4
1.220
3
915
2 1/4
25
1.790
4 1/4
1.435
3 1/2
1.075
2 1/2
30
2.050
5
1.640
4
1.230
3
35
2.290
5 1/2
1.835
4 1/2
1.375
3 1/4
40
2.525
6 1/4
2.020
5
1.515
3 3/4