Hepatic
It is recommended that a veterinarian's opinion be sought before use or before extending the period of use. Initially feed Hepatic for up to 6 months.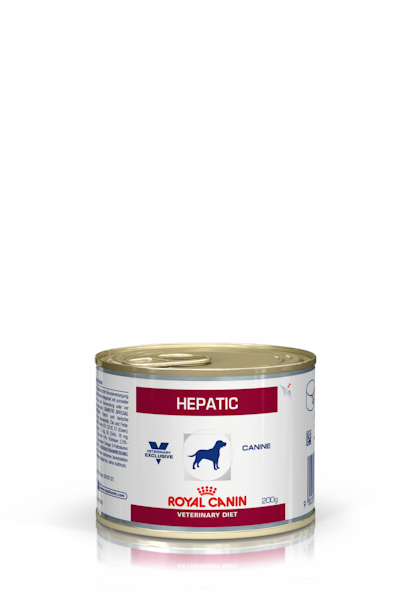 Low copper

Low level of copper to help reduce its accumulation in liver cells.

Antioxidant complex

A patented synergistic complex of antioxidants to help neutralise free radicals.

Electrolyte balance

A low sodium intake decreases portal hypertension and reduces extravascular fluid loss.

High energy

Adequate energy intake to meet the needs of an adult dog without overloading the stomach.
COMPOSITION: cereals(maize, rice), meat and animal derivatives (chicken), oils and fats,derivatives of vegetable origin, eggs and egg derivatives, minerals.

ADDITIVES (per kg): Nutritional additives: Vitamin D3: 248 IU, E1 (Iron):18 mg, E2 (Iodine): 0.2 mg, E4 (Copper): 1.3 mg, E5 (Manganese):5.5 mg, E6 (Zinc): 55 mg.

ANALYTICAL CONSTITUENTS: Protein:6.5% - Fat content: 4.2% - Crude ash: 1.5% - Crude fibres: 2%Moisture: 64% - Sodium: 0.05% - Omega 6 essential fatty acids: 1.6%and Omega 3 essential fatty acids: 0.01% - Total copper: 2.9 mg/kg.

Dog's weight
2 kg
-
5 kg
-
10 kg
-
15 kg
-
20 kg
-
25 kg
-
30 kg
-
40 kg
Lean
185 g
1/2 can
360 g
3/4 can
595 g
1+1/2 can
805 g
2 can
990 g
2+1/4 can
1165 g
2+3/4 can
1330 g
3+1/4 can
1645 g
4 can
Normal
150 g
1/4 can
290 g
3/4 can
480 g
1+1/4 can
640 g
1+1/2 can
790 g
2 can
930 g
2+1/4 can
1065 g
2+1/2 can
1315 g
3+1/4 can
Overweight
110 g
1/4 can
215 g
1/2 can
360 g
3/4 can
480 g
1+1/4 can
595 g
1+1/2 can
700 g
1+3/4 can
800 g
2 can
985 g
2+1/4 can