Recovery
Food for cats and dogs.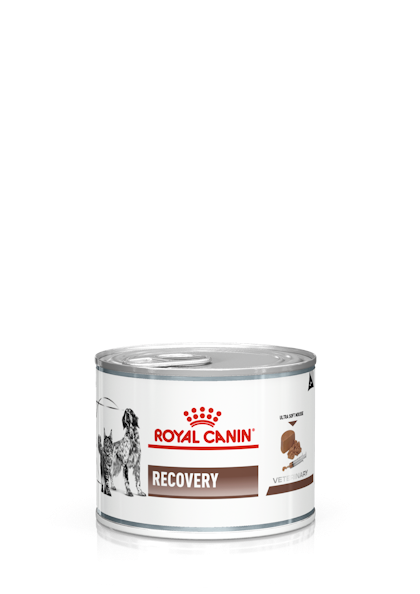 High energy

High energy density that helps provide daily energy requirements in a reduced feeding volume.

Easy tube feeding

Specific texture that facilitates feeding by syringe and through feeding tubes

High protein

High protein level to help maintain muscle mass during hospitalization and convalescence.

BRAND TEXT VETERINARY

In 1968 in the South of France, a veterinarian named Jean Cathary discovered he could help dogs heal more fully through tailored nutrition. In this visionary act, ROYAL CANIN&reg was born. Today, using advanced veterinary science and careful observation to identify the most adapted nutrients, our 220+ individual formulas support the health of every individual cat and dog.
Working towards a sustainable future
Our belief that pets make our world better inspires and gives life to our purpose of making a better A BETTER WORLD FOR PETS ™
Discover more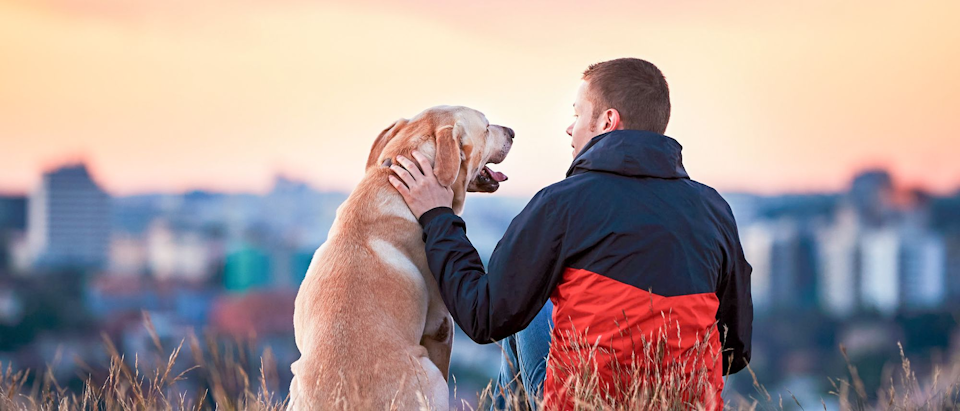 Ingredients: chicken by-products, chicken, gelatin, corn starch, purified cellulose, fish oil, calcium caseinate, minerals salts, sunflower oil, vitamins, taurine, psyllium, guar gum, fructo-oligosaccharides (FOS), citric acid, carrageenan, marigold extract, mannan-oligosaccharides (MOS), trace elements, trace elements chelates.

Vitamins: vitamin A, vitamin D3, vitamin E, calcium panthotenate, niacin, vitamin B1, vitamin B2, vitamin B6, folic acid, biotin, vitamin B12, choline, vitamin C.

Minerals salts : sodium tripolyphosphate, dicalcium phosphate, calcium sulfate, potassium chloride, calcium carbonate, magnesium oxide, sodium carbonate.

Trace elements : zinc sulfate, iron sulfate, manganous sulfate, copper sulfate, calcium iodate, organic selenium.

Trace elements chelates : zinc, manganese, copper.

Guaranteed analysis: Crude Protein (min): 10.7% - Crude Fat (min): 4.4% - Crude Fiber (max): 2.7% - Crude Ash (max): 2.5% - Moisture (max): 76.0% - Calcium (min): 0.18%, (max): 0.56% - Phosphorus (min): 0.17%, (max): 0.53% - Sodium (max): 0.41% - Metabolisable Energy ME: 1183 kcal/kg (NRC06CF).

Vitamins per kg : Vitamins: A: 1500 IU, D3: 190 IU, C: 112 mg, E: 145 mg, B1: 2 mg, B2: 3 mg, Niacine: 50 mg, Calcium pantothenate: 31 mg, B6: 5 mg, B12: 0.02 mg, Folic acid: 1.5 mg, Biotin: 0.2 mg, Choline: 660 mg.

Trace elements per kg : Iron: 12 mg, Copper: 2.5 mg, Zinc: 37 mg, Manganese: 10.1 mg, Iodine: 0.6 mg, Selenium: 0.044 mg.

Feeding instructions: for a 4 Kg cat or dog give 1 can/day or less if fed in combination with dry food. Batch number, factory registration number and best before date: see information on packaging. To be stored in a cool, dry place.

| Dog weight (kg) | Resting | - | Maintenance | - |
| --- | --- | --- | --- | --- |
| - | g/day | can/day | g/day | can/day |
| 2 kg | 95 g | 1/2 | 155 g | 3/4 |
| 4 kg | 160 g | 3/4 | 260 g | 1 1/4 |
| 5 kg | 189 g | 1 | 308 g | 1 1/2 |
| 6 kg | 217 g | 1 | 353 g | 1 3/4 |
| 8 kg | 269 g | 1 1/2 | 438 g | 2 1/4 |
| 10 kg | 318 g | 1 3/4 | 517 g | 2 3/4 |
| 15 kg | 431 g | 2 1/4 | 701 g | 3 1/2 |
| 20 kg | 534 g | 2 3/4 | 870 g | 4 1/2 |
| 25 kg | 632 g | 3 1/4 | 1029 g | 5 1/4 |
| 30 kg | 724 g | 3 3/4 | 1179 g | 6 |
| 35 kg | 813 g | 4 1/4 | 1324 g | 6 3/4 |
| 40 kg | 899 g | 4 1/2 | 1463 g | 7 1/2 |
| 45 kg | 982 g | 5 | 1599 g | 8 1/4 |
| 50 kg | 1062 g | 5 1/2 | 1730 g | 8 3/4 |
| 55 kg | 1141 g | 5 3/4 | 1858 g | 9 1/2 |
| 60 kg | 1218 g | 6 1/4 | 1984 g | 10 1/4 |
| 70 kg | 1367 g | 7 | 2227 g | 11 1/2 |
| 80 kg | 1511 g | 7 3/4 | 2461 g | 12 1/2 |
| - | - | - | - | - |
| Cat weight (kg) | Resting | - | Maintenance | - |
| - | g/day | can/day | g/day | can/day |
| 2 kg | 93 g | 1/2 | 120 g | 1/2 |
| 2,5 kg | 110 g | 1/2 | 141 g | 3/4 |
| 3 kg | 126 g | 3/4 | 161 g | 3/4 |
| 3,5 kg | 141 g | 3/4 | 179 g | 1 |
| 4 kg | 156 g | 3/4 | 197 g | 1 |
| 4,5 kg | 171 g | 1 | 214 g | 1 |
| 5 kg | 185 g | 1 | 231 g | 1 1/4 |
| 5,5 kg | 199 g | 1 | 247 g | 1 1/4 |
| 6 kg | 212 g | 1 | 263 g | 1 1/4 |
| 6,5 kg | 225 g | 1 1/4 | 278 g | 1 1/2 |
| 7 kg | 238 g | 1 1/4 | 293 g | 1 1/2 |
| 7,5 kg | 251 g | 1 1/4 | 308 g | 1 1/2 |
| 8 kg | 263 g | 1 1/4 | 323 g | 1 3/4 |
| 8,5 kg | 275 g | 1 1/2 | 337 g | 1 3/4 |
| 9 kg | 287 g | 1 1/2 | 351 g | 1 3/4 |
| 9,5 kg | 299 g | 1 1/2 | 365 g | 1 3/4 |
| 10 kg | 311 g | 1 1/2 | 378 g | 2 |