Renal with Chicken - Pouch
Renal is a complete dietetic food for cats formulated to support renal function in case of chronic or temporary renal insufficiency, through its restricted level of phosphorus and high quality protein to reduce oxalate stone formation, through its low level of calcium and vitamin D, and its urine alkalinising properties to support liver function in case of chronic liver insufficiency, through its moderate level of high quality protein and its high content of essential fatty acids.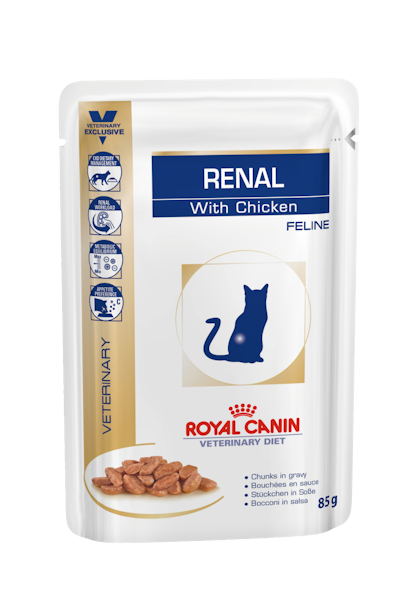 Low phosphorus

During CRF, phosphorus is no longer eliminated effectively by the kidneys. A restriction in phosphrus intake is essential to limit the development of renal failure.

EPA/DHA

Feeding a diet with a high fish oil (source of EPA/DHA) content significantly improves the glomular filtration rate in the long run, while minimising glomerulosclerosis.

Digestive security

Increased uraemia may induce the formation of gastric and intestinal mucosal ulcers. The combination of zeolite and FOS minimises this risk.

Anti-age system

The synergistic antioxidant complex (vitamin E, vitamin C, taurine, lutein) helps maintain healthy DNA, promotes health of the immune system and neutralises free radicals, the negative effects of which increase with age.
meat and animal derivatives (chicken 40%), cereals (rice 6%), vegetable protein extracts (rice protein), derivatives of vegetable origin, minerals, oils and fats