CCN Maxi Dermacomfort Adult Dog
Complete feed for dogs - For adult and mature large breed dogs (from 26 to 44 kg) - Over 15 months old - Dogs prone to skin irritation and itching.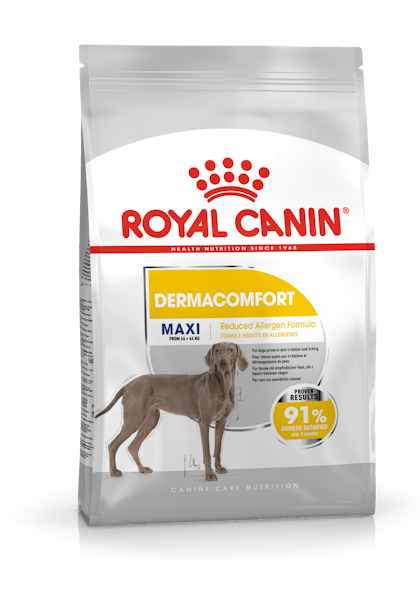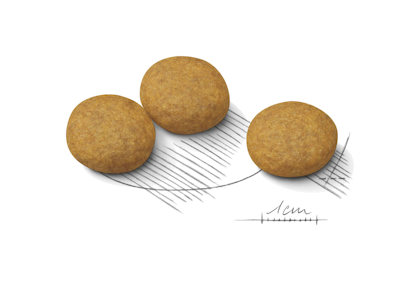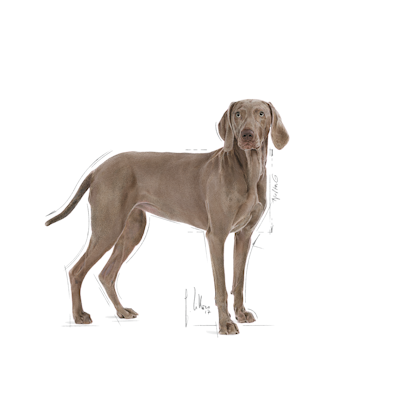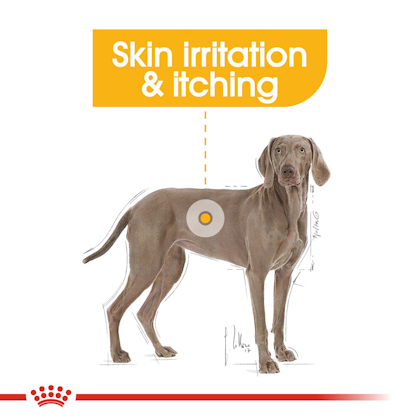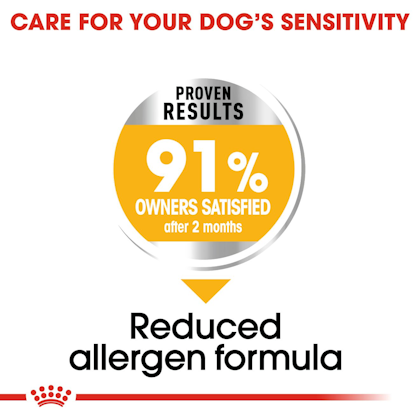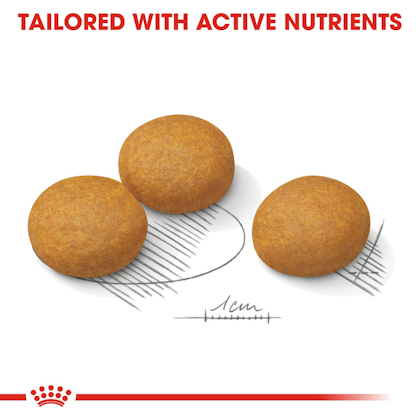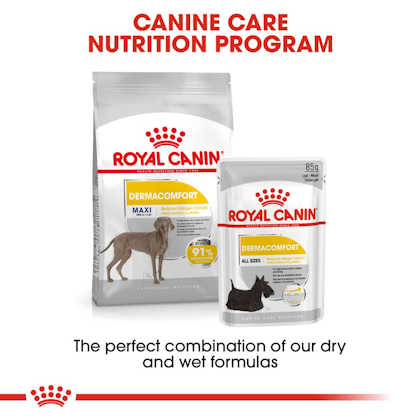 Proven results

Healthy skin - 91 % of owners are satisfied after 2 months* *Royal Canin internal study.

How else can you help your dog?

You can help protect your dog's skin by keeping his bed and favorite resting places clean. This helps remove dust and dandruff, a breeding ground for itchy parasites. If you have any questions or concerns about your dog's health, please contact your veterinarian.

Precise formula

Nutritionally formulated with Omega-3 & 6 fatty acids, including GLA, EPA and DHA to help support and nourish his skin. Formulated to care for your dog's skin and help him maintain a full, healthy coat.

For dogs prone to skin irritation and itching

The dog's skin respond to dietary, seasonal and environmental irritants. Too much scratching can damage his skin disrupting the protective skin barrier.

Skin irritation is the number one reason that dogs get taken to the vets. You can care for your dog by feeding him high-quality nutrients that are specially calibrated to care for and soothe sensitive skin. Skin sensitivities often lead to excessive scratching, which can further damage your dog's skin and even potentially cause infection. ROYAL CANIN® Dermacomfort Maxi is tailored with active nutrients that help to support your dog's skin health. Enriched with Omega 3 and 6 fatty acids, this food helps to soothe the skin, making it less sensitive to irritants that may be present in your dog's environment. What's more, these nutrients also help to maintain your dog's good coat health. Suitable for dogs that weigh between 26kg and 44kg, ROYAL CANIN® Dermacomfort Maxi contains specially designed kibble that fits perfectly between your dog's teeth. We take proteins very seriously, which is why we only use the highest quality and adapt the type of protein to align with your dog's exact needs. Our Dermacomfort nutritional program has two components available: crunchy kibble and a delicious pâté in a pouch, both are nutritionally complete and perfectly complement each other. Why not try the pâté as a delicious topping to the kibble? Don't just take our word for it, 91% of owners were satisfied with this product after just 2 months of continued use. This means that ROYAL CANIN® Dermacomfort Maxi's results are a proven success.
Working towards a sustainable future
Our belief that pets make our world better inspires and gives life to our purpose of making a better A BETTER WORLD FOR PETS ™
Discover more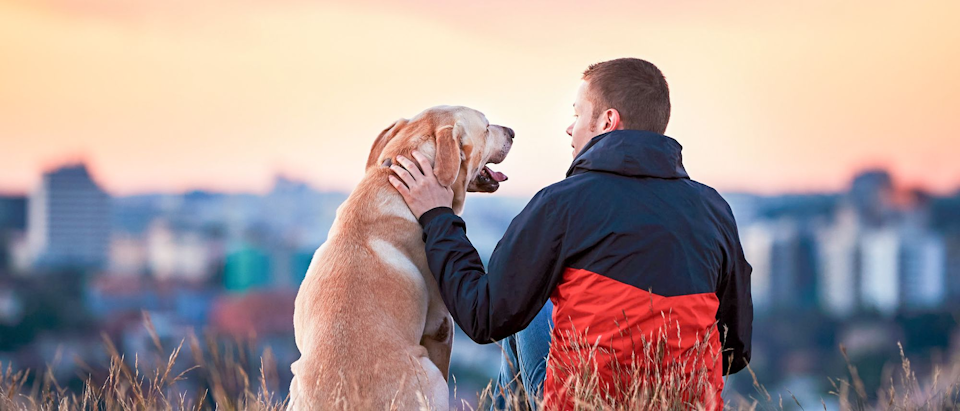 Composition: wheat, vegetable protein isolate*, rice, animal fats, maize gluten, maize, husked oats, minerals, hydrolysed animal proteins, soya oil, beet pulp, fish oil, flax seeds, fructo-oligo-saccharides, borage oil, marigold extract (source of lutein).

Additives (per kg): Nutritional additives: Vitamin A: 29500 IU, Vitamin D3: 800 IU, E1 (Iron): 73 mg, E2 (Iodine): 6.1 mg, E4 (Copper): 15 mg, E5 (Manganese): 75 mg, E6 (Zinc): 148 mg, E8 (Selenium): 0.19 mg - Preservatives - Antioxidants.

Analytical constituants:  Protein: 25.0% - Fat content: 17.0% - Crude ash: 5.9% - Crude fibres: 1.6%. Per Kg: Omega 6 fatty acids: 36.0 g including Gamma-linolenic acid: 0.3 g - Omega 3 fatty acids: 11.4 g including EPA/DHA: 4.0 g.

* L.I.P.: protein selected for its very high digestibility.

Feeding instruction: see table. Batch number, factory registration number and best before date: see information on packaging. To be stored in a cool, dry place.

Analytical constituants:  Protein: 25.0% - Fat content: 17.0% - Crude ash: 5.9% - Crude fibres: 1.6%. Per Kg: Omega 6 fatty acids: 36.0 g including Gamma-linolenic acid: 0.3 g - Omega 3 fatty acids: 11.4 g including EPA/DHA: 4.0 g.

| Dog's Weight | Normal activity level | Moderate activity level | Moderate activity level |
| --- | --- | --- | --- |
| 26 kg | 276 g (2+6/8 cups) | 319 g (3+1/8 cups) | 363 g (3+5/8 cups) |
| 32 kg | 322 g (3+2/8 cups) | 373 g (3+6/8 cups) | 424 g (4+2/8 cups) |
| 38 kg | 366 g (3+5/8 cups) | 424 g (4+2/8 cups) | 482 g (4+6/8 cups) |
| 44 kg | 409 g (4 cups) | 473 g (4+6/8 cups) | 538 g (5+3/8 cups) |
Paradise
11 Feb 2021
Wonderful food!
As a Clumber Spaniel breeder of top show dogs it is important to me to keep my dogs coat in the best condition that I possibly can. I strongly believe that Royal Canin Sensitive Skin has help to contribute greatly to this. I have had all my dogs on this food now for several years and I am extremely pleased with the results. If you feed a good food you do not have to add supplements. So therefore I highly recommend this food!
Paige20
08 Nov 2019
Worked wonders!
I switched my newly adopted senior dog to this diet after having very itchy, dry and red skin. Within a few weeks the irritation has completely went away and she has stopped itching. As a veterinary student I love knowing that Royal Canin is backed by research and the diets are safe and effective for my pets!
KittaK
28 Oct 2019
Miracle
After my dog's bad skin flares, i decided to try out the sensitive skin diet and it worked miracles! She's an Am. Staff so she is already prone to bad skin reactions but with this diet, her skin has improved and she no longer scratches her self. I definitely recommend this diet to everyone who asks me how i got to tame my dog's skin condition. Two thumbs up!
shelly710
27 Oct 2019
royal canin_ sensitive skin care dry dog food
I bought this a couple months ago and noticed the nice healthy change in my dog's coat
Sjr371
03 Oct 2018
Seeing improvement!
My dogs have been on this food for just over a month... skin & hair coat are already showing improvement! Especially helpful since one of them can not take fatty acid supplements outright since they cause her GI upset!! Great product! They will be on it from now on!!
Buckie
03 Oct 2018
Excellent quality
My highly allergic dog is doing great! Healthy coat, regular bowel movements, and not gassy!
Deja25
03 Oct 2018
Amazing
I have had my Doberman on this for about 3 and 1/2 years now and will not give her anything else it makes her skin teeth and coat beautiful and her stool nice and healthy and she LOVES TO EAT IT !
Frezi22
02 Oct 2018

I've been feeding my dog with this food since I adopted her last year. She got some allergy for another food I was giving and then I tried this one and she's been great since!! She loves it !!!
Jkt5271
02 Oct 2018
Such a help to my dogs!
Both of my dogs are prone to skin allergies. I've noticed such a change in their skin since switching. It's been a life saver for them and has cut down on vet visits and costs for me!
Katerenee7
07 Nov 2017
confused
I was going to purchase this product for my older, large breed dog. However the ratio from omega 6-omega 3 is a little higher than I would like. How is this supposed to support healthy joint mobility when Omega 6's create an inflammatory response in the body?
Royal Canin response
We formulate our diets to have optimal levels of nutrients including omega-6 and omega-3 fatty acids. The ratio is not as important as the amounts.