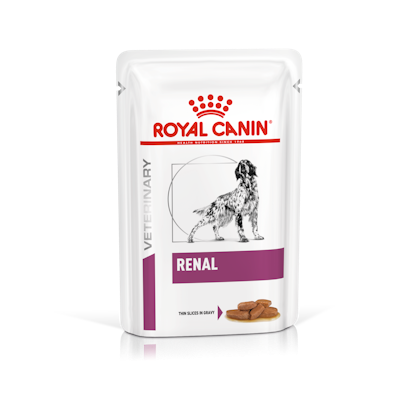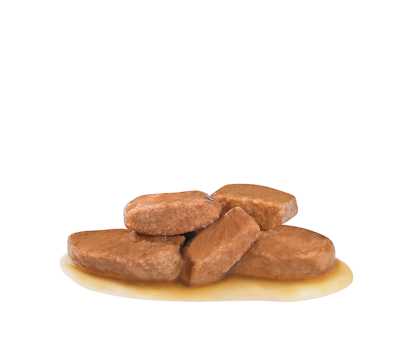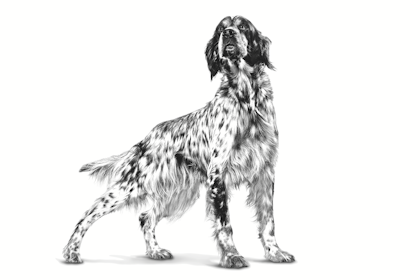 Renal support

Formulated with low phosphorus and moderate protein of high quality to support renal function, helping to improve the dog's quality of life.

Aromatic choice

A specific aromatic profile with a dedicated texture to help stimulate the dog's appetite, particularly in cases of food aversion.

Easy to mix

In the case of mixed feeding, the texture of thin slices in gravy ease the blend with ROYAL CANIN® Renal dry range diets for dogs.
Working towards a sustainable future
Our belief that pets make our world better inspires and gives life to our purpose of making a better A BETTER WORLD FOR PETS ™
Discover more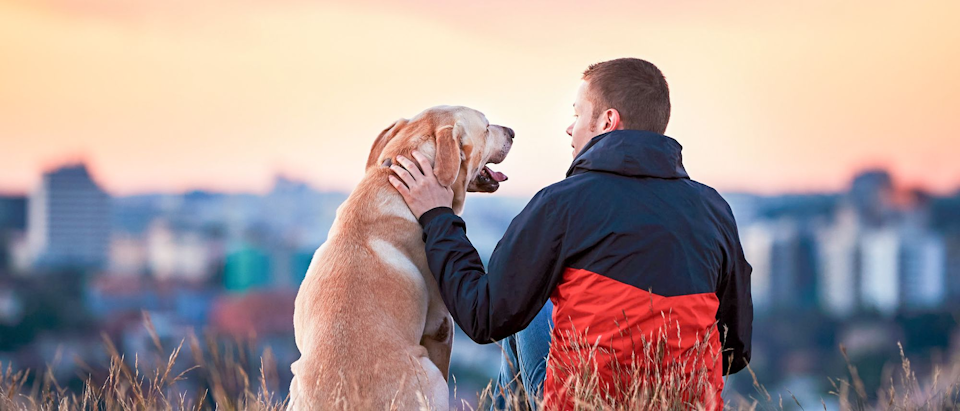 Complete dietetic feed for adult dogs

ROYAL CANIN® RENAL thin slices in gravy is a complete dietetic feed for dogs formulated to support renal function in the case of chronic renal insufficiency, through its restricted levels of phosphorus and high-quality proteins. RECOMMENDATIONS: It is recommended that a veterinarian's opinion be sought before use or before extending the period of use. Initially feed RENAL for up to 6 months in cases of chronic renal insufficiency.

COMPOSITION : meat and animal derivatives, cereals, oils and fats, derivatives of vegetable origin, minerals, various sugars. Protein sources: chicken, beef, pork.

ADDITIVES (per kg): Nutritional additives: Vitamin D3: 250 IU, Iron (3b103): 10 mg, Iodine (3b202): 0.3 mg, Copper (3b405, 3b406): 2.6 mg, Manganese (3b502, 3b503, 3b504): 3 mg, Zinc (3b603, 3b605, 3b606): 30 mg - Technological additives: Clinoptilolite of sedimentary origin: 0.4 g.

ANALYTICAL CONSTITUANTS: Protein: 3.7%, Fat content: 6.0%, Crude ash: 1.2%, Crude fibres: 0.6%, Moisture: 80.0%, Calcium: 0.15%, Phosphorus: 0.08%, Potassium: 0.17%, Sodium: 0.09%, Essential Fatty acid (Linoleic Acid): 1.6%.

FEEDING INSTRUCTIONS: see table. Water should be available at all times. Batch number, factory registration number and best before date: see information on packaging. To be stored in a cool, dry.

| | | Adult's weight | | | | |
| --- | --- | --- | --- | --- | --- | --- |
| | Thin | | Normal | | Overweight | |
| Dog's weight (kg) | grams | cup(s) | grams | cup(s) | grams | cup(s) |
| 2 | 210 | 2 | 185 | 2 | 159 | 1+1/2 |
| 4 | 353 | 3+1/2 | 311 | 3 | 268 | 2+1/2 |
| 6 | 478 | 5 | 421 | 4 | 363 | 3+1/2 |
| 8 | 593 | 6 | 522 | 5 | 451 | 4+1/2 |
| 10 | 702 | 7 | 617 | 6 | 533 | 5+1/2 |
| 15 | 951 | 9+1/2 | 837 | 8+1/2 | 723 | 7 |
| 20 | 1180 | 12 | 1038 | 10+1/2 | 897 | 9 |
| 25 | 1395 | 14 | 1227 | 12+1/2 | 1060 | 10+1/2 |
| 30 | 1599 | 16 | 1407 | 14 | 1215 | 12 |
| 35 | 1795 | 18 | 1580 | 16 | 1364 | 13+1/2 |
| 40 | 1984 | 20 | 1746 | 17+1/2 | 1508 | 15 |
| 45 | 2167 | 21+1/2 | 1907 | 19 | 1647 | 16+1/2 |
| 50 | 2346 | 23+1/2 | 2064 | 20+1/2 | 1783 | 18 |
| 55 | 2519 | 25 | 2217 | 22 | 1915 | 19 |
| 60 | 2689 | 27 | 2367 | 23+1/2 | 2044 | 20+1/2 |
| 70 | 3019 | 30 | 2657 | 26+1/2 | 2294 | 23 |
| 80 | 3337 | 33+1/2 | 2937 | 29+1/2 | 2536 | 25+1/2 |