Indoor 27
Visavertis sausas subalansuotas ėdalas suaugusioms katėms (1-7 metų amžiaus), gyvenančioms patalpose.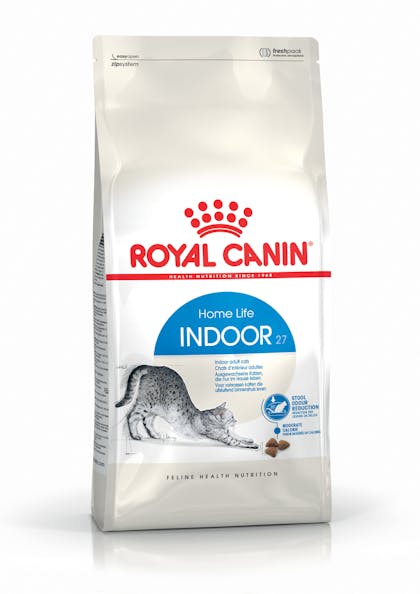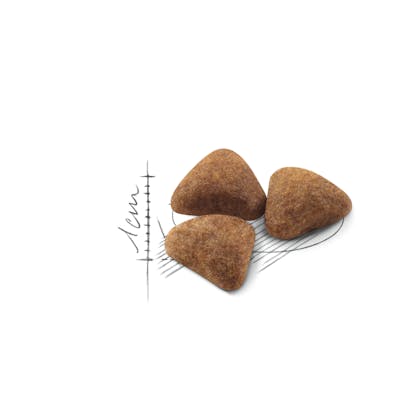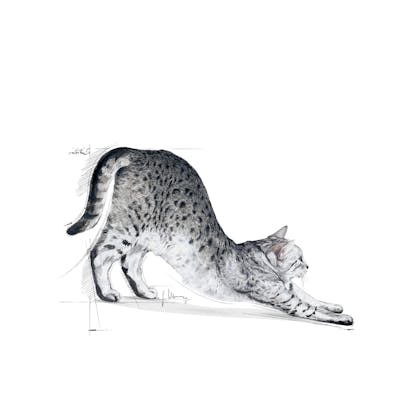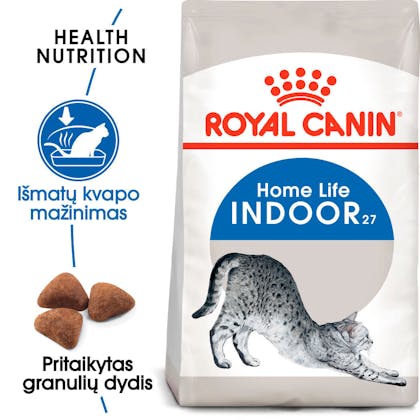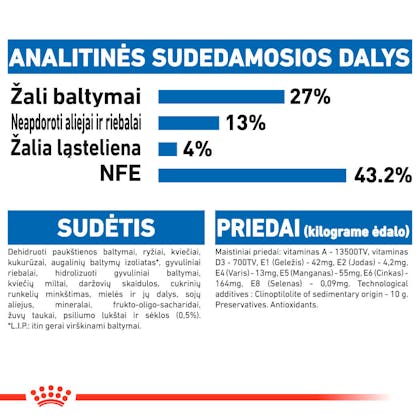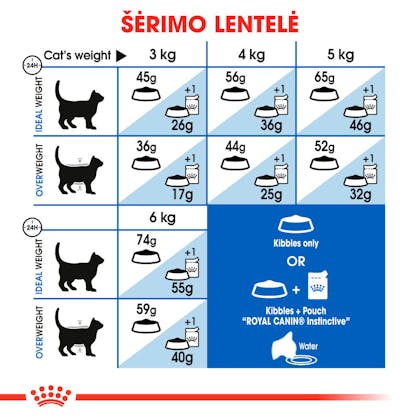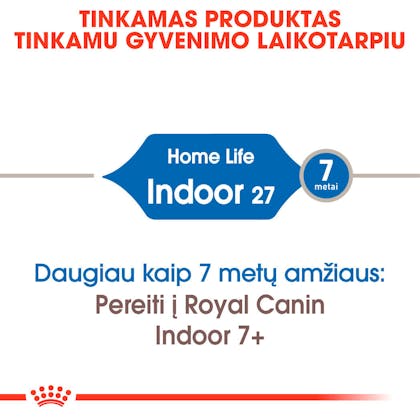 Stool odour reduction

A lack of exercise may lead to a slower intestinal transit which can result in smelly stools. Indoor 27 contains highly digestible protein (L.I.P.*), an appropriate fibre content and specific nutrients to promote good digestion and helps reduce the quantity and odour of stools. *L.I.P.: protein selected for its very high digestibility.

Moderate calorie

A moderate fat content, adapted to the lower activity of indoor cats, helps maintain healthy weight.

Hairball reduction

Indoor 27 helps stimulate intestinal transit and the elimination of ingested hair thanks to specific fibres including psyllium.

Urinary health

Formulated to help maintain health of an adult cat's urinary system.

Indoor adult cats like yours tend to get less exercise than outdoor cats, that's why a balanced and complete diet containing beneficial nutrients is important for optimal health.ROYAL CANIN® Indoor 27 contains a highly digestible protein (L.I.P.) that's specifically selected for its very high digestibility. This protein also helps to reduce the quantity of your cat's stool, as well as reducing the smelly stool odour that occurs when cats have a lower intestinal transit due to a lack of exercise.This food has a moderate fat content in order to ensure that your cat's calorie intake is aligned with its level of activity - the calorie content also contributes to the maintenance of a healthy weight.It's common for indoor cats to spend long periods of time grooming themselves. Thanks to the inclusion of specific dietary fibres, such as psyllium, this food also helps to stimulate the clearance of ingested hair - resulting in a significantly reduced amount of hairballs.Variations of ROYAL CANIN® Indoor dry food are also available depending on your cat's lifestyle, appearance, and age: Indoor Appetite Control, Indoor Long Hair, and Indoor 7+.
SUDĖTIS: dehidruoti paukštienos baltymai, ryžiai, kviečiai, kukurūzai, augalinių baltymų izoliatas*, gyvuliniai riebalai, hidrolizuoti gyvuliniai baltymai, kviečių miltai, daržovių skaidulos, cukrinių runkelių minkštimas, mielės ir jų dalys, sojų aliejus, mineralai, frukto-oligo-sacharidai, žuvų taukai, psiliumo lukštai ir sėklos (0,5%). PRIEDAI (kilograme ėdalo): Maistiniai priedai: vitaminas A - 13500TV, vitaminas D3 - 700TV, E1 (Geležis) - 42mg, E2 (Jodas) - 4,2mg, E4 (Varis) - 13mg, E5 (Manganas) - 55mg, E6 (Cinkas) - 164mg, E8 (Selenas) - 0,09mg. Technologiniai priedai: nuosėdinės kilmės klinoptilolitas - 10g. Konservantai. Antioksidantai. ANALITINĖS SUDEDAMOSIOS DALYS: žali baltymai - 27%, neapdoroti aliejai ir riebalai - 13%, žali pelenai - 7,3%, žalia ląsteliena - 4%. ŠĖRIMO INSTRUKCIJOS: žr. lentelę. Partijos numeris, registracijos numeris ir galiojimo data pažymėti ant pakuotės. Saugoti vėsioje, sausoje vietoje. *L.I.P.: itin gerai virškinami baltymai.

| Katės svoris | Idealus svoris | Antsvoris |
| --- | --- | --- |
| 3 kg | 45 g (26 g + 1 šlapio pak) | 36 g (17g + 1 šlapio pak) |
| 4 kg | 56 g (36 g + 1 šlapio pak) | 44 g (25 g + 1 šlapio pak) |
| 5 kg | 65 g (46 g + 1 šlapio pak) | 52 g (32 g + 1 šlapio pak) |
| 6 kg | 74 g (55 g + 1 šlapio pak) | 59 g (40 g + 1 šlapio pak) |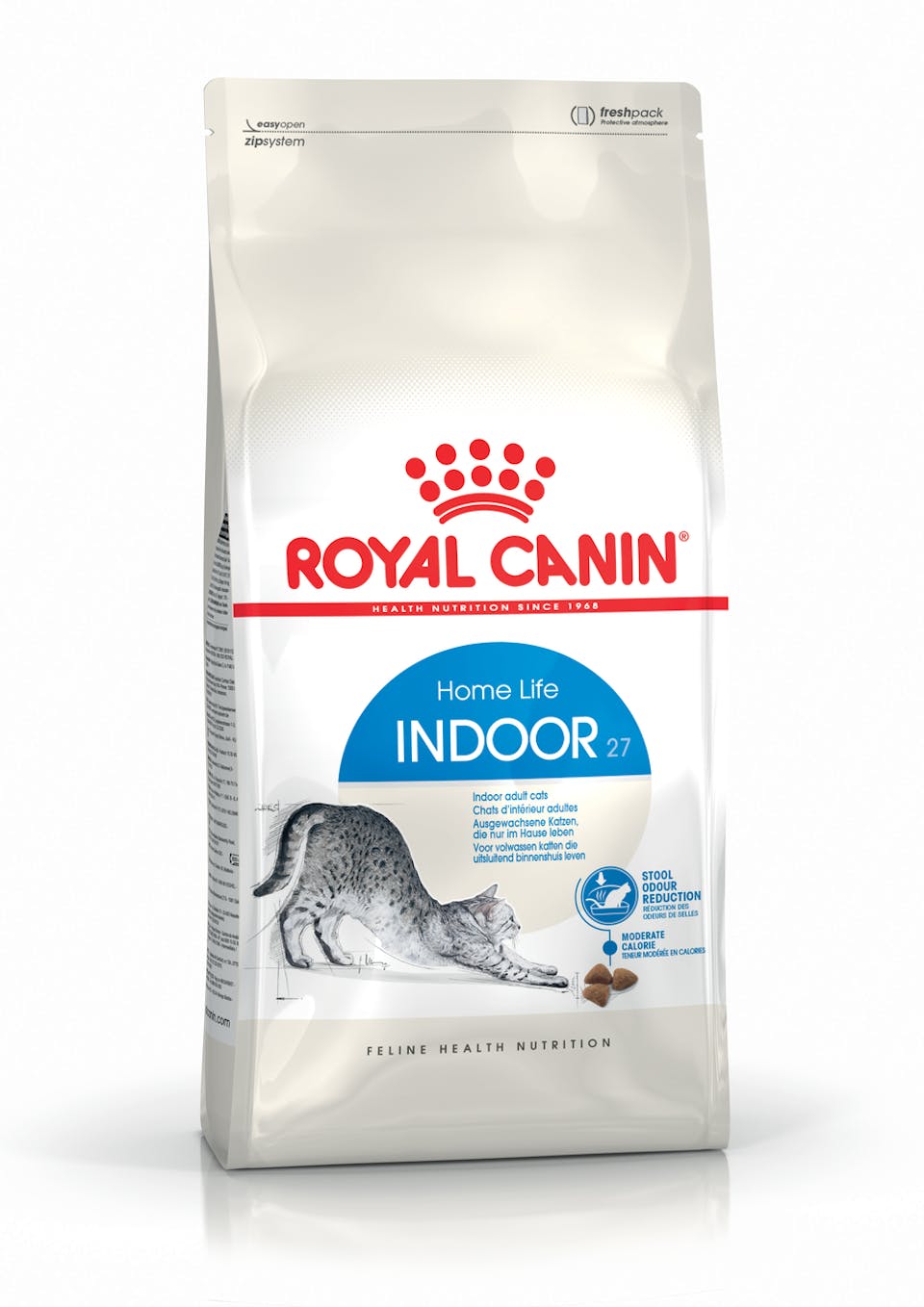 Vis dar turite klausimų apie šį produktą?
Sužinokite, kaip mus pasiekti ir susisiekite.
Užduoti klausimą