Instinctive 7+ Thin Slices In Gravy Canned Cat Food
INSTINCTIVE 7+ thin slices in gravy supports healthy aging for cats from 7 to 12 years of age.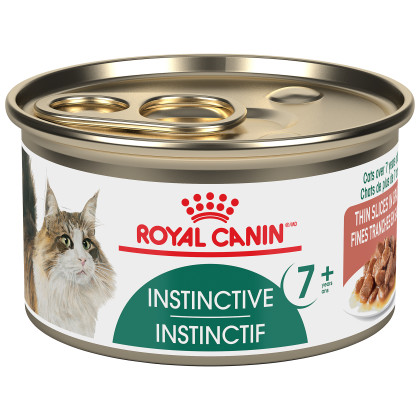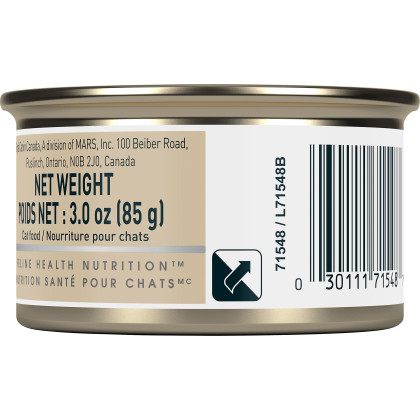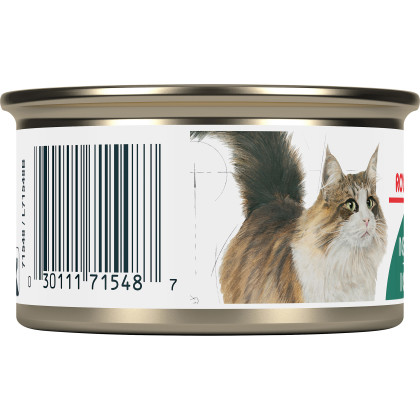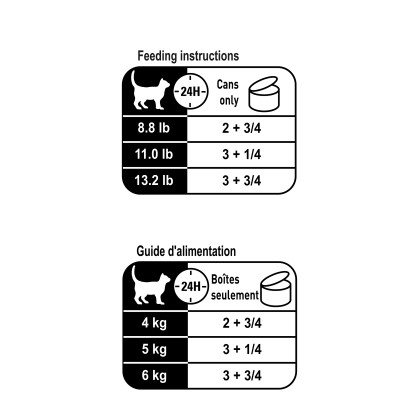 A cat has a very long aging phase. During the first phase (7-12 years) many of the early aging signs, including reduced kidney function and arthritis, may not be visible yet. INSTINCTIVE 7+™ helps maintain vitality and face the first signs of aging during the first phase through the inclusion of a specialized complex of antioxidants, including vitamins E and C, lutein and taurine, EPA and DHA, omega 3 fatty acids, glucosamine and chondroitin.

Declining kidney function is one of the most common issues affecting aging cats. INSTINCTIVE 7+™ is formulated with a controlled phosphorous content to support aging kidneys, and maintain healthy kidney function.

Tender thin slices in gravy are easier on the sensitive teeth and gums of older cats.

INSTINCTIVE 7+ features a proven Macro Nutrient profile that is preferred by adult cats. This profile represents the ratio of energy derived from proteins, fats, and carbohydrates. A Macro Nutrient Profile also influences long term palatability and dietary satisfaction. A cat's specific Macro Nutrient Profile varies not only according to its age, but also the cat's physiological condition.

100% Complete and Balanced Nutrition

Cats are renowned for maintaining their appearance, and not necessarily feeling the effects of their years. Some of the early signs of aging can include weight gain and less time spent playing.
Working toward a sustainable future
Our belief that pets make our world better inspires and gives life to our purpose of making a better A BETTER WORLD FOR PETS ™
Discover more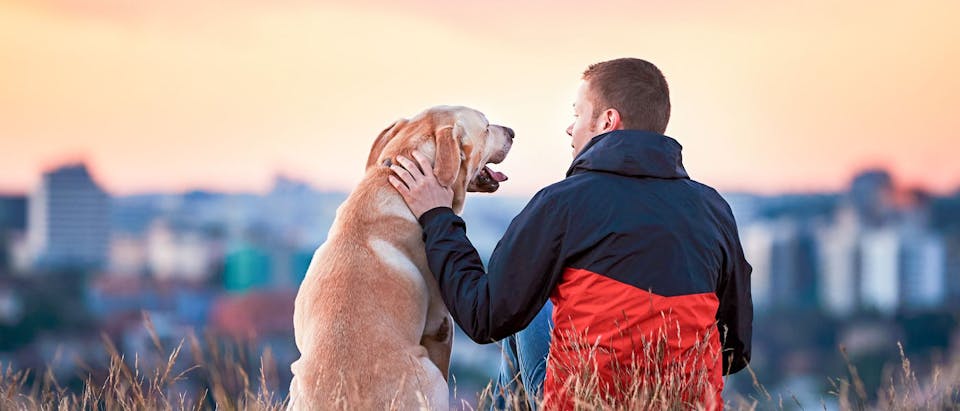 Water sufficient for processing, pork by-products, chicken by-products, pork liver, chicken liver, brewers rice flour, wheat gluten, gelatin, wheat flour, powdered cellulose, natural flavors, pork plasma, modified corn starch, vegetable oil, guar gum, calcium sulfate, potassium chloride, taurine, fish oil, vitamins [L-ascorbyl-2-polyphosphate (source of vitamin C), DL-alpha tocopherol acetate (source of vitamin E), thiamine mononitrate (vitamin B1), niacin supplement, biotin, D-calcium pantothenate, riboflavin supplement, pyridoxine hydrochloride (vitamin B6), folic acid, vitamin B12 supplement, vitamin D3 supplement], carrageenan, glucosamine hydrochloride, trace minerals [zinc proteinate, zinc oxide, ferrous sulfate, copper sulfate, manganous oxide, sodium selenite, calcium iodate], marigold extract (Tagetes erecta L.), choline chloride, chondroitin sulfate.

Calorie Content

This diet contains 755 kcal ME/kg; 64 kcal ME/can on an as fed basis (calculated).

| | |
| --- | --- |
| Crude Protein (min) | 9.5% |
| Crude Fat (min) | 1.8% |
| Crude Fiber (max) | 1.9% |
| Moisture (max) | 82.0% |
| Glucosamine* (min) | 93.8 mg/kg |
| Chondroitin sulfate* (min) | 7.5 mg/kg. |

*Not recognized as an essential nutrient by the AAFCO Cat Food Nutrient Profiles.

Wet Feeding

| Weight of Cat | Low Energy Need | Normal Energy Need | High Energy Need |
| --- | --- | --- | --- |
| 3.3 lb (1.5 kg) | 1 can (95 g) | 1 1/2 cans (120 g) | 1 3/4 cans (140 g) |
| 4.4 lb (2 kg) | 1 1/4 cans (115 g) | 1 3/4 cans (145 g) | 2 1/4 cans (175 g) |
| 5.5 lb (2.5 kg) | 1 1/2 cans (135 g) | 2 cans (170 g) | 2 1/2 cans (205 g) |
| 6.6 lb (3 kg) | 1 3/4 cans (155 g) | 2 1/4 cans (195 g) | 3 cans (230 g) |
| 7.7 lb (3.5 kg) | 2 cans (170 g) | 2 1/2 cans (215 g) | 3 1/4 cans (260 g) |
| 8.8 lb (4 kg) | 2 1/4 cans (190 g) | 2 3/4 cans (235 g) | 3 3/4 cans (285 g) |
| 9.9 lb (4.5 kg) | 2 1/2 cans (205 g) | 3 cans (255 g) | 4 cans (310 g) |
| 11.0 lb (5 kg) | 2 1/2 cans (220 g) | 3 1/4 cans (275 g) | 4 1/4 cans (335 g) |
| 12.1 lb (5.5 kg) | 2 3/4 cans (235 g) | 3 1/2 cans (295 g) | 4 1/2 cans (355 g) |
| 13.2 lb (6 kg) | 3 cans (255 g) | 3 3/4 cans (315 g) | 5 cans (380 g) |
| 14.3 lb (6.5 kg) | 3 cans (265 g) | 4 cans (335 g) | 5 1/4 cans (400 g) |
| 15.4 lb (7 kg) | 3 1/4 cans (280 g) | 4 cans (350 g) | 5 1/2 cans (420 g) |
| 16.5 lb (7.5 kg) | 3 1/2 cans (295 g) | 4 1/4 cans (370 g) | 5 3/4 cans (445 g) |
| 17.6 lb (8 kg) | 3 3/4 cans (310 g) | 4 1/2 cans (385 g) | 6 cans (465 g) |
| 18.7 lb (8.5 kg) | 3 3/4 cans (325 g) | 4 3/4 cans (405 g) | 6 1/4 cans (485 g) |
| 19.8 lb (9 kg) | 4 cans (335 g) | 5 cans (420 g) | 6 1/2 cans (505 g) |
| 20.9 lb (9.5 kg) | 4 cans (350 g) | 5 1/4 cans (440 g) | 6 3/4 cans (525 g) |
| 22.0 lb (10 kg) | 4 1/4 cans (365 g) | 5 1/4 cans (455 g) | 7 cans (545 g) |

Mixed Feeding with Indoor 7+ Dry Cat Food

| Weight | Can + | Inactive | Normal | Active |
| --- | --- | --- | --- | --- |
| 4.4 lbs (2 kg) | 1 Can + | 1/8 cup (7 g) | 1/8 cup (14 g) | 1/4 cup (21 g) |
| 6.6 lbs (3 kg) | 1 Can + | 1/8 cup (16 g) | 1/4 cup (25 g) | 3/8 cup (34 g) |
| 8.8 lbs (4 kg) | 1 Can + | 1/4 cup (24 g) | 3/8 cup (35 g) | 1/2 cup (46 g) |
| 11 lbs (5 kg) | 1 Can + | 3/8 cup (32 g) | 1/2 cup (45 g) | 5/8 cup (57 g) |
| 13 lbs (6 kg) | 1 Can + | 1/2 cup (39 g) | 5/8 cup (54 g) | 3/4 cup (68 g) |
| 15 lbs (7 kg) | 1 Can + | 1/2 cup (46 g) | 3/4 cup (62 g) | 7/8 cup (78 g) |
| 18 lbs (8 kg) | 1 Can + | 5/8 cup (52 g) | 3/4 cup (70 g) | 1 cup (88 g) |
| 20 lbs (9 kg) | 1 Can + | 5/8 cup (58 g) | 7/8 cup (78 g) | 1 1/8 cup (98 g) |
| 22 lbs (10 kg) | 1 Can + | 3/4 cup (65 g) | 1 cup (86 g) | 1 1/4 cup (107 g) |