Canine Dental Dry Dog Food
Complete and balanced food for adult dogs.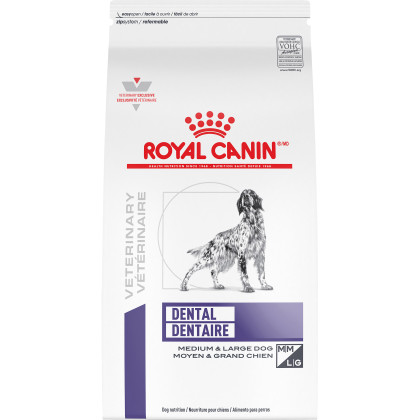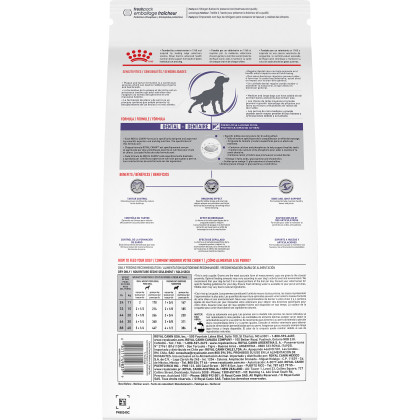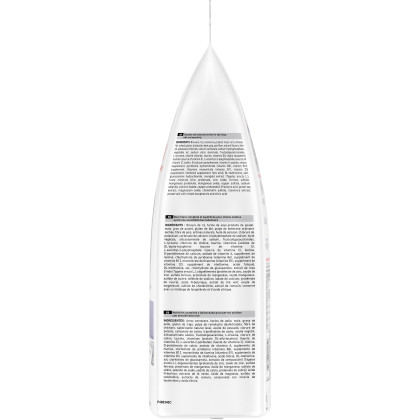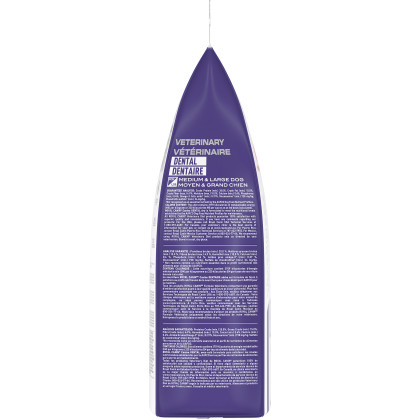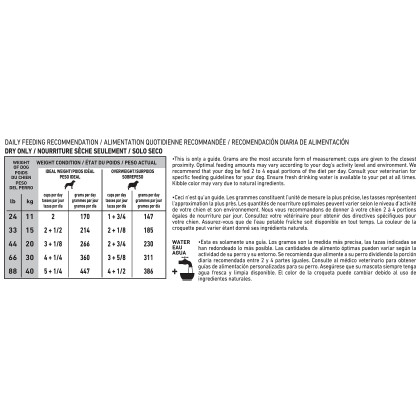 Clinically proven to efficiently reduce tartar build-up.

Specific kibble shape and size help reduce plaque accumulation and tartar build-up by promoting a brushing effect while chewing.

Formulated to help maintain healthy bones and joints.

Uniquely designed to provide triple action dental care to help prevent the accumulation of plaque and tartar while meeting the specific nutrient and energy requirements of adult dogs.
Working toward a sustainable future
Our belief that pets make our world better inspires and gives life to our purpose of making a better A BETTER WORLD FOR PETS ™
Discover more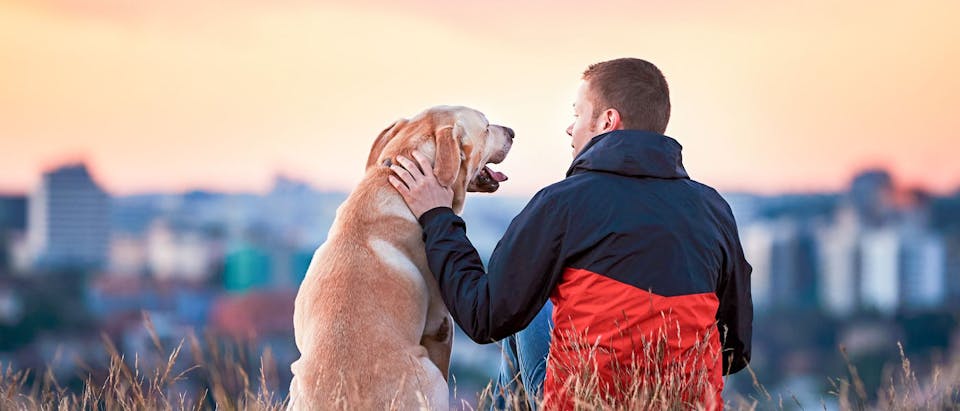 | | |
| --- | --- |
| Crude Protein (min) | 20.0% |
| Crude Fat (min) | 14.0% |
| Crude Fiber (max) | 5.3% |
| Moisture (max) | 10.0% |
| Glucosamine* (min) | 750 mg/kg |
| Chondroitin sulfate* (min) | 25 mg/kg |

*Not recognized as an essential nutrient by the AAFCO Dog Food Nutrient Profiles.

| Weight | Overweight | Normal | Lean |
| --- | --- | --- | --- |
| 4.4 (2 kg) | 1/2 (41 g) | 1/2 (47 g) | 5/8 (54 g) |
| 5.5 (2.5 kg) | 5/8 (48 g) | 5/8 (56 g) | 3/4 (64 g) |
| 6.6 (3 kg) | 5/8 (55 g) | 3/4 (64 g) | 7/8 (73 g) |
| 7.7 (3.5 kg) | 3/4 (62 g) | 7/8 (72 g) | 1 (82 g) |
| 8.8 (4 kg) | 3/4 (69 g) | 1 (80 g) | 1 (90 g) |
| 11 (5 kg) | 1 (81 g) | 1 1/8 (94 g) | 1 1/4 (107 g) |
| 13 (6 kg) | 1 1/8 (93 g) | 1 1/4 (108 g) | 1 3/8 (122 g) |
| 22 (10 kg) | 1 5/8 (137 g) | 1 7/8 (158 g) | 2 1/8 (180 g) |
| 24 (11 kg) | 1 3/4 (147 g) | 2 (170 g) | 2 1/4 (193 g) |
| 26 (12 kg) | 1 7/8 (157 g) | 2 1/8 (181 g) | 2 3/8 (206 g) |
| 33 (15 kg) | 2 1/8 (185 g) | 2 1/2 (214 g) | 2 7/8 (243 g) |
| 35 (16 kg) | 2 1/4 (194 g) | 2 5/8 (225 g) | 3 (256 g) |
| 44 (20 kg) | 2 3/4 (230 g) | 3 1/8 (266 g) | 3 1/2 (302 g) |
| 55 (25 kg) | 3 1/8 (271 g) | 3 5/8 (314 g) | 4 1/4 (357 g) |
| 66 (30 kg) | 3 5/8 (311 g) | 4 1/4 (360 g) | 4 3/4 (409 g) |
| 77 (35 kg) | 4 1/8 (349 g) | 4 3/4 (405 g) | 5 3/8 (460 g) |
| 88 (40 kg) | 4 1/2 (386 g) | 5 1/4 (447 g) | 6 (508 g) |
| 99 (45 kg) | 5 (422 g) | 5 3/4 (488 g) | 6 1/2 (555 g) |
| 110 (50 kg) | 5 3/8 (457 g) | 6 1/4 (529 g) | 7 (601 g) |
| 119 (54 kg) | 5 5/8 (484 g) | 6 5/8 (560 g) | 7 1/2 (636 g) |
| 132 (60 kg) | 6 1/8 (523 g) | 7 1/8 (606 g) | 8 1/8 (689 g) |
| 209 (95 kg) | 8 5/8 (739 g) | 10 (855 g) | 11 3/8 (972 g) |
| 220 (100 kg) | 9 (768 g) | 10 3/8 (889 g) | 11.875 (1010 g) |