Canine Weight Control Large Dog Dry Dog Food
Complete and balanced food for adult dogs.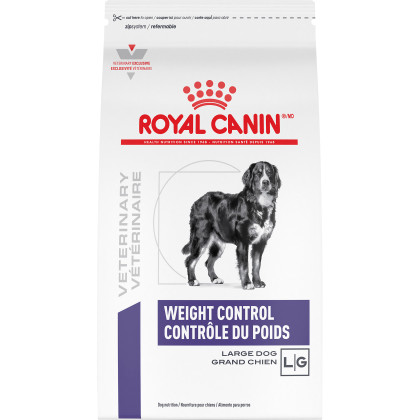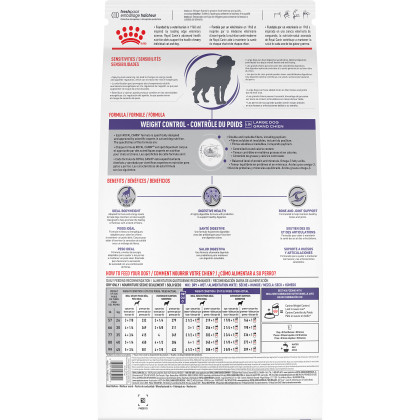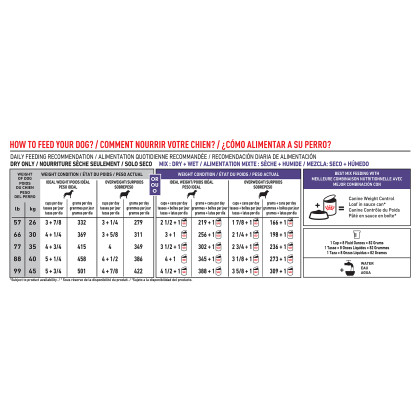 Adapted formula and energy levels to help dogs maintain an ideal weight. Designed to help promote the feeling of fullness with a blend of fibers.

A highly digestible formula with prebiotics to support healthy digestion.

Formulated to help maintain healthy bones and joints.

Precisely formulated to meet the unique needs of less active or overweight large breed dogs (> 25 kg).
Corn, chicken by-product meal, corn gluten meal, barley, powdered cellulose, pea fiber, chicken fat, wheat gluten, natural flavors, dried plain beet pulp, fish oil, vegetable oil, sodium silico aluminate, salt, potassium chloride, powdered psyllium seed husk, calcium carbonate, fructooligosaccharides, choline chloride, DL-methionine, taurine, vitamins [DL-alpha tocopherol acetate (source of vitamin E), L-ascorbyl-2-polyphosphate (source of vitamin C), biotin, D-calcium pantothenate, vitamin A acetate, pyridoxine hydrochloride (vitamin B6), niacin supplement, folic acid, vitamin B12 supplement, thiamine mononitrate (vitamin B1), vitamin D3 supplement, riboflavin supplement], glucosamine hydrochloride, trace minerals [zinc proteinate, manganese proteinate, zinc oxide, ferrous sulfate, manganous oxide, copper sulfate, sodium selenite, calcium iodate, copper proteinate], L-carnitine, chondroitin sulfate, rosemary extract, preserved with mixed tocopherols and citric acid.

Calorie Content

This diet contains 3287 kilocalories of metabolizable energy (ME) per kilogram or 270 kilocalories ME per cup on an as fed basis (calculated).

| | |
| --- | --- |
| Crude Protein (min) | 26.0% |
| Crude Fat (min) | 9.0% |
| Crude Fiber (max) | 9.6% |
| Moisture (max) | 10.0% |
| Glucosamine* (min) | 750 mg/kg |
| Chondroitin sulfate* (min) | 25 mg/kg |

*Not recognized as an essential nutrient by the AAFCO Dog Food Nutrient Profiles.

Dry Feeding

| Weight | Overweight | Normal |
| --- | --- | --- |
| 4.4 lb (2 kg) | 1/2 cup (41 g) | 1/2 cup (48 g) |
| 6.6 lb (3 kg) | 5/8 cup (55 g) | 3/4 cup (66 g) |
| 8.8 lb (4 kg) | 3/4 cup (69 g) | 1 cup (81 g) |
| 11 lb (5 kg) | 1 cup (81 g) | 1 1/8 cups (96 g) |
| 13 lb (6 kg) | 1 1/8 cups (93 g) | 1 1/4 cups (110 g) |
| 18 lb (8 kg) | 1 3/8 cups (115 g) | 1 5/8 cups (137 g) |
| 22 lb (10 kg) | 1 5/8 cups (136 g) | 1 7/8 cups (162 g) |
| 26 lb (12 kg) | 1 3/4 cups (156 g) | 2 1/8 cups (186 g) |
| 31 lb (14 kg) | 2 cups (176 g) | 2 3/8 cups (209 g) |
| 33 lb (15 kg) | 2 1/8 cups (185 g) | 2 1/2 cups (220 g) |
| 35 lb (16 kg) | 2 1/4 cups (194 g) | 2 5/8 cups (231 g) |
| 40 lb (18 kg) | 2 1/2 cups (212 g) | 2 7/8 cups (252 g) |
| 44 lb (20 kg) | 2 5/8 cups (229 g) | 3 1/8 cups (273 g) |
| 49 lb (22 kg) | 2 7/8 cups (246 g) | 3 3/8 cups (293 g) |
| 53 lb (24 kg) | 3 cups (263 g) | 3 5/8 cups (312 g) |
| 55 lb (25 kg) | 3 1/8 cups (271 g) | 3 3/4 cups (322 g) |
| 57 lb (26 kg) | 3 1/4 cups (279 g) | 3 7/8 cups (332 g) |
| 62 lb (28 kg) | 3 3/8 cups (295 g) | 4 1/8 cups (351 g) |
| 66 lb (30 kg) | 3 5/8 cups (311 g) | 4 1/4 cups (369 g) |
| 71 lb (32 kg) | 3 3/4 cups (326 g) | 4 1/2 cups (388 g) |
| 75 lb (34 kg) | 4 cups (342 g) | 4 3/4 cups (406 g) |
| 77 lb (35 kg) | 4 cups (349 g) | 4 3/4 cups (415 g) |
| 79 lb (36 kg) | 4 1/8 cups (357 g) | 4 7/8 cups (423 g) |
| 84 lb (38 kg) | 4 1/4 cups (371 g) | 5 1/8 cups (441 g) |
| 88 lb (40 kg) | 4 1/2 cups (386 g) | 5 1/4 cups (458 g) |
| 99 lb (45 kg) | 4 7/8 cups (422 g) | 5 3/4 cups (501 g) |
| 110 lb (50 kg) | 5 1/4 cups (456 g) | 6 1/4 cups (542 g) |
| 121 lb (55 kg) | 5 5/8 cups (490 g) | 6 3/4 cups (582 g) |
| 132 lb (60 kg) | 6 cups (523 g) | 7 1/4 cups (621 g) |

Mixed Feeding

| Weight | Can + | Overweight | Normal |
| --- | --- | --- | --- |
| 4.4 lb (2 kg) | 1/4 can + | 1/8 cup (13 g) | 1/4 cup (20 g) |
| 6.6 lb (3 kg) | 1/4 can + | 3/8 cup (27 g) | 3/8 cup (37 g) |
| 8.8 lb (4 kg) | 1/4 can + | 1/2 cup (40 g) | 5/8 cup (53 g) |
| 11 lb (5 kg) | 1/4 can + | 5/8 cup (53 g) | 3/4 cup (68 g) |
| 13 lb (6 kg) | 1/2 can + | 3/8 cup (37 g) | 5/8 cup (54 g) |
| 18 lb (8 kg) | 1/2 can + | 5/8 cup (59 g) | 7/8 cup (81 g) |
| 22 lb (10 kg) | 1/2 can + | 7/8 cup (80 g) | 1 1/4 cups (106 g) |
| 26 lb (12 kg) | 1/2 can + | 1 1/8 cups (100 g) | 1 1/2 cups (129 g) |
| 31 lb (14 kg) | 1 can + | 3/4 cups (63 g) | 1 1/8 cups (96 g) |
| 33 lb (15 kg) | 1 can + | 7/8 cups (72 g) | 1 1/4 cups (107 g) |
| 35 lb (16 kg) | 1 can + | 1 cups (81 g) | 1 3/8 cups (118 g) |
| 40 lb (18 kg) | 1 can + | 1 1/8 cups (99 g) | 1 5/8 cups (139 g) |
| 44 lb (20 kg) | 1 can + | 1 3/8 cups (117 g) | 1 7/8 cups (160 g) |
| 49 lb (22 kg) | 1 can + | 1 1/2 cups (134 g) | 2 1/8 cups (180 g) |
| 53 lb (24 kg) | 1 can + | 1 3/4 cups (150 g) | 2 1/4 cups (200 g) |
| 55 lb (25 kg) | 1 can + | 1 7/8 cups (158 g) | 2 3/8 cups (209 g) |
| 57 lb (26 kg) | 1 can + | 1 7/8 cups (166 g) | 2 1/2 cups (219 g) |
| 62 lb (28 kg) | 1 can + | 2 1/8 cups (182 g) | 2 3/4 cups (238 g) |
| 66 lb (30 kg) | 1 can + | 2 1/4 cups (198 g) | 3 cups (256 g) |
| 71 lb (32 kg) | 1 can + | 2 1/2 cups (214 g) | 3 1/8 cups (275 g) |
| 75 lb (34 kg) | 1 can + | 2 5/8 cups (229 g) | 3 3/8 cups (293 g) |
| 77 lb (35 kg) | 1 can + | 2 3/4 cups (236 g) | 3 1/2 cups (302 g) |
| 79 lb (36 kg) | 1 can + | 2 7/8 cups (244 g) | 3 5/8 cups (311 g) |
| 84 lb (38 kg) | 1 can + | 3 cups (258 g) | 3 3/4 cups (328 g) |
| 88 lb (40 kg) | 1 can + | 3 1/8 cups (273 g) | 4 cups (345 g) |
| 99 lb (45 kg) | 1 can + | 3 5/8 cups (309 g) | 4 1/2 cups (388 g) |
| 110 lb (50 kg) | 1 can + | 4 cups (343 g) | 5 cups (429 g) |
| 121 lb (55 kg) | 1 can + | 4 3/8 cups (377 g) | 5 3/8 cups (469 g) |
| 132 lb (60 kg) | 1 can + | 4 3/4 cups (410 g) | 5 7/8 cups (508 g) |