Weight Care Loaf in Sauce Canned Dog Food
Complete and balanced nutrition for adult and mature dogs with a tendency to gain weight.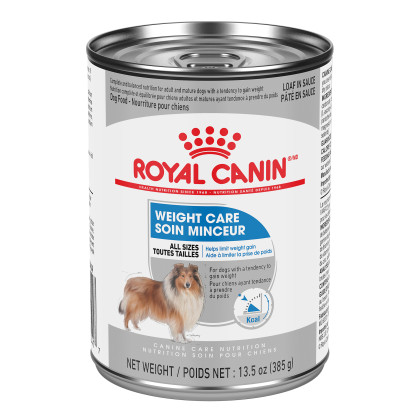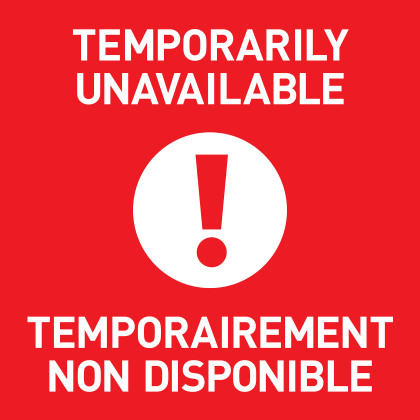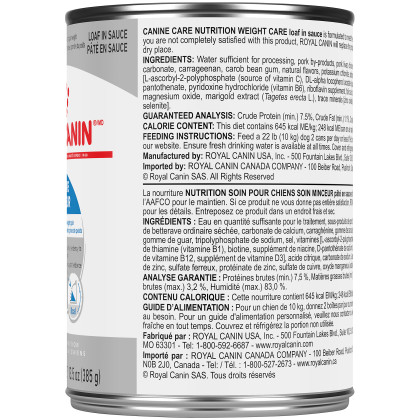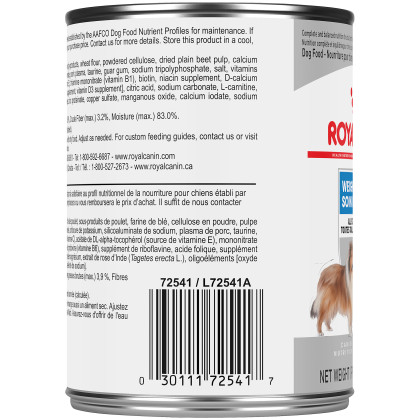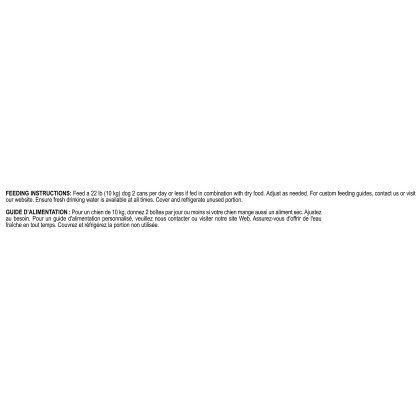 Helps maintain optimal weight with a low fat content.

Health complications can be associated with excess body weight. If your dog has a tendency to gain weight, you can help him stay trim and feel well fed.

Providing healthy & balanced nutrition across both our dry & wet formulas, enabling you to choose the perfect combination for your dog.
Working toward a sustainable future
Our belief that pets make our world better inspires and gives life to our purpose of making a better A BETTER WORLD FOR PETS ™
Discover more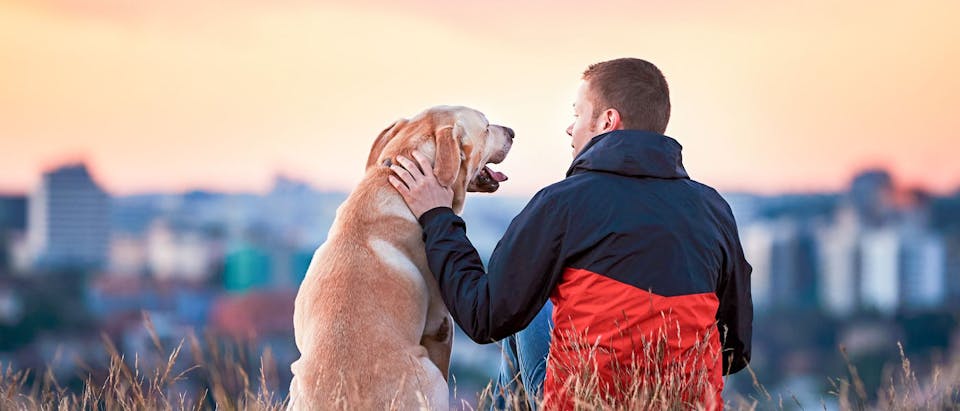 Water sufficient for processing, pork by-products, pork liver, chicken liver, chicken by-products, wheat flour, powdered cellulose, dried plain beet pulp, calcium carbonate, carrageenan, carob bean gum, natural flavors, potassium chloride, sodium silico aluminate, pork plasma, taurine, guar gum, sodium tripolyphosphate, salt, vitamins [L-ascorbyl-2-polyphosphate (source of vitamin C), DL-alpha tocopherol acetate (source of vitamin E), thiamine mononitrate (vitamin B1), biotin, niacin supplement, D-calcium pantothenate, pyridoxine hydrochloride (vitamin B6), riboflavin supplement, folic acid, vitamin B12 supplement, vitamin D3 supplement], citric acid, sodium carbonate, L-carnitine, magnesium oxide, marigold extract (Tagetes erecta L.), trace minerals [zinc oxide, ferrous sulfate, zinc proteinate, copper sulfate, manganous oxide, calcium iodate, sodium selenite].

Calorie Content

This diet contains 645 kcal ME/kg; 248 kcal ME/can on an as fed basis (calculated).

| | |
| --- | --- |
| Crude Protein (min) | 7.5% |
| Crude Fat (min) | 1.1% |
| Crude Fat (max) | 3.9% |
| Crude Fiber (max) | 3.2% |
| Moisture (max) | 83.0%. |

Wet Feeding

| Weight | Low Activity | Medium Activity | High Activity |
| --- | --- | --- | --- |
| 4.4 lb (2 kg) | 2/4 can (191 g) | 2/4 can (227 g) | 3/4 can (263 g) |
| 8.8 lb (4 kg) | 3/4 can (322 g) | 1 can (382 g) | 1 1/4 can (443 g) |
| 13.2 lb (6 kg) | 1 1/4 can (436 g) | 1 1/4 can (518 g) | 1 2/4 can (600 g) |
| 17.6 lb (8 kg) | 1 2/4 can (541 g) | 1 3/4 can (643 g) | 2 can (744 g) |
| 22 lb (10 kg) | 1 3/4 can (640 g) | 2 can (760 g) | 2 1/4 can (880 g) |
| 33.1 lb (15 kg) | 2 1/4 can (867 g) | 2 3/4 can (1,030 g) | 3 can (1,193 g) |
| 44.1 lb (20 kg) | 2 3/4 can (1,076 g) | 3 1/4 can (1,278 g) | 3 3/4 can (1,480 g) |
| 55.1 lb (25 kg) | 3 1/4 can (1,272 g) | 4 can (1,511 g) | 4 2/4 can (1,749 g) |

Mixed Feeding - Small Dog

| Weight | Can | Low Activity | Medium Activity | High Activity |
| --- | --- | --- | --- | --- |
| 4.4 lb (2 kg) | 1/4 can | 1/4 cup (20 g) | 1/4 cup (27 g) | 3/8 cup (35 g) |
| 6.6 lb (3 kg) | 1/4 can | 3/8 cup (34 g) | 1/2 cup (44 g) | 5/8 cup (55 g) |
| 8.8 lb (4 kg) | 1/2 can | 1/4 cup (27 g) | 3/8 cup (40 g) | 1/2 cup (52 g) |
| 13.2 lb (6 kg) | 1/2 can | 1/2 cup (51 g) | 3/4 cup (68 g) | 7/8 cup (85 g) |
| 17.6 lb (8 kg) | 1/2 can | 3/4 cup (73 g) | 1 cup (94 g) | 1 1/4 cups (116 g) |
| 22 lb (10 kg) | 1 can | 5/8 cup (53 g) | 7/8 cup (79 g) | 1 1/8 cups (104 g) |

Mixed Feeding - Medium Dog

| Weight | Can | Low Activity | Medium Activity | High Activity |
| --- | --- | --- | --- | --- |
| 26.5 lb (12 kg) | 1 can | 1 cup (78 g) | 1 3/8 cups (109 g) | 1 3/4 cups (139 g) |
| 30.9 lb (14 kg) | 1 can | 1 1/4 cups (98 g) | 1 5/8 cups (133 g) | 2 cups (167 g) |
| 35.3 lb (16 kg) | 1 can | 1 1/2 cups (117 g) | 1 7/8 cups (156 g) | 2 3/8 cups (194 g) |
| 39.7 lb (18 kg) | 1 can | 1 5/8 cups (136 g) | 2 1/8 cups (178 g) | 2 3/4 cups (220 g) |
| 44.1 lb (20 kg) | 1 can | 1 7/8 cups (155 g) | 2 1/2 cups (200 g) | 3 cups (245 g) |
| 55.1 lb (25 kg) | 1 can | 2 3/8 cups (198 g) | 3 1/8 cups (252 g) | 3 3/4 cups (305 g) |

Mixed Feeding - Large Dog

| Weight | Can | Low Activity | Medium Activity | High Activity |
| --- | --- | --- | --- | --- |
| 66.1 lb (30 kg) | 1 can | 2 7/8 cups (236 g) | 3 5/8 cups (296 g) | 4 3/8 cups (356 g) |
| 77.2 lb (35 kg) | 1 can | 3 3/8 cups (275 g) | 4 1/4 cups (343 g) | 5 cups (410 g) |
| 88.2 lb (40 kg) | 1 can | 3 7/8 cups (313 g) | 4 3/4 cups (387 g) | 5 5/8 cups (462 g) |
| 99.2 lb (45 kg) | 1 can | 4 1/4 cups (350 g) | 5 1/4 cups (431 g) | 6 1/4 cups (513 g) |
| 110.2 lb (50 kg) | 1 can | 4 3/4 cups (385 g) | 5 3/4 cups (473 g) | 6 7/8 cups (562 g) |