SHN Medium Ageing 10+ Dog (Gravy)SHN Medium Ageing 10+ (Gravy)
Complete feed for dogs - For senior medium breed dogs (from 11 to 25 kg) - Over 10 years old.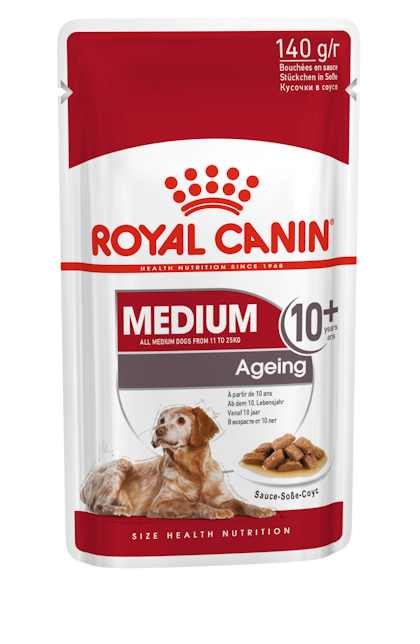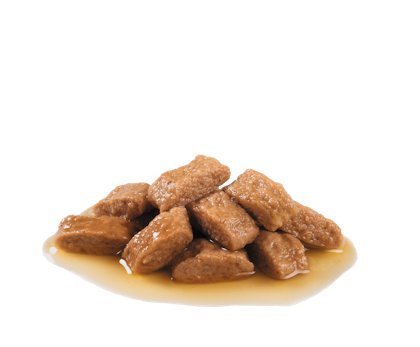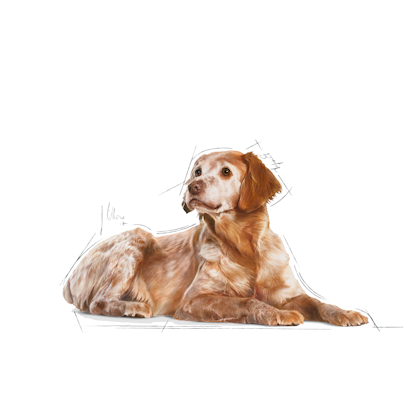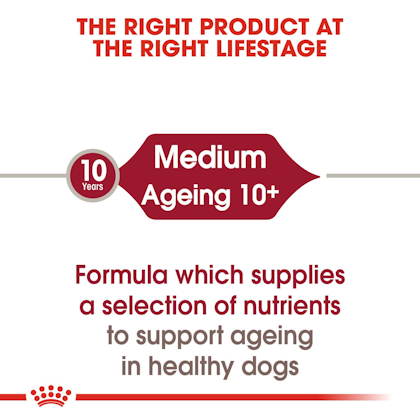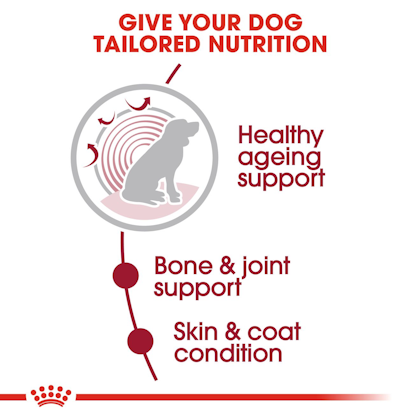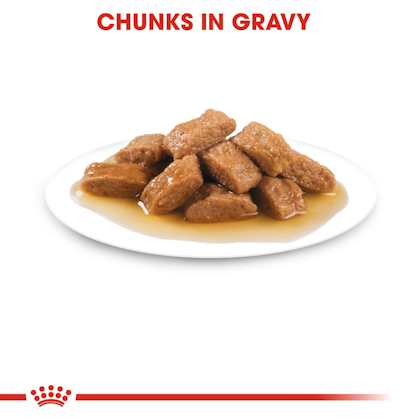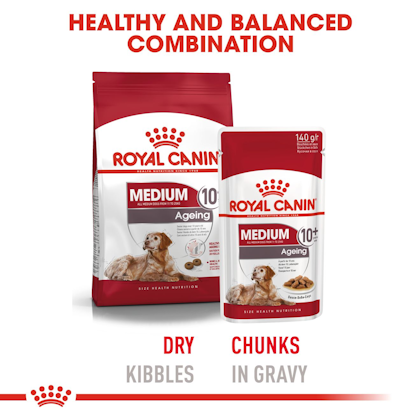 Healthy ageing support

Contains EPA, DHA and an exclusive complex of antioxidants to help neutralise free radicals.

Bone and joint support

Helps maintain healthy bones and joints in ageing medium breed dogs.

Skin and coat condition

Formulated with specific nutrients for a shiny coat and healthy skin.

Suitable for medium sized dogs over 10 years old that weigh between 11-25 kg, ROYAL CANIN® Medium Ageing 10+ in Gravy is specially formulated with all the nutritional needs of dogs like yours in mind. ROYAL CANIN® Medium Ageing 10+ in Gravy contains an exclusive complex of antioxidants.
Working towards a sustainable future
Our belief that pets make our world better inspires and gives life to our purpose of making a better A BETTER WORLD FOR PETS ™
Discover more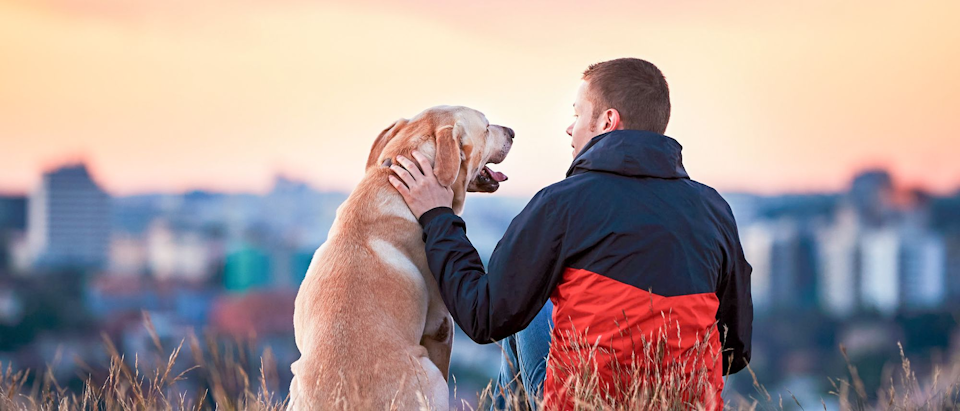 COMPOSITION: meat and animal derivatives, oils and fats, cereals, vegetable protein extracts, derivatives of vegetable origin, minerals, yeasts, vegetables.

ADDITIVES (per kg): Nutritional additives: Vitamin D3: 160 IU, Iron (3b103): 6 mg, lodine (3b202): 0.15 mg, Copper (3b405, 3b406) : 1.2 mg, Manganese (3b502, 3b503, 3b504) : 1.9 mg, Zinc (3b603, 3b605, 3b606): 19 mg - Technological additives: Clinoptllolite of sedimentary origin: 2 g.

ANALYTICAL CONSTITUANTS: Protein: 8.0% - Crude fibres: 0.9% - Fat content: 5.5% - Crude ash: 1.7% - Moisture: 80.5% - EPA/DHA: 0.12%.

FEEDING INSTRUCTION: see table. Batch number, factory registration number and best before date: see information on packaging. To be stored in a cool, dry place.

Guaranteed analysis g/kg: Crude Protein (min) 60 - Moisture (max) 835 - Crude Fat (min) 35 - Crude Fibre (max) 19 - Crude ash (max) 19. Product registration number: XXXXXX - Act 36/1947. For Namibia: N-FF XXXX.

ANALYTICAL CONSTITUANTS: Protein: 8.0% - Crude fibres: 0.9% - Fat content: 5.5% - Crude ash: 1.7% - Moisture: 80.5% - EPA/DHA: 0.12%.

| Weight of dog | Pouches per day |
| --- | --- |
| 12 kg | 5+1/2 pouches |
| 14 kg | 6 pouches |
| 18 kg | 7+1/2 pouches |
| 20 kg | 8 pouches |
| 23 kg | 9 pouches |
| 25 kg | 9+1/2 pouches |
Charlie82
22 Aug 2020
great dog food
This dog food was great my dog absolutely loved it and she always wanted more as soon as she was done with it.... Thank you for the oprotunity to reveiw this awesome product and my dog thanks you as well.....
Badgerfan33
05 Feb 2020
Dog Enjoyed
My dog loved the Royal Canin Medium Aging 10+ Pouch Dog Food. She can be rather picky, and while I wouldn't replace her dry food with this full time, it's a great option to keep on hand for when she needs a change from her regular food.
Melissa89
21 Jan 2020
Great Wet Food For Aging Dogs 10+ !
I received a free box of Royal Canin Medium Aging 10+ Pouch Dog Food from TryIt Sampling. In order to receive this free product, I was promised to write an honest review. So, I have never bought Royal Canin before. This was the first time giving it to my 10 year chihuahua, Bella. She has a very picky palette when it comes to wet food. Ultimately, I think she liked it because as soon as I opened the pack, I see her little face come out of her blanket in curiosity and placed it down for her, and she eat it just fine. I think she thoroughly enjoyed it. I have recommended this to one of my best friends since she has a dog that is over 10 years as well. She bought a pack from the store and her dog loved it so I think this was a great product and I will definitely be buying some more of these for Bella. Thanks so much!
Tiff P
05 Jan 2020
Good but Gas
I had only been familiar with Royal Canin's cat products, and everything I had tried was great. I was pleasantly surprised to see a dog product. My dog absolutely devoured this every feeding. However...the gas was absolutely horrible that he had after. We feed him at night and it made bedtime horrendous.
Royal Canin response
Odd to hear, but we appreciate any feedback!
Amandamae
31 Dec 2019
Great for a aging dog!
My dog is 14 and beginning to slow way down. Lately, I noticed she has been eating way less. I started pouring the Royal Canin food over her dry food and she gobbles it right up! She is a medium sized dog, and would need to eat at least 3 pouches a day.
Deenibeans
31 Dec 2019
Great wet food!
I fed this to my dog by itself and also mixed into dry food. He loved it both ways. I prefer to mix it just for volume because I fee it would take too many pouches to feed him this alone. I liked the consistency of the food and gravy. He had no issues digesting it and it didn't give him any runny stool as many of the gravy foods do. It seemed to be of high quality and he did really well on it. I would buy this for him in the future.
Bay Area mom
30 Dec 2019
Senior dog loves it
Easy to use pouches and my ten year old Corgi loves it. Also makes it easy to throw in medication as she just devours it all without hesitation! This wet food comes in easy to swallow size and has plenty of sauce that comes with it!
Asandbach
24 Dec 2019
Dog seemed to like it
It's hard to review food eaten by someone else, but I guess that's what has to be done with a dog food review. All I can say is that there were no complaints by my 11 year old dog. She seemed to enjoy it.
SD62
21 Dec 2019
Great food and my dog loves it.
The Royal Canin medium breed senior wet dog food pouches are a hit in our home! This is a quality dog food with the right ingredients. The antioxidants and nutrients are very good for him too. He sometimes has a sensitive stomach but this Royal Canin food doesn't bother him at all. I like the pouches and how simple and convenient they are to use. Sometimes I serve alone and sometimes I serve over some Royal Canin dry dog food. The chunks are just the right size and the gravy is a bonus. He loves this food and definitely has more energy too. I highly recommend this food.
Mellgbab38
18 Dec 2019
Dogs loved the taste
This is a good dog food. I have two dogs and they both loved it. They would know as soon as I opened the pouches. The pouches were easier to use then the cans because it doesn't take as long to open. And the look and smell of the food wasn't so typical we're it's mush. They didn't have bad bowel movements and it did wonders for their coats