GI Low Fat Liquid
GI Low Fat Liquid is a complete dietetic feed for dogs formulated to regulate lipid metabolism in the case of hyperlipidaemia, and promote nutritional restoration and convalescence. This feed contains a low level of fat and a high level of essential fatty acids and essential nutrients which are highly digestible, and has a high energy density. RECOMMENDATIONS: Feed until restoration is achieved. Administration under veterinary supervision.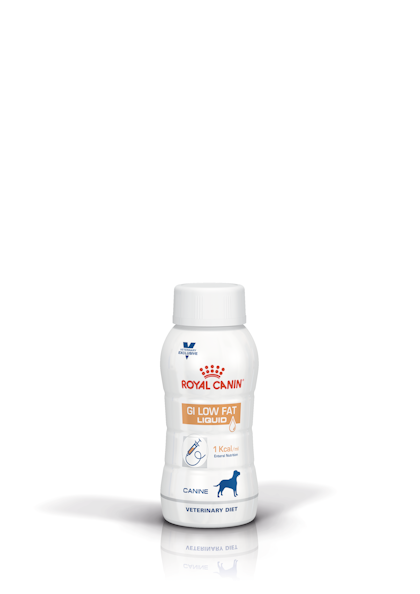 Low fat

Formulated with low fat levels to help support dogs requiring fat restriction

Adapted energy ( 1 kcal/ml)

High energy density that provides daily energy requirements in a reduced feeding volume.

Complete nutrition

Complete and balanced liquid diet to support nutritional restoration and convalescence of dogs requiring assisted enteral nutrition

Antioxidant complex

The synergistic antioxidant complex (including high levels of Vit E, Vit C, taurine & lutein) helps neutralise free radicals

Easy tube feeding

Liquid formula with adapted viscosity for an easy use whatever the tube size
COMPOSITION: milk and milk derivatives, cereals, oils and fats, vegetable protein extracts, minerals, derivatives of vegetable origin. Highly digestible ingredients: low-lactose milk, caseinate, soya protein concentrate, maltodextrin. ADDITIVES (per l): ADDITIVES: Vitamin A: 3700 IU, Vitamin D3: 224 IU, E1 (Iron): 29 mg, E2 (Iodine): 0.6 mg, E4 (Copper): 2.6 mg, E5 (Manganese): 1.7 mg, E6 (Zinc): 42 mg, E8 (Selenium): 0.1 mg. ANALYTICAL CONSTITUENTS (per 100 ml): Protein: 9 g - Fat content: 2 g - Crude ash: 1.2 g - Crude fibres: 0 g - Moisture: 84.2 g - Omega 6 fatty acids: 0.4 g - Omega 3 fatty acids: 0.12 g - L-arginine: 0.55 g - Metabolisable energy: 105 kcal.