Recovery
Complete dietetic feed for cats and dogs.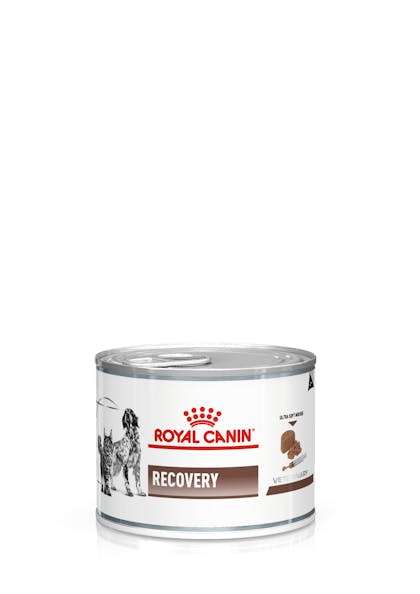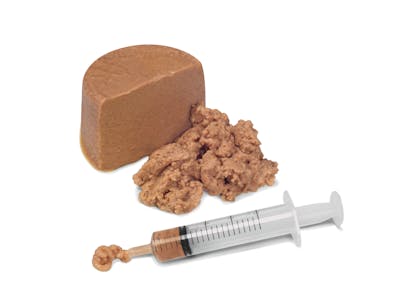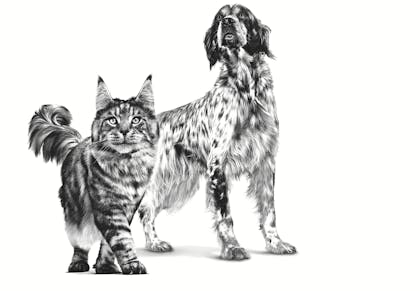 High energy

High energy density that provides daily energy requirements in a reduced feeding volume.

Easy tube feeding

Specific texture that facilitates feeding by syringe and through feeding tubes.

High protein

High protein level to help maintain muscle mass during hospitalization and convalescence.
Working towards a sustainable future
Our belief that pets make our world better inspires and gives life to our purpose of making a better A BETTER WORLD FOR PETS ™
Discover more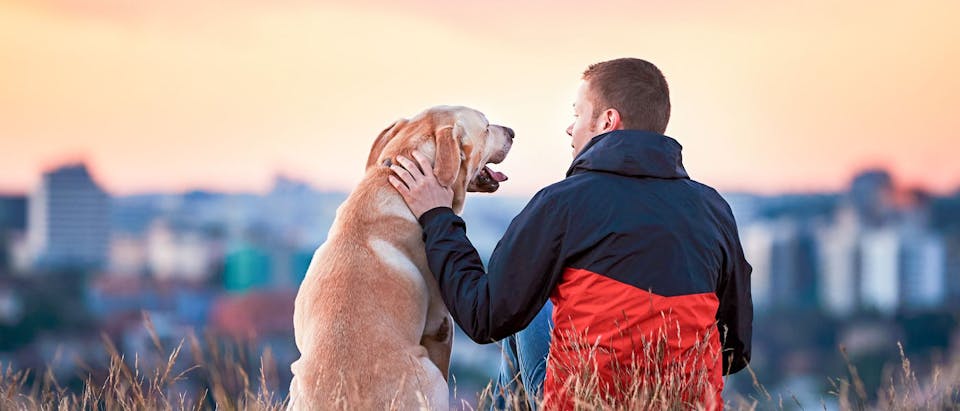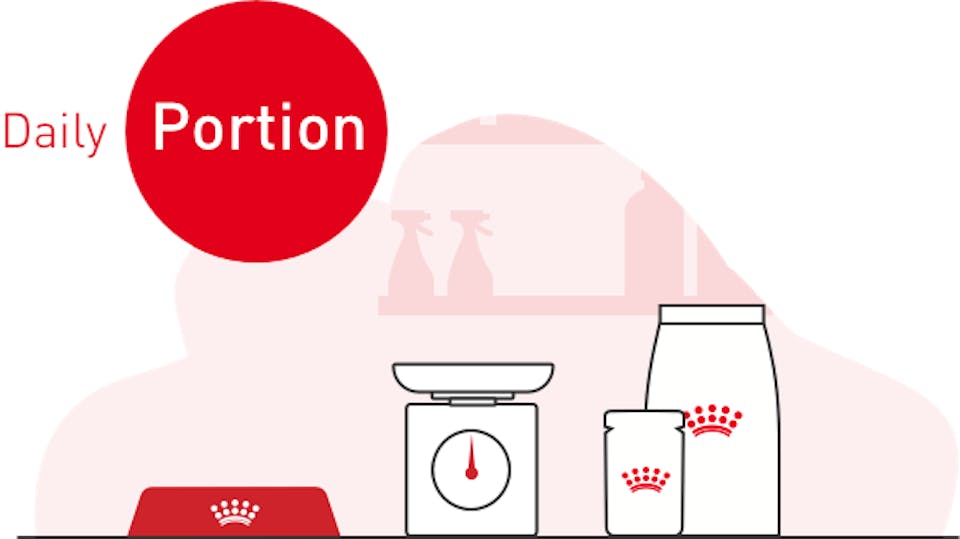 Discover our tool that calculates the daily portion for your pet. Fill in your pet's information and you will get their daily feeding recommendation. In case of weight issues, do not hesitate to consult your vet to adapt this portion. Note that this feeding recommendation is more precise than the feeding table, therefore the values may slightly differ.
Calculate
Complete dietetic feed for cats and dogs.

ROYAL CANIN® Recovery ultra soft mousse is a complete dietetic feed for cats and dogs, formulated to promote nutritional restorationandconvalescenceand for feline hepatic lipidosis. High energy density, high concentrations of essential nutrients and highly digestible ingredients. Recommendations: Feed Recovery until restoration is achieved. Administration under veterinary supervision.

Composition: meat and animal derivatives, oils and fats, cereals, derivatives of vegetable origin, milk and milk derivatives, minerals, various sugars, yeasts. Highly digestible ingredients: poultry and pork by-products, caseinate, corn starch mixture.

Additives (per kg): Nutritional additives: Vitamin A: 1500 IU, Vitamin D3: 190 IU, Iron (3b103): 12 mg, Iodine (3b202): 0.6 mg, Copper (3b405, 3b406): 2.5 mg, Manganese (3b502, 3b503, 3b504): 10.1 mg, Zinc (3b603, 3b605, 3b606): 37 mg.

Analytical constituants: Protein: 12.7% - Fat content: 6.4% - Crude ash: 2.3% - Crude fibres: 1.7% - Moisture: 73.0% - Fatty acids: w3: 0.68% - w6: 1.5% - Metabolisable Energy: 1183.0 kcal/kg.

For RSA: Guaranteed analysis g/kg: Crude protein (min) 107 - Moisture (max) 760 - Crude fat (min) 44 - Crude fibre (max) 27 - Crude ash (max) 25. Product registration number: XXXXXX - Act 36/1947. For Namibia: N-FF XXXX.

Feeding instruction: for a 4 Kg cat or dog give 1 can/day or less if fed in combination with dry food. Batch number, factory registration number and best before date: see information on packaging. To be stored in a cool, dry place.

| Dog weight (kg) | Resting | - | Maintenance | - |
| --- | --- | --- | --- | --- |
| - | g/day | can/day | g/day | can/day |
| 2 kg | 95 g | 1/2 | 155 g | 3/4 |
| 4 kg | 160 g | 3/4 | 260 g | 1 1/4 |
| 5 kg | 189 g | 1 | 308 g | 1 1/2 |
| 6 kg | 217 g | 1 | 353 g | 1 3/4 |
| 8 kg | 269 g | 1 1/2 | 438 g | 2 1/4 |
| 10 kg | 318 g | 1 3/4 | 517 g | 2 3/4 |
| 15 kg | 431 g | 2 1/4 | 701 g | 3 1/2 |
| 20 kg | 534 g | 2 3/4 | 870 g | 4 1/2 |
| 25 kg | 632 g | 3 1/4 | 1029 g | 5 1/4 |
| 30 kg | 724 g | 3 3/4 | 1179 g | 6 |
| 35 kg | 813 g | 4 1/4 | 1324 g | 6 3/4 |
| 40 kg | 899 g | 4 1/2 | 1463 g | 7 1/2 |
| 45 kg | 982 g | 5 | 1599 g | 8 1/4 |
| 50 kg | 1062 g | 5 1/2 | 1730 g | 8 3/4 |
| 55 kg | 1141 g | 5 3/4 | 1858 g | 9 1/2 |
| 60 kg | 1218 g | 6 1/4 | 1984 g | 10 1/4 |
| 70 kg | 1367 g | 7 | 2227 g | 11 1/2 |
| 80 kg | 1511 g | 7 3/4 | 2461 g | 12 1/2 |
| - | - | - | - | - |
| Cat weight (kg) | Resting | - | Maintenance | - |
| - | g/day | can/day | g/day | can/day |
| 2 kg | 93 g | 1/2 | 120 g | 1/2 |
| 2,5 kg | 110 g | 1/2 | 141 g | 3/4 |
| 3 kg | 126 g | 3/4 | 161 g | 3/4 |
| 3,5 kg | 141 g | 3/4 | 179 g | 1 |
| 4 kg | 156 g | 3/4 | 197 g | 1 |
| 4,5 kg | 171 g | 1 | 214 g | 1 |
| 5 kg | 185 g | 1 | 231 g | 1 1/4 |
| 5,5 kg | 199 g | 1 | 247 g | 1 1/4 |
| 6 kg | 212 g | 1 | 263 g | 1 1/4 |
| 6,5 kg | 225 g | 1 1/4 | 278 g | 1 1/2 |
| 7 kg | 238 g | 1 1/4 | 293 g | 1 1/2 |
| 7,5 kg | 251 g | 1 1/4 | 308 g | 1 1/2 |
| 8 kg | 263 g | 1 1/4 | 323 g | 1 3/4 |
| 8,5 kg | 275 g | 1 1/2 | 337 g | 1 3/4 |
| 9 kg | 287 g | 1 1/2 | 351 g | 1 3/4 |
| 9,5 kg | 299 g | 1 1/2 | 365 g | 1 3/4 |
| 10 kg | 311 g | 1 1/2 | 378 g | 2 |