Urinary S/O
Complete dietetic food for adult dogs.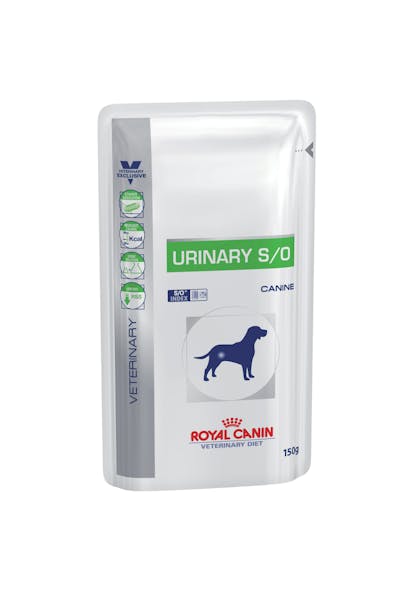 Struvite dissolution

Helps dissolve struvite stones.

Moderate calorie

Moderate calorie content to help maintain ideal weight.

Urine dilution

Urine dilution makes the urine less liable to form struvite and calcium oxalate stones.

Low RSS

Helps lower the concentration of ions contributing to crystal formation.
Composition: meat and animal derivatives (chicken, pork), cereals, oils and fats, vegetable protein extracts (maize gluten), derivatives of vegetable origin, minerals, various sugars.





Additives (per kg): Nutritional additives: Vitamin D3: 130 IU, E1 (Iron): 4 mg, E2 (Iodine): 0.2 mg, E4 (Copper): 1.3 mg, E5 (Manganese): 1.2 mg, E6 (Zinc): 12 mg - Technological additives: Pentasodium triphosphate: 1.5 g.

Analytical constituents: Protein: 6% - Fat content: 5.5% - Crude ash: 1% - Crude fibres: 1% - Moisture: 80% - Metabolisable energy: 955 kcal/kg - Calcium: 0.18% - Phosphorus: 0.18% - Sodium: 0.14% - Magnesium: 0.025% - Potassium: 0.14% - Chloride: 0.18% - Sulphur: 0.13% - Urine acidifying substances: calcium sulphate, methionine.

| Cat's weight | 2 kg | - | 3 kg | - | 4 kg | - | 5 kg | - | 6 kg | - | 7 kg | - | 8 kg | - | 9 kg | - | 10 kg | - | - |
| --- | --- | --- | --- | --- | --- | --- | --- | --- | --- | --- | --- | --- | --- | --- | --- | --- | --- | --- | --- |
| Thin | 35 g | 3/8 cup | 55 g | 5/8 cup | 70 g | 7/8 cup | 90 g | 1+1/8 cup | 110 g | 1+3/8 cup | | | | | | | | --- | - |
| Normal | 30 g | 3/8 cup | 40 g | 4/8 cup | 55 g | 5/8 cup | 70 g | 7/8 cup | 85 g | 1 cup | 100 g | 1+2/8 cup | 115 g | 1+3/8 cup | 125 g | 1+4/8 cup | 140 g | 1+6/8 cup | - |
| Overweight | | | | | | | | 60 g | 6/8 cup | 70 g | 7/8 cup | 80 g | 1 cup | 95 g | 1+1/8 cup | 105 g | 1+2/8 cup | 115 g | 1+3/8 cup |