FCN Digest Sensitive Care Adult Cat (Gravy)
DOES YOUR CAT HAVE A SENSITIVE DIGESTIVE SYSTEM? A sensitive stomach and digestive tract may result in poor stool quality, which can be a sign of poor digestion. ‧ PROVEN RESULTS Over 95% healthy stool quality in 10 days*, when fed with ROYAL CANIN® DIGESTIVE CARE dry and wet formulas. *Royal Canin internal study. ‧ Precisely balanced nutritional formula which helps support balanced intestinal flora and helps promote optimal stool quality.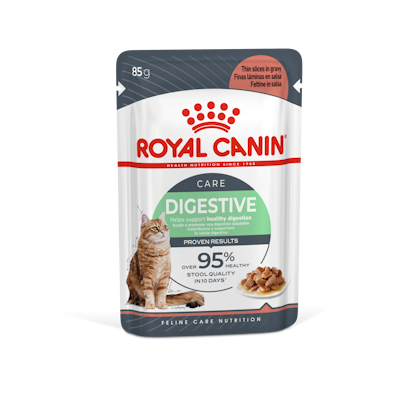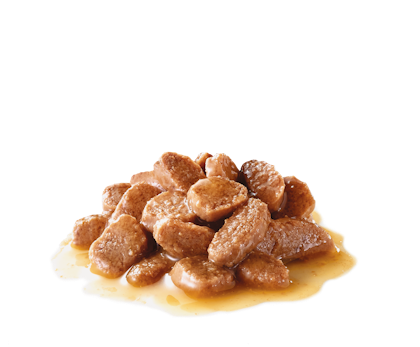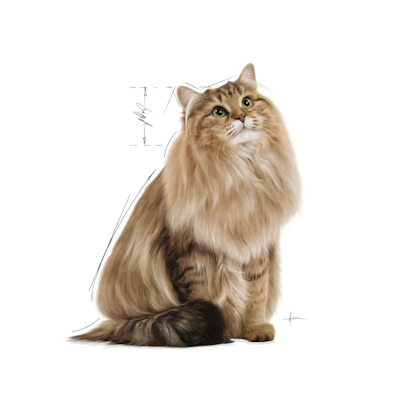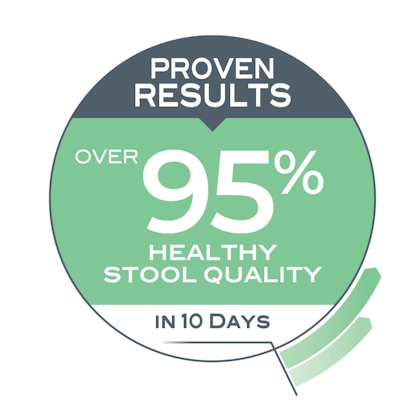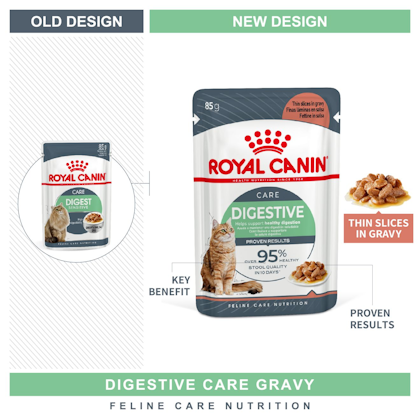 Odour reduction & high digestibility

Highly digestible and helps reduce faecal odour.

Maintains ideal weight

Helps maintain ideal weight.

Healthy urinary system

Helps support a healthy urinary system.
Working towards a sustainable future
Our belief that pets make our world better inspires and gives life to our purpose of making a better A BETTER WORLD FOR PETS ™
Discover more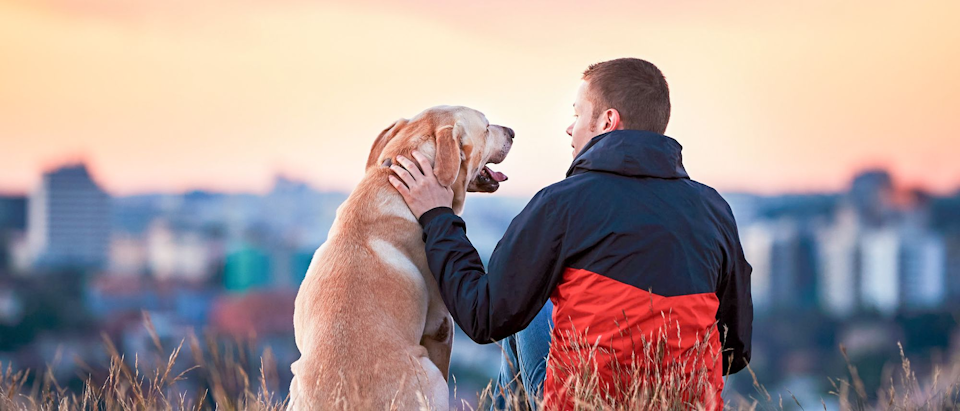 COMPOSITION: Meat and animal derivatives, cereals, derivatives of vegetable origin, minerals, vegetables, vegetable protein extracts.

ADDITIVES (PER KG): Nutritional additives: Vitamin D3: 80 IU, Iron (3b103): 4 mg, Copper (3b405, 3b406): 1.4 mg, Zinc (3b603, 3b605, 3b606): 11 mg, Manganese (3b502, 3b503, 3b504): 1.1 mg, Iodine (3b202): 0.18 mg - Technological additives Clinoptilolite of sedimentary origin.

ANALYTICAL CONSTITUENTS: Moisture 80%, Protein 9.1%, Fat content 3.8%, Crude fiber 0.8%, Crude ash 1.7%, NFE 4.6%.

ANALYTICAL CONSTITUENTS: Moisture 80%, Protein 9.1%, Fat content 3.8%, Crude fiber 0.8%, Crude ash 1.7%, NFE 4.6%.

| Cat's weight | Wet only | Dry & wet |
| --- | --- | --- |
| 3 kg | 2 pouches | 24 g + 1 pouch |
| 4 kg | 2 + 1/2 pouches | 33 g + 1 pouch |
| 5 kg | 3 pouches | 43 g + 1 pouch |
| 6 kg | 3 + 1/2 pouches | 51 g + 1 pouch |
rich07
28 Oct 2023
Too Expensive
Great product but their inflation tactics aren't awesome. Four years ago I was able to buy 24 x 5.8oz cans for $42.00, but now it's 24 x 5.1 oz cans for $72.00. That's not a simple price increase, this is gouging.
catsaplenty
10 Jul 2023
Where's the Gravy???
Each case I buy has less and less gravy. My cats used to like it when it actually had gravy.
Irish47
16 Apr 2023

I finally a food my cat, Mooreo, will eat. He loves it.
Saga
16 Apr 2023
Excellent product with proven results.
My veterinarian recommended Royal Canine Gastrointestinal line for my Norwegian Forest kitten when she was experiencing digestive issues. She stabilized but still has sensitivity so I have her and my other Norwegian Forest cat. Both cats have done well on the prescription and over the counter Royal Canine dry and wet food.
Tori13
30 Oct 2019
Love the texture and shape
My cats love this food! Other food they would eat to fast and throw back up, the shape of this food makes them chew it! We love this food!
Kfango
05 Jun 2019
My cat loved the flavor
I was going to try the Royal Canin Feline Care Digest Sensitive Pouch cat food as part as a free trial promotion. Sadly that promotion ran out, but I still wanted to try these cat food pouches so I purchased them for my two Ragdoll cats. Both of my cats loved the flavor of the wet food and begged for it as a treat. I like that it was for a sensitive stomach, and that they did not throw up after eating. I would definitely buy these again for my cats as an added treat to their dry food.
TuxedoCatLover
31 May 2019
My Senior IBD Cat loved this food
For the past two months my senior cat has turned his nose up at most foods, concerned about his IBD and his picky nature I was looking for a food that was good for him but helpful in his sensitive tummy, he loved this food, enough that I was able to place his meds for IBD in the middle of it and he didn't even notice, highly recommend this food, now off to go buy some more :)
Smokechichhr
23 Apr 2019
Great kitty food
My 2 cats loved this stuff! Will buy again since my cats are very picky eaters..my cats are very picky about there kitty food and this cat food they like very much and will continue to buy as long as they dont get tired of it
AmazonPrincess
21 Nov 2018
Our cats love it!
I have always heard good things about Royal Canin but hadn't tried it until now. Our cats love this food. They mostly eat dry food but they get wet food at least once a day or every other day. Our female cat can't keep certain brands of food down, she will vomit not long after eating. Sometimes I think its because she eats the food too fast but not always. She has been able to keep this food down and that's a good thing. I would highly recommend this product to people that have a cat with a sensitive stomach.
Janet77
06 Nov 2018
Cat loves this
I got this cat food and could not wait to give it to my cat. He loved it. I will definitely be buying more for him. He seemed to love it he ate it all so fast. Will be trying other varieties for him to see what he likes best.