FBN Maine Coon Adult Cat
The Maine Coon is the largest domesticated cat in the world, and its impressive stature is combined with a truly sweet nature. Its solid bone structure and muscular body can make it three times heavier than the average cat. Due to its large size and bone structure, particular attention must be given to ensuring the general health and condition of its joints. Balanced and complete feed for cats - Specially for adult Maine Coon cats - Over 15 months old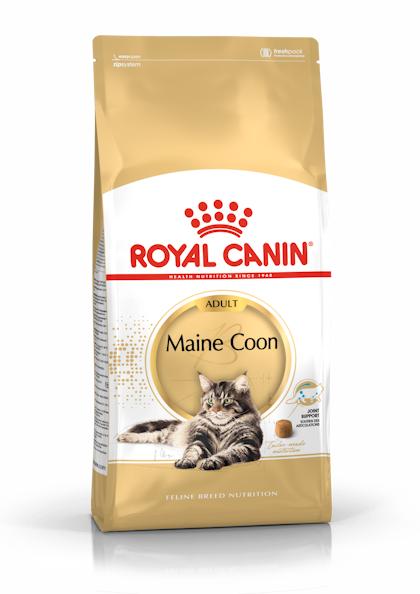 Cardiac health

Enriched with nutrients such as taurine, EPA & DHA to help maintain healthy cardiac function.

Healthy skin & coat

The Maine Coon cat has a dense semi-longhaired coat with a fine soft undercoat. Contains a combination of specific nutrients including amino acids, vitamins, Omega 3 and Omega 6 fatty acids to help maintain a healthy skin and coat.

Special large jaw

This specially designed king size cube-shaped kibble is adapted to the large square jaw of the Maine Coon. The unique kibble encourages chewing to help support oral hygiene.

Exclusive formula - Taurine & Omega 3 fatty acids

Exclusive formula - Taurine & Omega 3 fatty acids

Joint support

The Maine Coon's large size and grand stature can challenge joints throughout her life. Formulated to help support healthy bones and joints. Enriched with EPA & DHA.

Urinary health

Formulated with a balance of minerals to help maintain the health of an adult cat's urinary system.
Working towards a sustainable future
Our belief that pets make our world better inspires and gives life to our purpose of making a better A BETTER WORLD FOR PETS ™
Discover more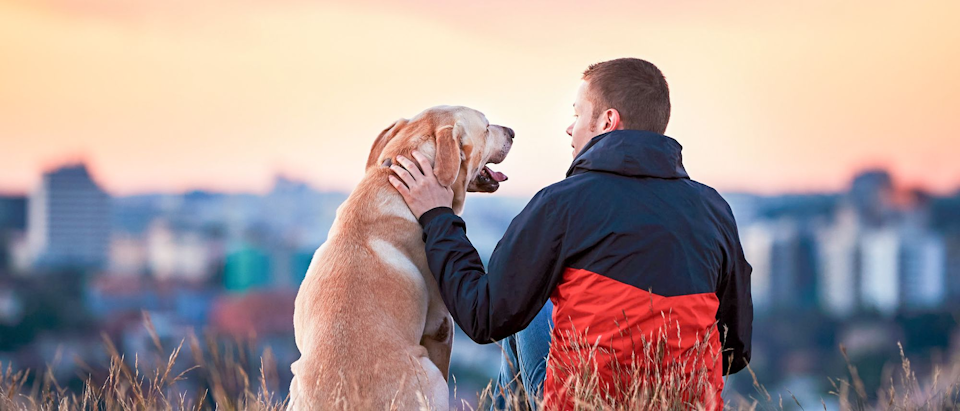 ANALYTICAL CONSTITUANTS: Crude Protein: 31.0%, Crude Fat: 20.0%, Crude ash: 7.5%, Crude fibres: 5.0%, EPA/DHA: 0.45%, Taurine: 0.3%, Omega-3 fatty acids: 1%, Omega-6 fatty acids: 4.9%.

COMPOSITION : Dehydrated poultry protein, rice, maize, animal fats, maize gluten, wheat gluten*, vegetable fibres, hydrolysed animal proteins, beet pulp, minerals, fish oil, soya oil, yeasts products, fructo-oligosaccharides, psyllium husks and seeds, hydrolysed yeast (source of manno-oligo-saccharides), borage oil, hydrolysed crustaceans (source of glucosamine), marigold extract (source of lutein), hydrolysed cartilage (source of chondroitin).

ADDITIVES (per kg): Nutritional additives: Vitamin A: 30500 IU, Vitamin D3: 800 IU, Iron (3b103): 35 mg, Iodine (3b201, 3b202): 3.5 mg, Copper (3b405, 3b406): 11 mg, Manganese (3b502, 3b504): 46 mg, Zinc (3b603, 3b605, 3b606): 125 mg, Selenium (3b801, 3b811, 3b812): 0.07 mg - Technological additives: Clinoptilolite of sedimentary origin: 10 g - Sensory additives: Tea extract (source of polyphenols): 150 mg - Preservatives - Antioxidants.

* L.I.P.: protein selected for its very high digestibility.

FEEDING INSTRUCTION: see table.

ANALYTICAL CONSTITUANTS: Crude Protein: 31.0%, Crude Fat: 20.0%, Crude ash: 7.5%, Crude fibres: 5.0%, EPA/DHA: 0.45%, Taurine: 0.3%, Omega-3 fatty acids: 1%, Omega-6 fatty acids: 4.9%.

| Cat's weight | Low energy needs | Moderate / Active energy needs |
| --- | --- | --- |
| 4 to 5 kg | 41 - 48 g (20 - 27 g + 1 pouch) | 52 - 61 g (30 - 39 g + 1 pouch) |
| 6 to 7 kg | 55 - 61 g (34 - 40 g + 1 pouch) | 69 - 77 g (47 - 55 g + 1 pouch) |
| 8 to 9 kg | 68 - 73 g (46 - 52 g + 1 pouch) | 85 - 92 g (63 - 71g + 1 pouch) |
| 10 kg | 79 g (58 g + 1 pouch) | 99g (78 g + 1 pouch) |
zolabola
21 Nov 2023
Zola Approved
Love this food for my kitty. All other food she just swallows whole. She absolutely loves it as well.
LMMS
06 Sep 2023
Won't touch it
I fed my Maine Coon the kitten version of this formula until he turned one. Now that he's 1, I tried switching him to this. He will NOT touch it. I leave it in his bowl all day and night, and he would rather starve. It's been days trying to get him to eat this, and I've given up. This is the only dry food he has never even wanted to try. I guess we're trying a different food then.
14 May 2023
Best dry Maine Coon chow IMHO
Not only is it super-popular with my Maine Coon, but my big Bombay boy and a Birman that can barely get her teeth around the big kibble pieces love it, too! :)
CV22
15 Mar 2022
Good food, bags are too small!
I can no longer get the 14lb bag anywhere, and it's a bummer! I have two MCs, and a 6lb does not last long. It doesn't make much sense to be making a specialty food for large-breed cats, but package it like it's for a "regular" housecat.
JuneMaineCoon
03 Jan 2022
Great food but unreliable product stock
My Maine Coons have been on RC Maine Coon food from kitten version to adult and it works well for them. That said, the 14 lb bag has been out of stock at most online and local retailers for almost a year now, which makes me worry that the supply is unreliable and that I may have to find another brand to transition to. These are big cats, so it doesn't make sense to only offer the 6 lb bags.
MooCat107
21 Apr 2021
Great food for Maine Coon
My Maine Coon loves this food! She really prefers the large kibble in relation to regular cat food size. When I purchased for the first time and mixed the kibbles, she would only eat the large kibble. My only problem is the 6lb bag, for a 23lb cat, this doesn't last long enough. You really need to bring back the larger bag for these large cats!
Bjenkins8390
31 Oct 2019
Love this food
I had my two mainecoon fur babies on this high quality food. They were rescued by the SPCA with another 114 cats and I was lucky in being able to adopt them. I thought they could use a high quality food knowing they did not come from good conditions. Recently I lost my job due to ongoing medical conditions and cannot afford it any longer. I have noticed they now throw up after eating and it just breaks my heart.
Bunchola
31 Oct 2019
Great size nuggets.
My cat loves this food. For 2 years this is what l buy.
Karen1101
31 Oct 2019
My Maine Coon loves this food1
We have been using this for our Maine Coon and Maine Coon mix kitties. They love it and they are very healthy, happy kitties!